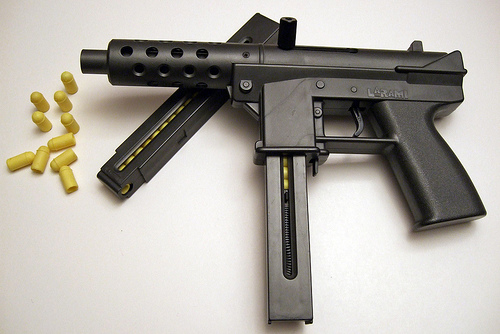 The Vanguard covered the two-week trial of Angel Palacios, Carlos Hernandez and German Martinez, each of them 20 years old, each of them found guilty of possessing a Tec-9 type assault pistol in their car.  They were also found to be Norteño gang members from Woodland and to have been engaging in criminal street activity.
According to the DA's version of events, witnesses testified at trial that on August 17, 2010, two groups of gang members were in the area of Harris Park near Midtown Elementary in Woodland. Just as school security arrived, a rival gang member challenged defendant Hernandez, who appeared to have an object in his hand.
The police were called and the two groups left before law enforcement arrived. An officer stopped the car occupied by the defendants and a 14-year-old juvenile. In the car was an illegal, AA Arms Luger AP9 assault weapon with a clip containing 23 rounds of 9mm ammunition.
According to defendant Palacios, he had purchased the gun and took it in the car that day. Mr. Palacios also handed the gun to the juvenile passenger just before being pulled over because he felt the juvenile would get in less trouble than the adults in the car.
A Woodland police officer testified that the weapon was designed with both high capacity and cooling features to allow it to fire as many as 35 bullets within a few seconds.
Deputy DA Ryan Couzens brought in a Woodland Police gang expert who "gave the jury some background on criminal street gangs, explaining the many violent crimes committed by the Norteño gang in Woodland and how the gun increases the status of the gang and prepares gang members for the frequent confrontations with their rivals."
The Yolo County jury found the defendants guilty for transporting and possessing an illegal firearm. They found Mr. Hernandez guilty of being a felon in possession of a gun while on probation. Mr. Hernandez has a prior conviction for battery, causing great bodily injury, and all three men were on probation at the time of the crime.
As indicated, Deputy District Attorney Ryan Couzens prosecuted the case. "We appreciate the courageous efforts of school security for arriving on scene and avoiding disaster," stated Couzens. "Had intervention not occurred," continued Couzens, "the weapon could have been fired in a public park in a crowd of people."
The District Attorney's office reports they face between 12 and 21 years in prison for this crime.
Naturally, there was a good deal more ambiguity to the case than this.  Mr. Palacios would testify on his own behalf and claim to be the one solely responsible for the gun that was found.  However, Mr. Couzens, in his closing comments called Mr. Palacios a liar, arguing that he was making things up to protect his friends.
COMMENTARY
In the end, let us assume that the facts of this case are largely correct.  There were three young men and an unidentified juvenile found with an illegal assault weapon in their car.
These men all have previous criminal histories.  They all are on probation.  And they all have, at the very least, gang ties.
At the same time, their only actual crime here, other than having bad histories and gang ties, is that they had a gun that they should not have had.  We make no effort to defend that.
They had no business having any gun, let alone a Tec-9.  Nothing good was going to come of that.
And in this case, Mr. Couzens is at least part right, in that the weapon could have been fired into a crowd of people, people could have been hurt, people even could have been killed.
But for the intervention of school security, people may have been hurt or killed.
However, that is the rub in this case.  People were not hurt, people were not killed, in fact, no other action was taken or crime was committed.
So now we have three very young men, basically kids, who have a troubled past, and now will spend close to 20 years in prison given the enhancements and violations of probation for having, but not using, a gun.
The fact is that this is not Minority Report.  We do not try to predict into the future what will happen.  We can only hold people accountable for what they have done and the crimes that they have committed.
The bottom line here is that I am just not comfortable sending people away to prison for twenty years for the mere crime of having a gun – granted, an illegal assault weapon, granted, they were on probation, granted, there are gang charges involved as well.
To me, twenty years should be for actually doing something that hurts people; having a gun only has the potential for hurting people.
I am not arguing that they should not get punished.  But to me, twenty years really says we are going to throw away these kids' lives when that seems premature.
I do not necessarily have a problem with the prosecution of this case, I have a problem with a law that can combine enough things together to make this a twenty-year crime rather than a two- or three- or even five-year crime.
The left has villainized the use of guns to the point where we have enhancements that add ten years for having a gun, twenty years for using a gun, and life for hurting or killing with that gun.  If you kill someone, why is it so much worse to do it with a gun than to do it in other ways?
Are we safer now because we have these draconian gun laws, or are we just locking away our fears because we have refused to deal with the real problems?
It is the left that wants to pass all of these more and more draconian gun laws, and these are just as much to blame for prison overcrowding as the draconian three-strikes laws or drug laws.
I am not in favor of criminals or their potential to get ahold of weapons, but let us start punishing people for what they have actually done, not what they might do.  We are not going to hide from this, this is a scary weapon, we posted the picture at the top of the article, but keep asking yourself, twenty years for possession of a weapon?
—David M. Greenwald reporting