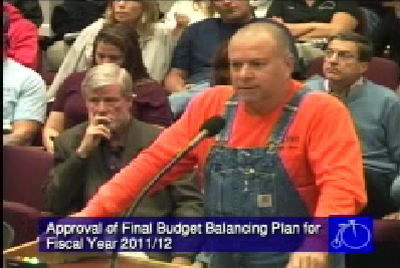 The day after the election, the city laid down the first gauntlet in what has been described by both sides as increasingly contentious discussion on new labor contracts across the board.
The layoffs involve nine positions within DCEA (Davis City Employee's Association), the bargaining unit that the city originally declared impasse on in the winter of 2010 but had that impasse overturned by a state board (PERB) last November.
City Manager Steve Pinkerton told the Vanguard on Thursday that the city needs to be able to factor in the added costs should the city not be successful in their appeal of the Public Employment Relations Board ruling.
"This is in order to offset the revenue hit from DCEA not making concessions three years ago," the city manager told the Vanguard.  "These are DCEA positions only, across all funding sources, because the impact which is $800,000 plus interest if we were to lose on appeal would be spread across that bargaining group across different funding sources."
DCEA President Dave Owen deferred comment until this afternoon, in order to first meet with the labor negotiator this morning for clarification as to the city's position and how this will impact ongoing negotiations he described as increasingly contentious.
Mr. Owen expressed concern about the depth of the cuts and the impact that they would have on his bargaining unit, mainly comprised of those making less than $60,000 per year.
In an email to city staff on Wednesday, City Manager Pinkerton indicated that while the city's revenue remains flat, the city is committed to maintain its current high level of service.
"In these tough economic times, with significant reductions in available revenue, Davis is one of a select group of cities that's been able to sustain a high level of service for its citizens," Mr. Pinkerton wrote.  "As we approach a new budget year, economic and political forces continue to challenge our ability to provide the necessary resources to meet the demands of our citizens.  Although revenues remain relatively flat, unfunded mandates from the state continue to mount unabated, our health and pension costs continue their meteoric rise, and the state of California has forced us to dismantle our Redevelopment Agency, a primary tool for economic development."
The city manager remains committed to maintaining the level of service.
He wrote, "Despite these obstacles, I'm confident we can continue to provide quality service to the community.  In order to do this, we need to constantly evaluate our service delivery system and make sure we are focused on our core mission in the most cost-effective way possible."
He added, "Staff will be bringing forth a new budget to City Council over the next couple of weeks with significant changes from past budgets. Some of these changes include restructuring of departments, changes in reporting relationships, and a decrease in City staffing.  These changes are necessary to bring the budget in line with Council goals and objectives and to meet the needs of the community."
The cost savings will be "a combination of layoffs and a reduction from fulltime to less than full time."  These notices will take effect at the start of the new fiscal year on July 1, 2012.
The total impact is nine positions that would be laid off, two people reduced to less than full time, and two vacant positions eliminated.
In his email, Mr. Pinkerton wrote, "Over the last few years the City has attempted to achieve necessary budget savings through negotiated concessions with its employees and, with DCEA, through imposition of the City's last best and final offer after negotiations ended in impasse."
He said while the DCEA concessions are still in dispute, "the need for the original cuts remains, irrespective of the outcome of the dispute.  In fact, still more cuts have become necessary within DCEA and elsewhere in the City's workforce, as the City's fiscal position has not adequately stabilized."
"For all of these reasons, the City has decided to eliminate certain positions and lay off the employees who hold those positions to achieve the required savings," he said.
Mr. Pinkerton added that while there is no set date for the appeal to be resolved, attorneys working for the city believe that December is the most likely point by which this would be resolved.
"At that point in time, we would have about an $800,000 or $900,000 liability," he said.  "So we have to factor that in.  We have to factor in both that cost plus the unemployment payments we'd have to pay by laying people off."
DCEA could conceivably avoid some of these layoffs by taking concessions.
"The folks at DCEA at the point of time when we have to [be] making the cost-savings, people can choose to [take concessions or face layoffs], either way we have to reach that cost-savings one way or another," Steve Pinkerton told the Vanguard.  "I can assure you that they are fully aware of that and fully aware that this is one of our alternatives if they're not willing to make concessions."
"We always have the ability to reduce the workforce," he said, if concessions do not work.
"We received the savings because of the imposition [of the last best and final offer through impasse], but if PERB rules against us because we're on appeal, they ruled against us and we're now appealing," he added.  "We can't go into the next budget year [without planning for the worst case scenario].  We have to anticipate going into the next budget year with the likelihood that we would lose that appeal so we have to budget accordingly."
There are more changes as well. Long time employee Elvia Garcia-Ayala is retiring, despite some rumors that she has been let go.
At this point the city is not going to replace her but is rather looking at restructuring, which might involve moving the maintenance function over to public works and other consolidations.
"Our main goal is that we have to keep service levels up within our budget, so we have to look at each discrete category as to what is the most cost effective way to deliver that service," he said.
On Tuesday, the city will finally look at the budget for the first time this cycle.  Steve Pinkerton indicated that the combination of the move of Paul Navazio to Woodland City Manager, as well as the contract negotiations, have made it challenging to draw up a budget, which he argued is not statutorily required.
However, he expects one in place in the next few meetings.  In addition, the negotiations continue on the new contracts.  He would not say it, but it appears likely those too will go past June 30.
We will be talking with Dave Owen later today and update where this process sits and how the city employees view it.
—David M. Greenwald reporting