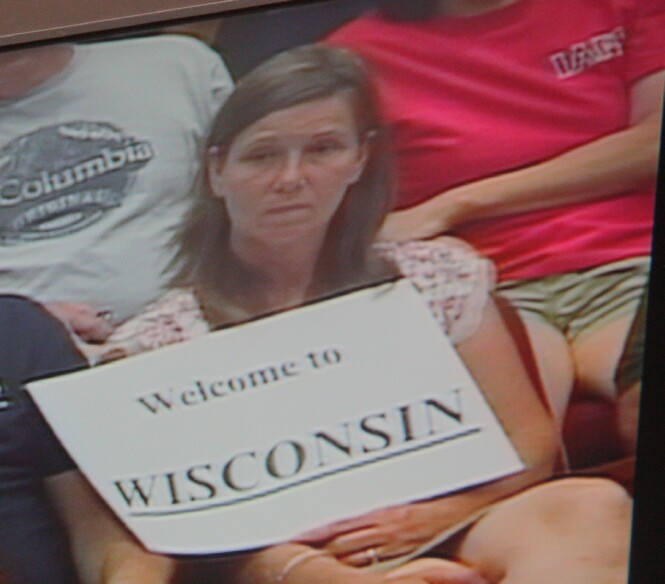 Last year, during the heat of the debate on the budget in the city of Davis, there was a comment by Firefighters Union President Bobby Weist, comparing a proposed budget cut to Wisconsin.  There were even signs to that effect.  So it is ironic that the two issues come together, Davis and Wisconsin, this week.
The title of the editorial this week in the local paper was "Wisconsin governor wins and unions lose."  Now wouldn't you think that we have had an historic election in Davis, and that the local paper in their Sunday edition might want something, I don't know, local?
Then again, understanding the anti-union tendencies of our local "liberal" media, it is not shocking that they would carry such an obviously non-locally produced editorial.
I am almost reluctant to write this piece, because I know the comment section will become another bash the union session, but I think the title of that editorial  is wrong.  What's more ironic is that I think the person or people, who actually wrote it, agree.
What we know is that Wisconsin last year became a focal point when it attempted to, among other things, effectively destroy public employee unions.
Wisconsin this year became only the third state to attempt to recall its governor and Scott Walker became the first governor to survive this recall effort.  He won fairly handily, 53-46, against the same opponent that he defeated in 2010.
But did he really win?
The editorial writes, "Walker was uncharacteristically conciliatory, even proposing a peacemaking session with Democrats over beer and brats this week."  He said, "I think it's important to fix things, but it's also important to make sure we talk about it and involve people in the process."
The key lies in this statement: "Had he taken his own advice, much political bloodshed might have been avoided. He blindsided the state's public employee unions by taking away their collective-bargaining rights, a move, according to The Wall Street Journal, that is already costing them members and dues money."
Clearly, unions lost in this?
What is not mentioned, is that the Democrats won an important Senate recall election by a few hundred votes.  As the result, the Democrats have taken over the Senate.
Mark Miller, the Senate Majority Leader now, in Wisconsin: "Starting today, Senate Democrats will be a strong check on Scott Walker's power. If Walker tries to pass extreme policies that bust unions, hurt women, or attack middle-class families, we will have one word for him: No. We will demand laws that benefit the middle class and start repairing our state."
So who won, again?  To recap, Governor Walker was more conciliatory, perhaps one could say humbled?  The Democrats retook the Senate.  Sounds like there is a bit more of a victory there than one thinks.
The clear losers in this may be the unions.
The editorial notes, "While much of the unions' power traditionally has been attributed to their fundraising, their true strength has always been their ability to turn out their members. This they did in Wisconsin, helping to knock on 948,000 doors and make 890,000 phone calls on behalf of challenger Tom Barrett, the mayor of Milwaukee."
The bigger problem is regarding Citizens United, and the Supreme Court decision which has allowed "the unchecked influence of outside cash. The New York Times said that, as of late May, $45.6 million had been spent on Walker's behalf and only $17.9 million for Barrett. It was the most expensive race in Wisconsin history."
I am not one of these "good government" liberals who believes we need campaign finance reform to save us from the big monied interests.  I think most campaign finance laws have, at best, delayed the inevitable and in general are worthless.  They may even harm the people who are good and honest and are not trying to subvert the laws.
I do not believe the Koch Brothers saved Governor Walker, any more than I believe the attack mailer doomed Sue Greenwald.
Instead, I look to Robert Scheer, a veteran progressive writer who this week argued, "Democrats failed in Wisconsin because they failed Wisconsin."
As he noted in creating a strawman argument, "Perhaps if the original McCain-Feingold legislation – gutted by the Supreme Court – was still the law of the land on campaign finance, the Democrats and their union base would have survived Tuesday's election."
But then he countered: "Certainly that is the excuse provided by what remains of the liberal media, which point to the lopsided advantage in funding for Wisconsin Gov. Scott Walker and to the high court's Citizens United ruling in seeking reasons for this 'billionaire's victory' over 'people power.' "
However, he added, "But the larger truth is that the spirit of populism has been perverted by the Republican tea party right and that Democrats are left defending government bureaucracy while remaining incapable of responding to America's widespread economic pain."
In other words, the Democrats lost because the Democrats lost their moorings.  He continues, "At a time when so many are worried about obtaining or holding on to work, it's difficult to rally around the guaranteed job security and high pensions of some privileged government employees."
This pulls us away from Wisconsin, and the inevitable union-bashing that will ensue, to an uncomfortable reality in our own political backyard.
As we looked more and more into the attack mailer unleashed in the Davis City Council race by James Burchill and three Sacramento-based unions, we uncovered what might prove to be an uncomfortable truth.
Our own municipal code that limits contributions to city council candidates may, in fact, be unenforceable.  No one wants to say it, we tried to get the city to spell it out, but our sources indicate that if one of the candidates had wanted to take $200 from a contributor, there is nothing the city or anyone else could have done about it.
We spent a lot of time trying to debunk this, because, after all, who wants to acknowledge that outside money could come into our fair city and impact our local races?  But we cannot deny that the two subjects of the attack mailer both were defeated last week.
I still believe the overall effect was tangential.  I believe that the voters – enough of them to defeat two incumbents – grew tired of business as usual and were looking for solid change.
But the mailer may have worked in subtle ways.
First, it may have worked by reminding voters of what they already knew and did not like.
It may have worked because the response to it was not the right one.  It may have worked because Sue Greenwald started to play the victim card, something you saw on the Vanguard comment board but also in the veiled implication that Stephen Souza was anything but an innocent victim of this mailer.
The comments by Sue Greenwald after the election suggest as much, as well.  In the end, I think Stephen Souza was the one who was right when he suggested that over the course of time, he probably angered more people with his votes than he pleased.
For Sue Greenwald, she probably angered more people, not only with her votes but with her persona, than she pleased.  Sue Greenwald did not lose because of the mailer, she lost because of herself, just as she had previously won because of herself.
—David M. Greenwald reporting