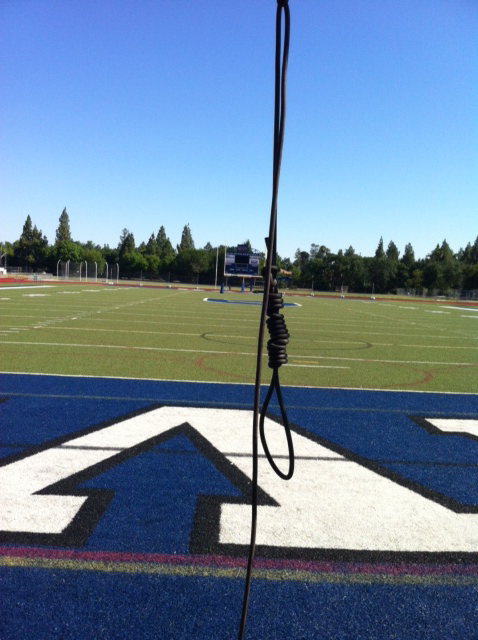 Everybody responds to news differently.  Davis, a diverse community with all sorts of viewpoints, has responded in its own way and everyone has a different response to the noose incident at Davis High.
The response has been made more difficult by the uncertain nature of the incident.  We do not know why the incident occurred – whether it was meant as a joke or inspired by actual hate.  And quite frankly, it does not matter.
Perhaps the best early response was from Rich Rifkin, who recognized that, while it probably was a prank, "But it's an ugly sort of prank. It's not the kind of thing that anyone sees and gets a laugh or feels good about the place they live."
Whether or not this was a prank, Mr. Rifkin got this exactly right.  The public officials in this town did not simply issue a knee-jerk statement.  They pondered and tried to find the right balance between expressing concern and compassion on the one hand, while at the same time trying not to empower the perpetrator.
The immediate comment by a respected member of this community that it was "robotic" hurt people beyond any sense that he really understood.
He made people afraid to express themselves on the Vanguard because of his dismissive and hurtful remark.  I doubt that he meant it to be as malicious as he did, but that's how it came across.
I received a message shortly after from a prominent member of this community in his or her own right.  Like myself, this individual has raised mixed-race children in this community and at times, many people in this community would be surprised at the difficulties that they have had to face.
The individual wrote me: "Have to say I'm disappointed in some of the comments on the noose article."
"Something like that doesn't have to be directed at a specific person. When I saw the photo it literally made me sick to my stomach," they stated and added: "I have fear for the safety of my older boys in certain situations."
Unfortunately, they along with a number of other people will not comment on the Vanguard about personal matters of this sort.  That is too bad.  The people who were dismissive succeeded in fear and intimidation.  I have sadness and regret that this site that I have worked so hard to build over the last six years cannot offer people an opportunity to air their concerns.
They concluded: "Most people won't know what it feels like to be hated and possibly hurt for something they can't control, like the color of their skin. Even if a prank, it stills feels ugly and can raise past trauma for those who have been targets."
There are many who simply want to dismiss this as a harmless prank.  I remember how we felt when my synagogue was defaced with Swastikas – there is no such thing as a harmless prank.
The fact is, we do not know that this was just a prank.
As someone asked, "Do you believe that the action of putting up the noose on Juneteenth was intentionally inflammatory and worthy of condemnation, regardless of who did it?"
Whether this is a mere coincidence that someone did this during the time when this county was celebrating Juneteenth, the date that we celebrate the emancipation from slavery, is dubious.
Maybe it is.  But I suspect, to Marc Hicks who found the noose, and people in segments of the community, it doesn't matter what the reason is for the incident, it is unacceptable and it brings back all sorts of emotions and feelings.  None of this is helpful for the community.
I made a conscious effort to live in this community and raise my kids here.  This is the kind of incident that gives me pause.  We have enough of our own struggles to get through without having to expose our children to this sorts of hate.
It is bad enough that someone was insensitive enough to hang a noose in my community, in our community. We don't have to compound that through thoughtless and insensitive remarks on this site.
I hope that when people post on here they understand, that for every person who posts a comment, there are at least 100 to 200 people who are reading it and not commenting.
To people like Joe Krovoza, Rochelle Swanson, Susan Lovenburg and Winfred Roberson, I thank you for your comments yesterday.  These are tricky and difficult incidents to deal with.
I think your comments struck the appropriate balance and I thank you for them.
—David M. Greenwald reporting