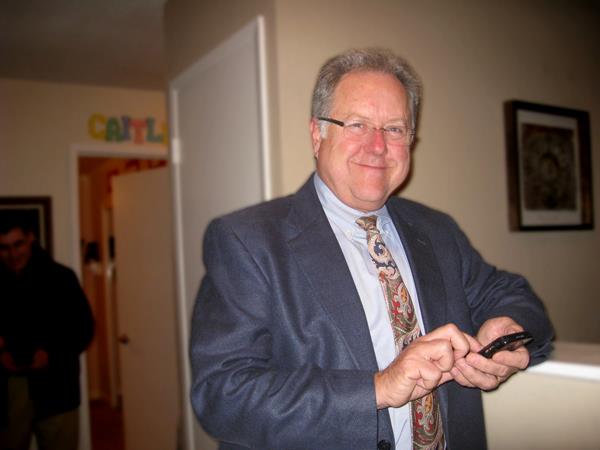 The writing was on the wall last week, the Davis School Board was not going to put the restoration of this year's cuts on the ballot.
There were good and solid reasons laid out by Gina Daleiden last week for not attempting to restore the cuts from last year, resulting in a net 50-position cut.
For one thing, teachers last year declined to take concessions.  The idea of asking the community to sacrifice where the teachers did not would have been a difficult political sell.
What should be very clear, however, is that without Richard Harris' decision not to run for re-election and to push the district for another parcel tax, this would not have been on the table.  Certainly not in November.
The voters will be asked to do two things at once.  First, they will be asked to renew Measure A which was billed as a one-time emergency parcel tax, that voters narrowly approved in May of last year.
Second, the voters will be asked to buffer the district against what could be disastrous trigger cuts if the state does not pass the governor's tax measure.
Measure A accounts for $3.2 million.  The trigger cuts would cost the district $3.5 million.
If the governor's tax measure fails, taxpayers would be paying a maximum $446 for the new parcel tax.  If it passes, that number will be $204 – the exact amount is today.
What happens if the measure does not pass and the governor's tax measure fails?  Superintendent Winfred Roberson laid out this scenario to the Vanguard when we met a few weeks ago.
Last year as the result of a $3.5 million shortfall, the district eliminated 42 teachers and nine paraeducators.  That number will be over 100 if the district ends up losing the $7.5 million that it could lose.
As it stands now, the schools have lost $12 million per year in state funding since 2007.
Cutting that many teachers will increase class size, lead to the loss of seven periods at the junior high and high school level, reduce the number of courses offered, and reduce vice principals.
In addition to 50 layoffs, the district laid off junior high vice principals and counselors at the secondary level.  That will put at-risk kids at greater risk as the district will have fewer resources to provide them.
Some of these cuts will be restored through the Davis School Foundation that has already raised more than $250,000 in a $500,000 fundraising campaign.
Voters will rightly question renewing Measure A, which was supposed to be an emergency measure.
Last week, Gina Daleiden addressed this concern.
"Sheila [Allen] and I spent awhile saying that was an emergency parcel tax," she said.  "That was absolutely what I believed at the time.  Things have only gotten worse.  It's almost unpredictably worse.   If we're going to say, look, game has changed, we have new information and our first job is to protect the school district as best we can, then I'm willing to talk about continuing what you are already paying to bridge us through some additional time."
Sheila Allen said "I swear when I was doing Measure A, I was very clear, two years emergency funding.  The fact is, the emergency has not gone away.  That's the problem."
Sue Lovenburg added, "It has actually increased."
As Richard Harris said this week: "It's still an emergency."
Superintendent Roberson added, "It's not easy to ask for money. But we need money in order to educate children. And we've already seen significant reductions from the state."
Richard Harris posted a comment on Facebook following his colleague's unanimous vote.
"My colleagues voted for the children of Davis tonight and approved my proposal to put on the November ballot a local tax plan that will ONLY be triggered if the statewide tax initiative fails and drastic cuts are imposed on local school districts," he wrote.
He added, "This is the FIRST local safety net to be proposed and placed before the voters since the statewide tax qualified for the ballot. The action tonight was not exactly what I proposed but as the great political policy philosopher Mick Jagger said "You can't always get what you want, but if you try sometime, you might just get what you need!""
But it was more than that.
Prior to Mr. Harris' surprise announcement there were no plans for a parcel tax.  As we know, the timeline for putting a measure on the ballot is very tight.  The discussion last week emerged only because Richard Harris raised the issue.
They would have the option of course, in the fall, to put the matter on spring ballot.  They would in that case respond to the loss of state money.  This is a more proactive approach and it avoids the pitfalls of a low turnout special election.
The fact is, this is an emergency.  An emergency at the level that we have never seen before in this community.
There are those who believe this should be handled at the state level – that the state has the obligation to fund all of education.  There can be little doubt that there is a good amount of validity to that belief.
Unfortunately, given the dysfunction in Sacramento, the inability for get beyond petty partisan difference and reach consensus-based governance, waiting for the state to act properly could means devastating impacts locally.
Let the residents of this community decide how much value we have for sustaining our current levels of education.  If two-thirds of them agree, we go forward.  If not, this district is going to look very different next year.
—David M. Greenwald reporting