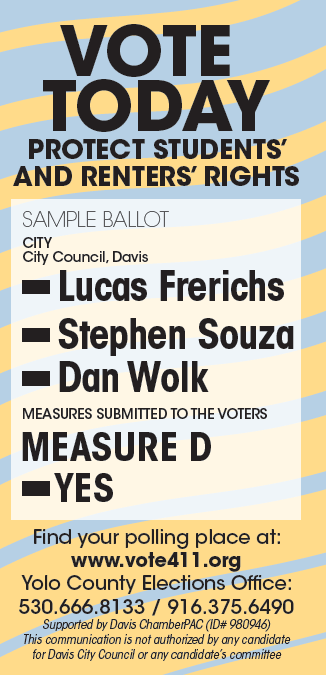 The Davis ChamberPAC send out notification that it had purchased around 4000 door hangers that would be distributed throughout Davis today at around 9 am.
According to the notification, "These door hangers advocate for a 'Yes' vote on Measure D and for support of Davis City Council candidates: Lucas Frerichs, Stephen Souza and Dan Wolk."
The Davis ChamberPAC also announced they would be sending out 1763 text messages to registered Davis voters at 10am. Again, "These text messages advocate for a 'Yes' vote on Measure D and for support of Davis City Council candidates: Lucas Frerichs, Stephen Souza and Dan Wolk."
Of particular interest is the message on the door hanger.  It says, "Protect students' and renters' rights."
It is a curious message for a few reasons.
First, the ChamberPAC is comprised primarily of property managers and developers, who would generally be on the landowner side of the issue of renters' rights.
Moreover, while students have frequently raised problems with the Davis Model Lease and, in 2006, Lamar Heystek campaigned in support for the renters' bill of rights, his efforts in particular were not supported by one of the candidates on the slate.
While the candidates back in 2010 seemed to recognize problems with the model lease, no efforts have been undertaken to deal with the issue.
Back in 2010, candidate Joe Krovoza said , "You guys have got to get your security deposits back.  It's absolutely ridiculous."   He went on to talk about a Davis Media Access video which showed the difficulty of getting security deposits back.  He said that as long as it is normal wear and tear, people should get their security deposits back.  He pointed out that it just does not happen.  "Davis Model lease is very very complicated and there's nothing about it that strikes me as slanted in the students' favor."  He continued, "If you look at the Davis Model lease in Davis and think that that must be kind of geared towards students, since it's a university town.  It's not slanted towards students and its overly complex for any of you to get your arms around."
Daniel Watts went even further, calling the Davis Model lease, "ridiculous."  And arguing, "There are several provisions in that that are against State of California Tenant Law."  He wants to work with the landlords to change that.  "The security deposit is a real problem."
However, these issues have largely been ignored by council and not raised much in this election.
We are not suggesting that the supported candidates are anti-renter, but only that the issue has not been widely discussed and the Chamber supporting such a message seems, at best, odd.
In fact, we hope that this is a sign that the Chamber will working with student groups to address these issues that have gone unaddressed for at least the six years the Vanguard has been in operation.
—David M. Greenwald