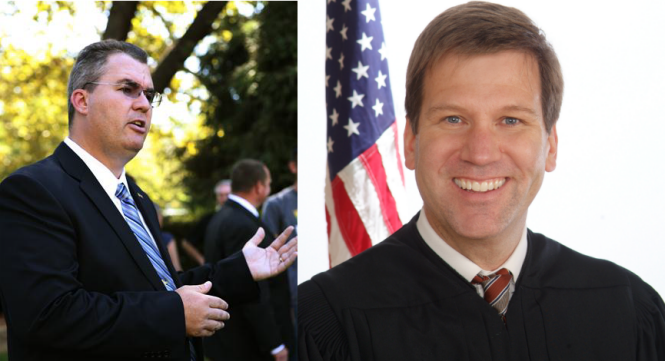 One race that clearly lacked drama was the race for Yolo County Judge, where Judge Dan Maguire easily retained his seat defeating Deputy District Attorney Clinton Parish.  With the latest update from the Yolo County Clerk Recorder's Office, Judge Dan Maguire holds an overwhelming 55.4% lead in the election for Yolo County Superior Court Judge. Judge Dan Maguire currently has 20,543 votes (77.2%) compared to Clint Parish who has 6,054 votes (22.8%).
The race ended just after the county released the vote by mail ballots shortly after polls closed at 8 pm, and it would take roughly three hours for Mr. Parish to concede what became inevitable long before, when an attack mailer backfired on him, causing key supporters to pull their endorsements, including Sheriff Ed Prieto and his own boss, District Attorney Jeff Reisig.
The incumbent, 45-year-old Dan Maguire, received the support from the entire Yolo County bench including a number of retired judges, as well as most of the county's bar.
"I am humbled that the voters of Yolo County trust my service on the bench. The wide vote margin tells me they are happy with the job I have done," said Judge Maguire. "One of the benefits of running for election has been the chance to travel throughout Yolo County meeting and talking with residents in all of our cities and in the unincorporated areas and I really have cherished this experience."
Presiding Judge David Rosenberg told the Vanguard this morning, ""The entire Yolo Superior Court is extremely thankful for the vote of confidence by the citizens of this county.   The challenger to Judge Maguire campaigned on the basis of a vast misunderstanding of the role of a Judge."
He added, "We, on the Bench, are no more 'pro-law enforcement' than we are 'pro-prosecutor, or pro-defense, or pro-anything'.   Our job is to make sure the law is followed, that people are treated fairly and respectfully, and that everyone's rights are protected."
From the start, it would have been an uphill battle for the ten-year prosecutor in Yolo County.  However, Mr. Parish clearly fatally harmed himself when attacks in a mailer proved to lack foundation and his campaign appeared to have failed in its due diligence to perform the kind of research that would have been expected of a deputy district attorney, let alone a judge.
Indeed, even his concession speech showed how little he learned.
His release stated, "Although I am disappointed in the results, I am glad that Yolo County had the chance to vote for their government. I still believe that every branch of our government should be elected by the people of this country."
He added, "I am very grateful to live in a country that allows us to have such a voice in our own government."
Mr. Parish has never been willing to acknowledge that the appointment process has important checks that are absent in a popular election.
Indeed, most members of the public have likely never seen even Judge Maguire or Deputy DA Parish at work.
Under state law, the governor cannot simply appoint anyone they want as a judge.  Rather they must submit the names of all persons to a Superior Court judgeship to the Commission on Judicial Nominees Evaluation of the State Bar of California.
According to John Poulos, a Professor Emeritus at UC Davis's School of Law, in a recent op-ed, "The commission assesses each nominee on the basis of impartiality; freedom from bias; industry; integrity; honesty; broad legal experience (e.g., litigation and non litigation experience, legal work for a business or nonprofit entity, experience as a law professor or other academic position, legal work in any of the three branches of government and legal work in dispute resolution); professional skills; intellectual capacity; judgment; community respect; commitment to equal justice; judicial temperament; communication skills; and job-related health."
He adds, "Based on these qualifications, the commission determines whether the candidate is qualified to be a judge of the Superior Court in California. The commission's rating (as well as all information gathered during the investigation) is not made public."
But Deputy DA Parish never went through that process, and instead disparaged his opponent for being a political insider who benefited from his connection.
"Political decisions have no place in the court.  Last minute political appointments are not in the best interest of Yolo County.  I believe the People of Yolo County can make better decisions than Arnold Schwarzenegger as to who should be a Judge in our County," Mr. Parish would argue.
"Yolo County deserves better than that," he told the Sacramento Bee in September of 2011. "It is time to get politics off the bench."
One of the key charges dealt with the decision by Governor Schwarzenegger to commute the sentence of Esteban Nuñez, son of former Speaker Fabian Nuñez – a move that angered many and that the former governor acknowledged was a favor to a friend.
The flier attacks Dan Maguire, who was said to be "part of Arnold's inner circle, Dan Maguire was part of Arnold's legal team that made decisions including commuting the sentence of convicted murderer Esteban Nuñez…"   Later in the flier it said, "Dan Maguire received a political appointment (never elected) and took the bench only three weeks before Arnold's last-day Commutation of Esteban Nuñez' sentence."
When the Vanguard inquired about substantiation of this charge, Kirby Wells, campaign communications for Clinton Parish, pointed toward this You Tube video of the Santos Family, the victim's parents.
The problem is that it appears that Dan Maguire was appointed to the bench of Yolo County on October 18, 2010 while the commutation occurred at the last minute on January 2, 2011.
For his part, Dan Maguire says he had no involvement in the decision to commute Mr. Nunez's sentence and learned about it on TV.
When we attempted to ask Kirby Wells about this apparent discrepancy, we did not receive a response to our email.
Meanwhile, Mr. Parish, who has not responded to Vanguard requests for an interview, backed off the entire charge when he spoke to the Davis Enterprise, which paraphrased him saying "that the ads don't claim that Maguire played a part in the reduced sentence."
"The point is that he worked for the legal team that made that and other bad decisions," he said. "It really goes to show, you are a product of the offices you work for. Right or wrong, it's the truth, and people judge me based on what I and my office have done."
The dominoes fell quickly as Sheriff Prieto, an early backer of Clinton Parish pulled his endorsement.
"I don't support that kind of campaigning," Sheriff Prieto said. "You have to run a campaign on your merit and your skills, not by tearing down your opponent. I do not want to be a part of that."
At first DA Jeff Reisig would stick with his support for his subordinate, despite his expressed disapproval for the tactics – tactics that he himself had used in his run for DA in 2006.
"I previously gave him my endorsement and I'm not going to change that," Mr. Reisig said. "But I don't agree with the negative mail piece and I told him that."
But that was before the Bee issued forth a scathing editorial, arguing "Parish shows he's unfit to be a judge."
In it they argue: "Parish didn't apologize for making the mistake. Instead, he sought to shift blame, telling the Bee that the campaign worker who gave him the information no longer works for the campaign. He didn't identify the individual."
"On Wednesday, Parish continued to defend his lowdown hit piece, although he did back off, somewhat, from an allegation that as a private attorney, Maguire somehow was involved in a case involving a bribe," the Bee writes.  "Lamely, Parish told the Bee that the connection wasn't as close as he had been led to believe. The allegation is, in fact, false. Parish should have said so."
The Bee directly implicated Mr. Reisig, which seemed to be enough for the DA to pull his endorsement as they wrote: "District Attorney Jeff Reisig criticized the mailer but unfortunately stuck by his endorsement of Parish.  By continuing to lend his support to Parish, Reisig displays a lack of insight into how such a mailer can politicize the judiciary. Yolo County voters should consider Reisig's embrace of Parish if Reisig appears on the ballot again."
He sent an email to the Davis Enterprise stating: "Having considered all the facts and circumstances surrounding judicial candidate Clint Parish's attack mail piece, including recent explanations from his campaign, I have decided to retract my endorsement of his candidacy."
In just five days from May 14 to May 18, with the sending of the mailer, Clinton Parish went from an underdog to politically dead on arrival.
Perhaps to his credit, he never backed out from the campaign.  However, as it turns out, he would perform far worse than his predecessor James Walker, who would receive 30% of the vote in 2008 after challenging Judge Tim Fall.
The remaining question to ponder – how quickly will these mistakes hasten the exit of Mr. Parish?  Meanwhile, as the Vanguard noted, the voters were treated with a rare, up-close view of the inner workings of the DA's office.
—David M. Greenwald reporting