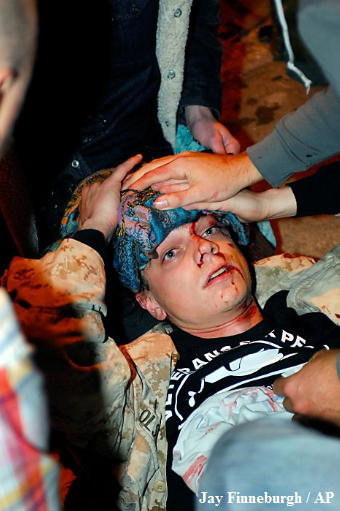 This week, a report released on the police handling of the October 2011 occupation of an encampment in front of Oakland City Hall in Frank Ogawa Plaza Park became the third major report from last fall's police handling occupations in Northern California.
In late March, a report largely cleared police in Berkeley of their use of force.  In April a similar report from UC Davis slammed police and administration officials for the handling of an occupation that resulted in the pepper spraying and arrests of numerous students on November 18, 2011.
Now a report assails police handling of the clearing of an encampment in front of Oakland's city hall in October.
The report prepared by the Frazier Group, overseen by former Baltimore Police Commissioner Thomas Frazier, found that "the crowd control tactics used by OPD are outdated, dangerous, and ineffective."  Mr. Frazier noted that "many assigned investigators and supervisors lack the technical proficiency and, in many cases, the experience to conduct comprehensive, aggressive and unbiased investigations."
When the Occupy Oakland group originally set up their tents near city hall, "the City of Oakland sought to accommodate the group in the exercise of their First Amendment rights of expression. However, as time progressed, there were legitimate concerns – mostly supported by evidence – on behalf of city officials for the health, safety and welfare of people in the FOP Park, city employees, and community members."
On October 25, 2011, an operation began to execute an Oakland Police Department plan to evict the Occupy movement from two parks.
They write, "In the early evening, Occupy Oakland clashed with the Oakland Police Department resulting in controversial uses of force, including an incident involving a protestor who was critically injured by a police officer after he was allegedly struck in the head by a specialty impact munition and/or a tear gas canister."
Since then, numerous Occupy groups "have confronted police with the intent to provoke physical contact and seek notoriety. Additionally, prompted by these 'direct actions' groups, participating protesters have engaged in significant property destruction and vandalism."
These tactics have become increasingly unpopular amongst the citizens in the Bay Area.
At the same time, "In the wake of these events, serious concerns were raised by both City Officials and by the community at large concerning use of unreasonable force, overall police performance, and OPD's ability to manage future events in an acceptable manner."
They add, "The ability of OPD to effectively and impartially investigate the widely reported allegations of police use of force and other misconduct was also questioned."
What Commissioner Frazier and his team found was astonishing.
With regard to crowd control, their review "revealed that OPD did not satisfactorily exercise preferred practices."
"Once the protestor crowd reached the barricades where the officers were located, the order to deploy chemical munitions was given," Commissioner Frazier wrote. "This was not followed by dynamic tactical action to move the protestors away from FOP Park. This allowed time for the protestors to regroup once the gas cleared, and continue the conflict."
The report continues, "During crowd control and crowd management efforts on Oct. 25, 2011, there were a number of incidents where less-lethal force was used by OPD."
He writes, "However, it appeared that little effort was made to take the suspects into custody when it would have been reasonable to do so. The decision to use force against individuals who violate the law needs to be done in concert with a strategy of deploying Quick Response Teams and/or simultaneous dynamic movement of squad-sized crowd control elements. Under the law, 'reasonable' force may be used to effect an arrest, overcome resistance, and/or prevent escape."
Most critical was Mr. Frazier's assessment that there was reasonable suspicion that officer-involved criminal acts may have occurred and that the department failed to review these cases appropriately.
Mr. Frazier concluded that Oakland's arsenal of less-than-lethal weapons was outdated and dangerous.  The report did not weigh in as to whether their use of force against the protesters was justified, though it is clear in some situations he believed them not to be.
One of the more infamous involved the use of force against Scott Olsen.  Mr. Olsen, a 24-year-old Marine who served two tours of duty in Iraq, suffered a fractured skull and brain swelling after he was hit in the head by a bean bag. As other demonstrators tried to care for him, another officer fired a tear-gas canister at them.
Mark Martel, Mr. Olsen's attorney, has been questioning this incident for some time.
It has not been clear exactly what hit Mr. Olsen in the head.  Back in March, Sgt. Chris Bolton, the Oakland Police Department's chief of staff, said he could not confirm what type of munition struck Mr. Olsen because the department's investigation into the incident is still open.
"Obviously, in an investigation into Scott Olsen, one of the core questions to be asked is, 'What hit him in the head, and who caused an object to hit him in the head?' " Sgt. Bolton said.
Mr. Olsen believes he was hit with a tear gas canister.
"The difference is significant, because a tear gas canister, you don't shoot at a person," said Mr. Martel, who called the development "troubling" and said he planned to file a lawsuit against the city and the police department.
"It looks like one officer intentionally shot him," he said.
The Frazier report questioned whether officers gave an honest account of what happened.  He writes, "The fact that no law enforcement officer, supervisor or commander observed the person falling down or prostrate in the street during the confrontation was both unsettling and not believable."
"Immediately following xxxx's injury, and while he was lying on the ground, at least one chemical agent canister was deployed by an identified OPD officer into a crowd that had surrounded xxxx to render aid," Mr. Frazier wrote.
He added, "We should note that the review team has serious concerns regarding the quality and breadth of the OPD criminal investigation involving this situation. The review team has received information that the criminal investigation has been closed."
"However, it is our belief that OPD should consider a re-examination of the quality of this investigation," he wrote.
"We're really not afraid of the truth," Mayor Jean Quan said during a press conference. "We know it's hard. We know the city has been struggling with reforming some parts of the police department for decades. But I believe that this chief has the courage to make those changes, and we'll stand behind him to make those changes."
—David M. Greenwald reporting