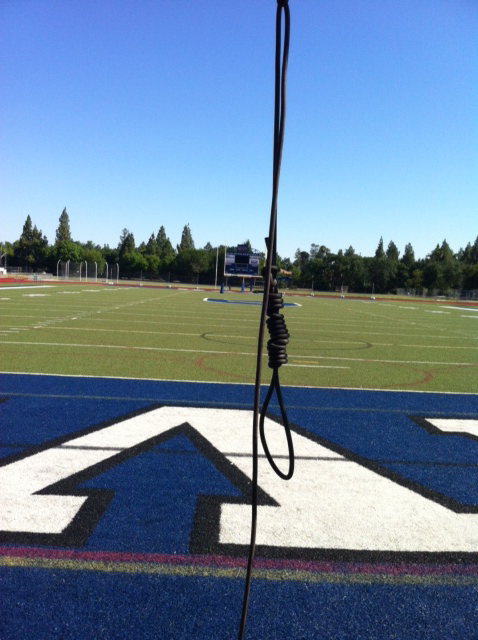 An investigation is underway into what the Davis Police Department is investigating as a hate incident, the hanging of a noose, found by Davis School District Safety Coordinator Marc Hicks on Friday, hanging from the goalposts at the Davis School football field.
The investigation is still underway.  Officials are taking this matter very seriously, believing it very important that all people in this community feel safe.
The timing of the noose coincided with the celebration of Juneteenth, which is an international day celebrating Freedom and Emancipation from slavery.
Officials have stressed that they are not treating this as a prank.  The incident has been reported to the Davis Police Department for investigation.
"The city of Davis is a community of acceptance, inclusion and understanding.  We emphatically deplore the act of hate that occurred at Davis High School over the weekend.  We stand firmly with all members of our community, especially those who have known the pain of discrimination and prejudice in the past," said Davis Mayor Joe Krovoza and Mayor Pro Tem Rochelle Swanson in a joint statement released on Tuesday afternoon.
Susan Lovenberg, President of the School Board stated, "The hanging of the noose at our football stadium goes against everything we believe and teach our students.  As a community, we deplore this act of hatred and ignorance."
At this time officials do not know if children or adults are responsible for displaying what they are calling a "symbol of violence and hate."
Lt. Paul Doroshov of the Davis Police Department told the Vanguard late on Monday evening that he will be assigning a detective to look into this matter further.
Right now he said there was nothing other than the noose itself to suggest any type of hate message behind it, but obviously given sensitivities and the history of such a symbol they will be examining that question far more closely in the coming days.
"The incident is an unfortunate reminder that we must redouble our efforts in the community – and in our classrooms – to teach and emulate equality and justice," Mayor Krovoza and Mayor Pro Tem Swanson said.
They noted that a police report has been filed and the Davis Police Department is pursuing all possible leads to locate those responsible.
"We are also asking the city's Human Relations Committee to advise the City Council on steps to further promote and foster inclusion and nurturing of all people in our community," the Davis City officials said.
"Hate and intolerance stem from fear and ignorance," said Superintendent Winfred Roberson. "This isolated event does not distract us from the positive work and cultural responsiveness that has taken place in DJUSD and the City of Davis."
—David M. Greenwald reporting