Community Meeting Held to Discuss Incident and Stand Strong Against the Hanging of the Noose at DHS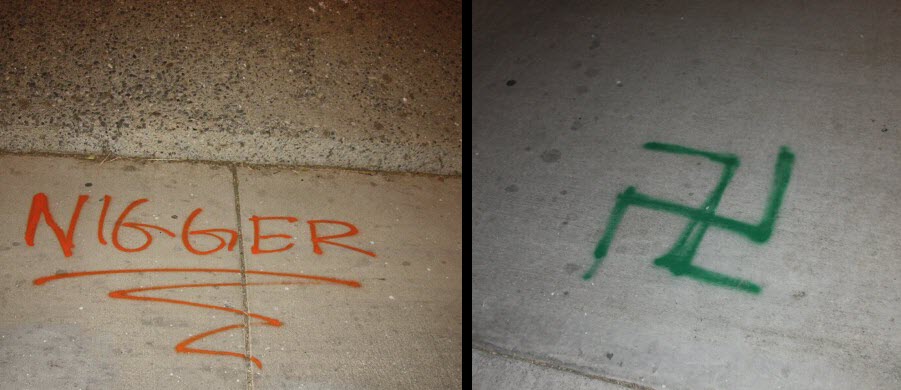 A diverse group of community members ranging from high school age on up, of all different races and ethnicities, gathered at the Davis High School library to discuss and better understand the noose incident.
Chief Deputy District Attorney Jonathan Raven, a Davis resident, announced that on his morning run he had found under the bike and pedestrian underpass connecting UC Davis with South Davis, a Swastika and graffiti that said, "Nigger."
"Hate is alive and well in Davis," he told the audience late in the event.  He said he was running on Saturday, the day after the noose appeared on the DHS campus, and at the underpass, "I saw Swastikas and the word 'Nigger' in graffiti."
Davis Police Lt. Paul Doroshov told the Vanguard following the meeting, that while it is difficult to determine the timing of the graffiti incident, the paint appears to be fresh – indicating that the act was performed in the last few days.
Jann Murray-Garcia, a pediatrician, who has taught a very popular course at the high school on race and social justice, organized the meeting.  She told the group we have learned as a community that if we try to ignore these incidents, they do not go away; rather, things escalate.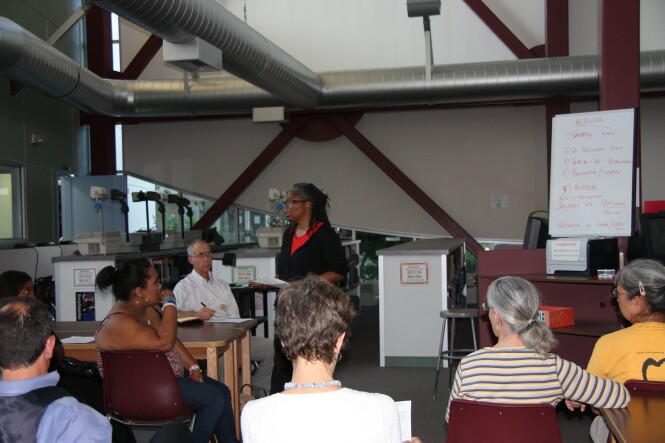 She noted many local stories where turning one's head and stating it doesn't matter did not solve the problems, but instead caused them to return even  worse.  She argued that we must take a strong stand.
Most of these crimes are committed not by organized hate groups but rather by young, and seemingly normal, white males.  Many of them, she said, are not convinced of the legitimacy of their acts and she argued that, while in many cases criminal sanctions do not work, in terms of hate crimes and hate acts, sanctions actually have been shown to be far more effective.
Lt. Doroshov has been leading the investigation into this incident.  He noted that, regardless of the intent, under the California Penal Code Section 11411, "Any person… who hangs a noose, knowing it to be a symbol representing a threat to life, on the property of a primary school, junior high school, high school… for the purpose of terrorizing any person who attends or works at the school, park, or place of employment, or who is otherwise associated with the school, park, or place of employment, shall be punished by imprisonment in a county jail not to exceed one year."
He said that the police are operating on the presumption that this is a hate crime, and that they prefer to start at the higher end and work their way down.
Lt. Doroshov told the group that most crimes of this sort are solved through tips, and generally the public hears someone who is bragging about it and it gets reported that way.
The lieutenant noted that they have two goals.  First, to determine who committed the act, and second to determine the threat assessment in order to avoid this happening again.
Clearly, authorities are now concerned about this secondary incident and how it may or may not connect with the hanging of the noose at Davis High last Friday.
A number of members of the community spoke out.  Longtime residents Bill Calhoun, a retired high school teacher, and Reverend Tim Malone cited a history of hate incidents, even some incidents going back to 1978 involving the Klan in Davis.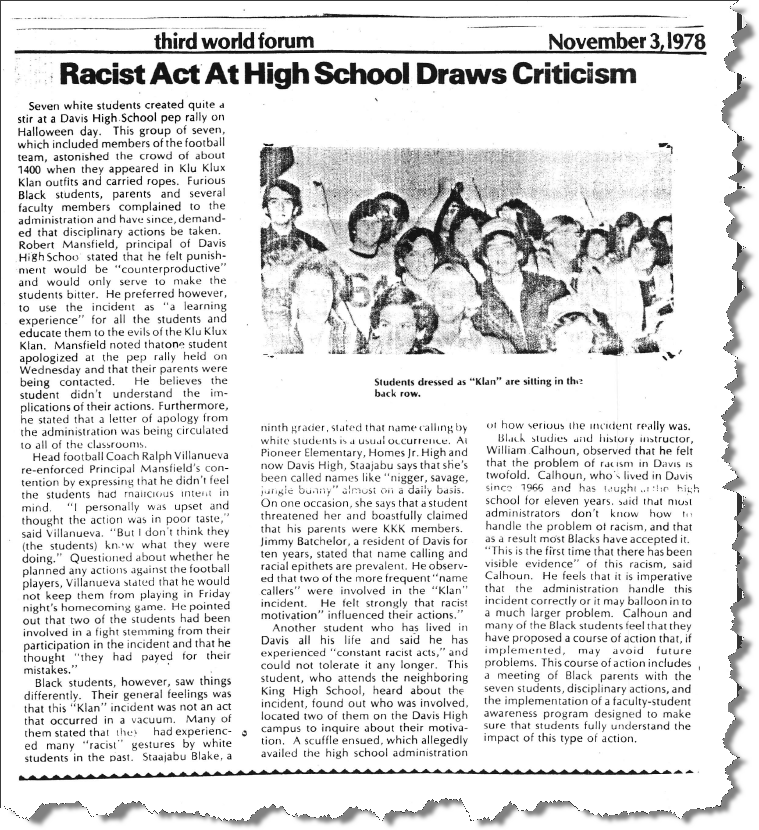 Students, particularly students of color, were especially concerned.  "It's unacceptable, it's inappropriate and I just feel disrespected," said Amani Jones, the President of the Black Student Union.  "Being the BSU President, I'm very hurt by this."
A recent graduate of Davis High said, "It's really sad that something like this would happen in Davis because I've grown up here my whole entire life and Davis has been such a safe neighborhood and it's just sad that something this bad would happen."
She found it an odd coincidence that this would happen in the summertime, when it was less likely they would be caught by school officials.
"If they thought it was some kind of joke… it's not funny at all," she continued.  "They need to stop being rude and ignorant and think about other people."
"It's sad that now and in this day and age that stuff like this is still happening," she concluded.
Sierra Brown, Vice President of BSU, said that she loves to learn, and believes that Davis is a great community.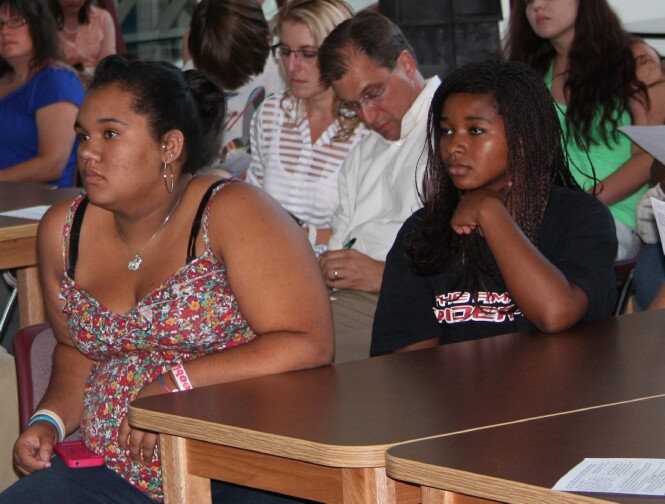 "But to think that someone would express their will like that kind of hurts me because as a community we're supposed to love each other and love who we are and what we believe," she said.  She too felt disrespected by the actions of the individual who hung the noose.
Mayor Joe Krovoza was one of a number of public officials in attendance.
"For the city this is not a fine moment," he said.  "I just want to echo what Jann said, the response needs to be clear, immediate, we need to send the signal that it's not okay."
"This is a community issue, it's not a school issue.  One segment of our community affects the whole community," he continued.
He noted that they spend a lot of time making this a great community with all sorts of program, "then something like this happens that strikes at the very gut – we're not inclusive, we're not doing everything we can."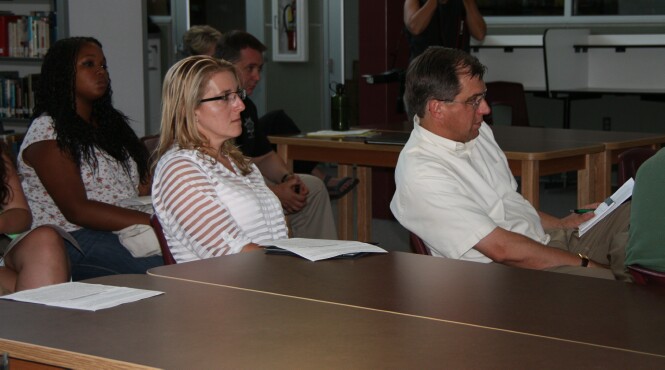 "I want to endorse the fact that the response has to define the community," he added authoritatively.  "I think that the most powerful response is from the youth in this community, whoever did this, maybe I'm assuming it was a kid… but I really want to challenge the youth to say that if this was youth, to say that this is not okay, it is not cool, it does not give you social recognition.  You need to learn, you need to go to school, you need to take RSJ and you need to join the human family."
Jacqui Moore, Principal at Davis High, noted overwhelming population of the Race and Social Justice Course taught by Jann Murray-Garcia as a hopeful step in the right direction.
She told the audience that in her previous job in Sacramento, "we worked very hard to look at what does a suspension actually accomplish, they do something wrong, they're sent home from school, they do worse when they come back."
"It's punitive with no results," she said.  "What we want is actual results.  One of the things we've started this year… is a restorative justice approach to all our students and, honestly, it's been very successful."
Chief Deputy DA Jonathan Raven noted that, under District Attorney Jeff Reisig, their office "takes hate crimes extremely seriously."
"We've prosecuted some very serious hate crimes over the last few years," he said.  "Some of them who have had experience with this statewide have told us that other DA's offices don't prosecute these terrible assaults and batteries as hate crimes – we certainly do."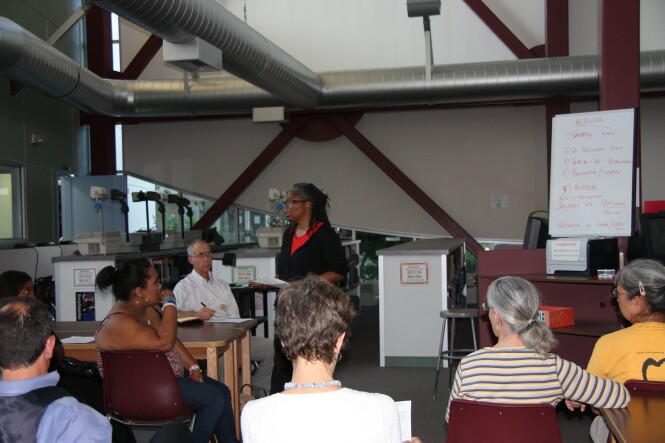 Jann Murray-Garcia spent about ten minutes instructing the audience on what a hate crime is.
Under Penal Code 11411, a hate crime is "any unlawful action against the person or property of another committed substantially because of the victim's actual or perceived race, color, religion, ancestry, national origin, disability, gender, or sexual orientation."
The penal code makes it illegal to hang or display a noose, swastika or a burning cross in a public place.
She said bias-related crime is a better term.  "It is the perpetrator's bias as a motivation for committing the crime that must be proven. The perpetrator can even be wrong about a victim's group membership," she said.
Unlike non-bias related crime, "Victims, even if unintentionally, are entire groups of people who share the same characteristic."  Hate crimes leave victims and even the entire community chronically traumatized.
She also distinguished hate incident from hate crime.  She defined it as, "This is a non-criminal act, including words directed against another person, based on the person's actual or perceived group membership. They include … epithets, distribution of hate material in a public place, posting of hate material that does not result in property damage, and the display of offensive material on one's own property."
However, she noted under the penal code, the hanging of the noose is by definition a hate crime.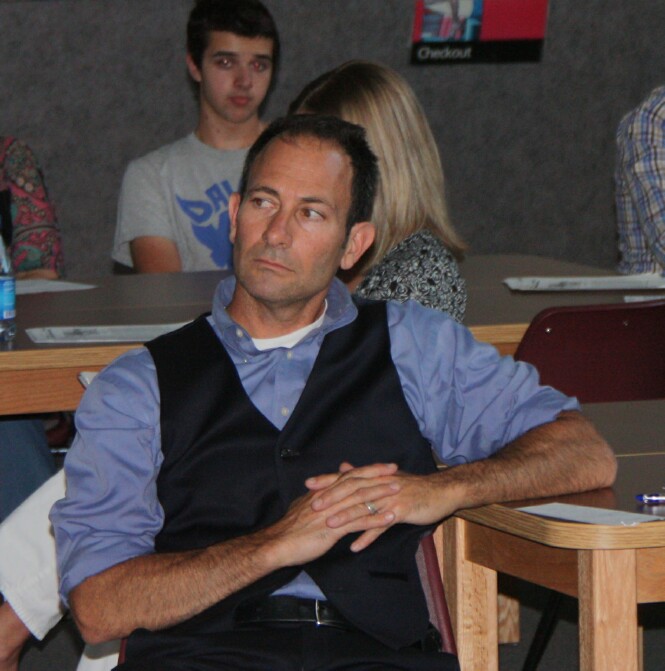 "Hate crimes are different crimes," Deputy DA Jonathan Raven explained.  "Many people, even police officers, would say we have enhancements, we have aggravating factors, why not use these issues as aggravating factors."
"The fact of the matter is that hate crimes are different," he continued.  "They're message crimes.  They're meant to send a strong message to the community and put a full community of people in fear.  Because of that we have hate crimes."
"The legislature was smart enough in this case to say when you're dealing with nooses, when you're dealing with Swastikas, when you're dealing with Burning Crosses, these bring out such strong reactions because of our history that those are crimes in and of themselves," he added.
Mr. Raven noted that when people tell him how do you know what this actually is, maybe it's just a noose, a prank, a joke.
He said, "Well these people don't realize what it means to people to see a noose or a Swastika or a Burning Cross."
As we noted, most often the perpetrator of hate crimes is not an organized group of "life mission" offenders but rather young thrill seekers, who are local kids.
Ms. Murray-Garcia said, "Numerous studies have demonstrated that only a small percentage of hate crimes are committed by people with any connection to or background involving organized 'hate groups' … What these studies have found instead is that the majority of bias crimes are committed by seemingly normal, mostly law-abiding young people who often see nothing wrong with their behavior. Bias crime offenders are predominantly young white males, typically from working-class or middle class backgrounds. And though ties to hate groups are rare, the perpetrators are clearly inspired by these groups' rhetoric, shouting their well known slogans, parroting their political rhetoric, and displaying such symbols of white supremacism as the swastika or the Confederate flag."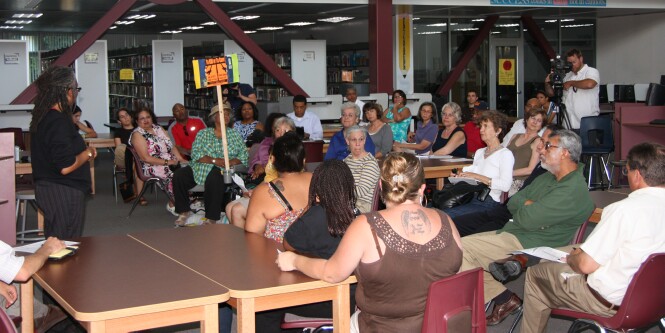 She argued that ignoring or not taking hate crimes seriously is a mistake.  She cited studies that show, "Youths graduate to more serious crimes, from property damage to physical injury."
She cited a study by a researcher named Neiwert who found, "A slap on the wrist of a hate crime offender is a slap in the face to the community of victims."
She also argued that we miss the clues that this might be the tip of the iceberg of the youth's conduct and we pass up a teachable moment both for the community and its young people.
—David M. Greenwald reporting