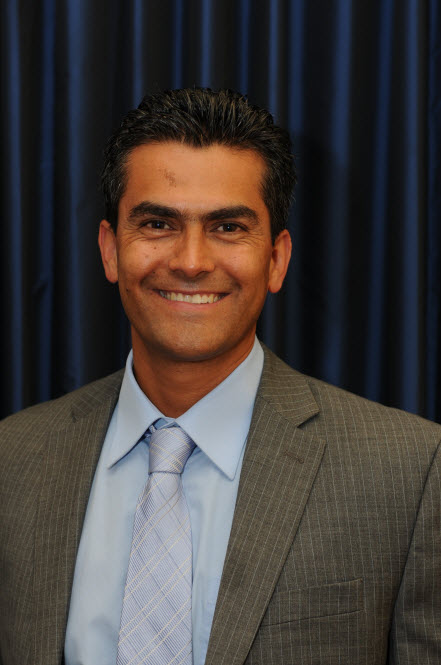 In a few weeks, Franky Carrillo will speak at the Vanguard's annual Dinner and Awards ceremony.  His wrongful conviction, that cost him 20 years in custody, was based not just on the faulty memory of the witnesses but also intentional manipulation by law enforcement.
Carrillo was sentenced in 1992 to one life term and 30 years to life in prison after being convicted of one count of first-degree murder and six counts of attempted murder in a fatal drive-by shooting.
Mr. Carrillo had been in prison for nearly 14 years when a Sacramento-based attorney with the California Public Defender's office, Ellen Eggers, learned of his case and met with Mr. Carrillo in prison in Folsom.
Critical to Mr. Carrillo's case were six eyewitnesses who testified to seeing him pull the trigger.  It was the victim's son who finally admitted to Ms. Eggers, "He hadn't seen anything and he had relied entirely on one of the other witnesses because [he] had assured [the son] it was Franky.  But we already knew [from the second witness] that the Sheriff's Department had told [him] who to pick."
"So it all led back to a corrupt Sheriff's deputy that made a mistake and thought he had the right guy but he didn't," Ms. Eggers told us.
Ms. Eggers convinced the defense team to hire an eyewitness identification expert, Scott Frasier, to do a complete reenactment of the crime.  Eventually she convinced the judge to go to the crime scene.
"[The reenactment] established that none of those witnesses could have seen what they claimed to have seen," she said.  This meant it was not merely adult witnesses recanting years later – there was actually evidence to support that recantation.
It was the revelation that one could not make out the facial features in the lighting conditions that led even the prosecution to believe that Mr. Carrillo was not the shooter that night.
Even under the best of conditions, eyewitness identification is simply not reliable.  Researchers have noted that our minds do not work like tape recorders.
Writes the Innocence Project, "The human mind is not like a tape recorder; we neither record events exactly as we see them, nor recall them like a tape that has been rewound. Instead, witness memory is like any other evidence at a crime scene; it must be preserved carefully and retrieved methodically, or it can be contaminated."
Moreover, memory is subject to contamination that is undetectable to the eyewitness.  Dr. Geoffrey Loftus, a Psychology Professor at the University of Washington, is one of the foremost authorities on memory and human perception.
In his testimony as an expert witness in a recent trial, he spoke of post-event information.  This is information, as its name implies, creates a coherent story rather than the fragmented information that is initially processed.  At the time, making this more coherent does not make it more accurate.
While post-event information makes it seem more "real," the memory could actually be based on a false premise.  For instance, an eyewitness may hear from someone else that the attacker wore a certain color, and subconsciously accommodate that information to his or her memory of the event.
"A fundamental principal in American criminal justice is that one is innocent until proven guilty beyond a reasonable doubt," writes Nancy Petro, a contributor to the Wrongful Conviction blog. "In the past two decades, DNA-proven wrongful convictions have revealed that we've routinely met the standard of 'beyond a reasonable doubt' with evidence that is quantifiably incorrect one-fourth of the time."
"A 25 percent error rate in school has historically earned the very lackluster grade of D. A 25 percent margin of error would shutter any hospital and ground any airline," she noted.  "But, in the criminal justice system, most Americans, blinded by trust in the system and a popular allegiance to 'tough on crime' policies, have yet to demand best practices in securing the most accurate evidence possible from those who have witnessed a crime."
Studies show we lack an appreciation of just how delicate memory is and how much it is subject to contamination if not manipulation.
The Associated Press just ran an article that the state of Virginia, plagued like so many states by problems of wrongful conviction, is attempting to address the issue of false identifications during police lineups by overhauling its model policy on police lineups and eyewitness-identification procedures.
AP reports, "The guidelines call for double-blind identification lineups, meaning an investigator doesn't know the suspect's identity so he can't give intentional or inadvertent clues to the eyewitness. The agency is also developing training sessions for police officers on best practices and the importance of adhering to such standards."
"No one benefits from a misidentification. For the police, it hinders investigations, for prosecutors it burns witnesses," said Rebecca Brown, the Innocence Project's director of state policy reform.
University of Virginia Law School Professor Brandon Garrett, author of Convicting the Innocent: Where Criminal Prosecutions Go Wrong, and a key consultant on Virginia's model eyewitness-identification policy, said, "It's a very sensitive task.  If you do the lineup wrong, you can actually change the memory of the face they actually saw."
That problem was made worse in the case of Franky Carillo, who believes that official misconduct played a crucial role in his conviction.  Five of the six witnesses, all young men, testified to seeing him shoot and kill the victim.
The young men were coaxed by sheriff's deputies to pick Mr. Carrillo's picture out of a lineup.  Each of those individuals have since recanted their original trial testimony.
However, the rate of error even under the best of conditions should alarm us.
"Studies have revealed that, among police lineups in which an eyewitness made a selection, the eyewitness chose a non-suspect filler 30 percent of the time," Ms. Petro writes.
"If a witness fingers a police-selected colleague in the lineup, no harm is done. The police will not arrest him. However, if the witness selects a suspect who happens to be innocent, the stage is set for a wrongful conviction," she added.
Barry Scheck and Peter Neufeld, in the landmark 1996 National Institute of Justice study, Convicted by Juries, Exonerated by Science: Case Studies in the Use of DNA Evidence to Establish Innocence After Trial found: "Every year since 1989, in about 25 percent of the sexual assault cases referred to the FBI where results could be obtained (primarily by state and local law enforcement), the primary suspect has been excluded by forensic DNA testing."
Nancy Petro argues even when multiple people point out the same individual, misidentification can occur.
Professor Garrett found in a study of 190 DNA-proven wrongful convictions that multiple witnesses misidentified the same innocent person in 36 percent of the cases.
Ms. Petro cites the case of Dean Gillispie who was misidentified by three victims and whose clothing containing DNA evidence was discarded before it could be tested.
In an article for the Ohio Innocence Project, she found that the police in that case "violated virtually every best practice in lineup procedures."  It took Mr. Gillispie 20 years to be freed, in December 2011.
A number of states following this wave of research are requiring improved procedures.
"Responsible citizens must urge our elected officials to require best practices in the criminal justice system," Ms. Petro writes.  "Any case based solely upon eyewitness identification should raise red flags. It's becoming increasingly obvious that eyewitness identification alone, with its 25-percent error rate, cannot prove guilt beyond a reasonable doubt."
—David M. Greenwald reporting