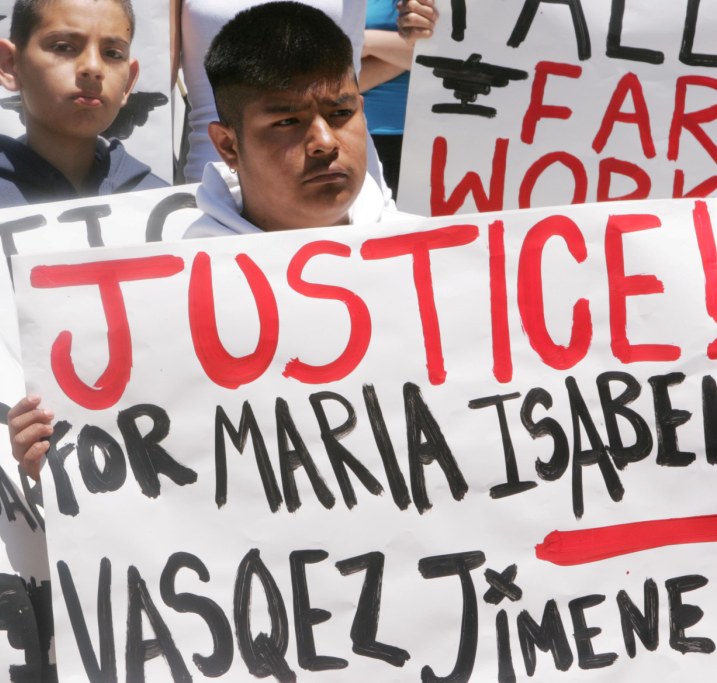 The most appalling factor in the death of young Maria Isabel Vasquez-Jimenez in May of 2008 was not the fact that she was 17, not the fact that she had worked nine hours in temperatures that reached 100 degrees inside the vineyard, and it was not the fact that her body temperature had reached 108.4 degrees when she was finally taken to the hospital where she died.
No, it was the indifference her supervisor had to her medical condition.  Back in 2008, the Vanguard interviewed Merlyn Calderon of the United Farm Workers for the Vanguard Radio Show and she told us that at the point when her boyfriend noticed that she was in trouble around 3 pm and she collapsed, the supervisor, apparently more concerned with concealing the fact that they had employed a 17-year-old on the farm for 9 hours than her own safety, did not take her to the emergency room.
Rather, the supervisor said not to worry and took her to a drug store in the back of an unairconditioned truck and tried to revive her with rubbing alcohol.
When that did not work, she was placed in the van which was sitting in the sun with no air conditioning. They had to wait until all the workers came back before departing.
Merlyn Calderon told the Vanguard: "While in route the foreman called saying, 'If you take her to a clinic don't say she was working [for the contractor]. Say she became sick because she was jogging to get exercise. Since she's underage, it will create big problems for us.' She was so sick an ambulance took her to the hospital."
This indifference to care is what killed this young lady, but compounding the problem is that there was no water provided on the site until 10:30 am when the temperature was already in the 90s. To make matters worse the water was a 10-minute walk away and the workers only received a 10-minute break. Meaning that there was no realistic access to water.
It is within this context that we need to understand the rationale for AB 2346.
Instead, over the last few weeks, local Assemblymember Mariko Yamada has been attacked by farmers such as Paul Underhill who accuse her of rank hypocrisy.  Mr. Underhill wrote a piece that appeared in both the Woodland Daily Democrat and the Davis Enterprise that attacked the Assemblymember's farm policies, particularly on two issues.
"Yamada claims to be proudly representing the agricultural interests of her district, especially in her role as chair of the recently created Assembly Subcommittee on Organic and Sustainable Agriculture," Mr. Underhill writes. "Instead, Yamada, D-Davis, repeatedly has voted along party lines in favor of legislation that hurts the farmers in her district."
Her crime, according to Mr. Underwood – she supported a bill that imposed an eight-hour day with overtime rules for farms, despite what he calls "objections from farmers that rules designed for offices and factories do not fit the seasonal work schedule of agriculture."
And he says, "She voted in support of a bill that implements heat safety rules that are unworkable for many farmers and would make farm employers the target of unscrupulous lawyers."
In her response, Assemblymember Yamada pointed out, "In 2005, the state had no regulations governing outdoor work in high heat conditions.  Following that slew of deaths, then-Governor Arnold Schwarzenegger issued emergency regulations.  These became permanent in 2006."
She noted, "My commitment to agriculture is being questioned and my votes characterized as 'partisan.' "
While she noted her lone Democratic "no" vote on the elimination of the William Act which protects farmland, the thrust of her piece was defense of two votes that seem to be a flashpoint for criticism.
She writes, "In 2010, I voted for SB 1121 (Florez) a bill that would have granted overtime pay to farmworkers after an eight-hour day (currently, California farmworkers are eligible for overtime pay after a ten-hour work day through a wage order).  Since 1938, domestic workers and farmworkers have been exempt from overtime pay under the federal Fair Labor Standards Act (FLSA).  Coincidentally, these workers have been historically African-American and Latino."
She adds, "Farmworker overtime pay opponents argue that farm work is unique and different from other work because it is seasonal and dependent on weather conditions.  Razor-thin profit margins would require farmers to cut hours and layoff farmworkers if they faced an increase in labor costs.  With the most liberal agricultural wage order in the country, any change would put California farmers at a global disadvantage."
"I recognize the concerns of farm owners," the Assemblymember writes.  "Agriculture is one of our most important businesses, and one that cannot leave the state.  But I believed in 2010 as I do now that farmworkers perform some of the most difficult work in our society, and that California should be leading the way for improving wages and benefits for those without whom food and drink would disappear from our grocery stores, restaurants, bars, and kitchen tables."
In addition she supported AB 2346, authored by Assemblymember Butler and dubbed, "The Farmworker Safety Act of 2012."
Critics argue that the shade and water regulations are onerous, but the Assemblymember points out: "The bill codifies existing CalOSHA heat illness regulations, specifies access to water and shade, and allows an additional private-right-of-action against violators with increased civil penalties. "
She adds, "The latter provision responds to the 'slap-on-the-wrist' given the farm labor contractors who employed Maria Isavel Vasquez Jimenez, the 17-year-old pregnant farmworker who in 2008 died from heat illness while working in San Joaquin County.   Her internal body temperature upon death was 108 degrees.  As a result of a 2011 plea bargain, a judge sentenced the contractors to community service and probation.  I believe farmworkers deserve better."
But John Munn, who is running against Mariko Yamada, responds in his own op-ed, that the Assemblymember's "remarks ignore most of the concerns raised by farmers in opposing this legislation."
Mr. Munn, a former Davis School Board Member and President of the Yolo County Taxpayers Association, argues that the Assemblymember "has avoided discussing the very real problems that this legislation will create and the effect that it will have on driving more jobs out of California."
He accuses Mariko Yamada of "pulling on our heart strings" by "implying that people who work outside are dying because current work rules are not adequate and that farmers don't care."
He argues, "But there is no mention of whether current regulations were being followed in the examples she cites or whether proposed changes in AB 2346 would lead to different outcomes."
"This, however, is mainly a distraction from what is actually in AB 2346," he writes. "So let's just agree that no one should be forced to work under intolerable heat stress conditions and go on to discuss why AB 2346 creates more problems than it solves."
The "most egregious part of AB 2346," he argues, is "shade and water requirements for farmworkers are not new. Farmers, together with the California and county Farm Bureaus, have been making good-faith efforts at compliance with current regulations. AB 2346 ignores this good-faith effort by allowing an employee to sue farmers, even if they (the employee) created the out-of-compliance situation (such as walking more than 200 feet from a shade structure)."
He argues, "This "bounty hunter" provision undoubtedly will lead (as it has in other cases where lawsuits are used to enforce regulations) to a cottage industry of attorneys suing farmers and either collecting very large amounts from larger landowners or, more frequently, reaching a settlement for less than the cost and risk of going to court."
"So, if farmers are making progress under current regulations to provide shade and water, while workers and supervisors are being trained on how to recognize and prevent heat-related illnesses, what is the purpose of imposing unworkable operational requirements in combination with bounty hunter enforcement under AB 2346? I suggest that the answer to this question may be found in who the new beneficiaries are," he continues.
"There is also the question of what legislation like AB 2346 is doing to the California economy," Mr. Munn writes. "Where possible, the response by many farmers will be to switch to crops that do not require large numbers of field workers or to greater use of mechanized pruning and harvesting methods that will eliminate thousands of farmworker jobs."
But the core question remains unanswered – how does one prevent the tragedy of the young farm worker when the penalties for the farmers, even if they are violating current law, seem so lenient?
Last week, there was an extensive discussion of AB 2346 on the Vanguard, and there appear to be some areas of the legislation that could be tightened and amended.  It seems that that might be the best approach to deal with both the concerns of the proponents of the measure, while quelling the concerns of critics.
—David M. Greenwald reporting