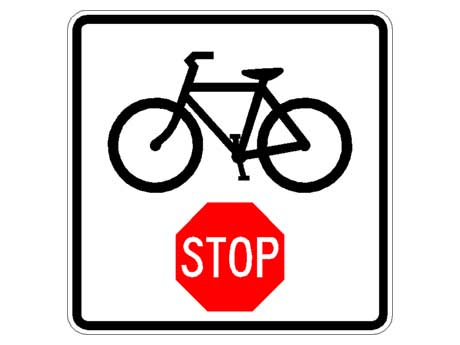 While these days I am no longer an avid bicycle rider, I have been in the past.  In fact, when I first came to Davis, I did so in the spring of 1996 via bicycle as I trekked from San Luis Obispo up to San Francisco and then cut over to Davis.
I have long been supportive of Davis' bicycle culture and tradition, and have supported policies aimed at getting more people out of their cars and onto their bikes, whether it is on their way to school or to work.  Moreover, I support road upgrades, such as the Fifth Street Corridor Project, to make our roads more bike- friendly.
While Davis prides itself on being a Platinum City, the home of the National Biking Hall of Fame, and perhaps the biking capital of the US, in recent months a darker side has crept increasingly into my view: the reckless and arrogant approach that *some* bicyclists have to the road.
You have the "Share the Road" crowd who insist, at times, upon riding side-by-side, obstructing lanes of traffic right next to a perfectly viable bike route.  I recall last fall suggesting that they use the bike lane and, if not, at least ride single file.  What ensued was a call by them to "share the road" and then a verbal altercation.
More concerning to me has been a recent number of run-ins with bicyclists not just moving through stop signs, but flying through them as though they were not there.  Twice I have been carrying my young daughter across the street when a bicyclist swerved and flew by us.  This was not me stepping in front of a bicyclist, but rather, they had plenty of room to stop but chose to ignore the stop sign and traffic laws.
The first time, I yelled "slow down," and the guy actually turned his bike around and returned to confront me.  He first said, "really?"  And when I said, "really," he continued to lecture to me that he was not about to put my kids in harm.
The most recent one last week: I was walking across Third, at F Street, when a bicyclist whizzed by turning right onto F.  I yelled "stop sign!"  He yelled something back which I could not understand – but it did not appear to be an apology.
Here I was carrying my daughter across the street, and this guy put us at risk by brazenly ignoring traffic laws.
Naturally, the police have some concerns both about the violation of law and what I call the arrogance of the rider, but they are not sure as to what to do.  There have actually been efforts to see about changing local city laws to allow bicyclists to ignore traffic laws like stop signs.  However, those have been blocked by state vehicle code laws.
There are those who argue that bicyclists should not be treated the same as cars.  Idaho's law, for instance, treats a stop sign as a yield and a stop light as a stop and proceed.
In Minnesota, a proposed law would have: "Bikers approaching a stop sign would have to slow to a speed that would allow them to stop quickly but could proceed without stopping if no vehicles are in the area," according to the proposal.
"Cyclists approaching a stoplight could make a left turn on a one-way street or a right turn without stopping. They could also ride through the intersection at a red light, but only after coming to a full stop and determining no cars are nearby."
Proponents of changes argue: "Bicyclists have better awareness of surroundings (better field of vision, higher than cars, no windows/stereo/cell phone obstructing hearing, stereo hearing)."
They add that bicyclists are better able to avoid collisions, since they are smaller, more agile and lighter in weight.
Of course, an increasing trend, and increasingly dangerous, is for bicyclists to wear iPod ear buds.  I recall driving down Third by the railroad tracks and this guy was biking and swerving into the traffic lane.  I honked at him as he nearly cut right in front of me and he paid no mind.  I then drove along side of him and motioned to my ears, he looked at me like he was crazy.
He couldn't even hear the sound of my holding down the horn.  Other cars were doing the same thing.  He had no clue the danger he was in and the trouble he was causing.
The police have dedicated a few days a year to strict enforcement of such laws, but those days are obviously insufficient to solve what is really a safety threat to all parties that use an intersection – bicyclists, cars and pedestrians.
Moreover, the few times when bicyclists are issued a citation, they are stunned by the uneven enforcement.
I do not have a great answer, myself, to the problem.  I am not a huge law and order person, and putting expensive bicycle tickets on students is probably not the best approach and likely will not work.
Education programs are great, but also too limited.
As a young bike rider in San Luis Obispo, I was taught proper etiquette from a family friend whose family would take extended bike trips.  I never thought to run stop signs until I got to Davis.
So, I offer no suggestions other than the need for those in the bicycling community to change the culture, both in terms of the non-adherence to traffic laws as well as the arrogant attitude that comes with it.
—David M. Greenwald reporting