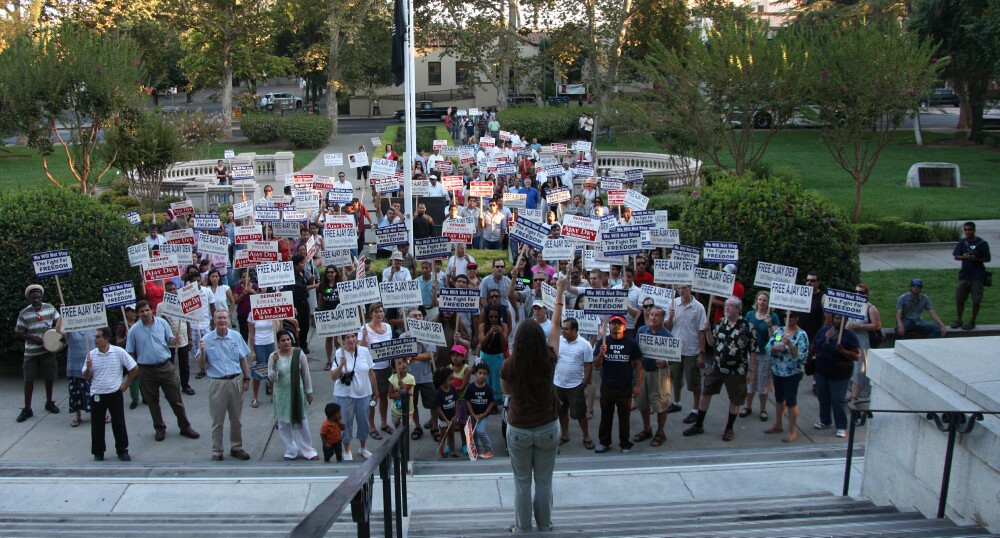 Braving the triple-digit August heat of Woodland, 250 protesters  not only listened to an hour of speeches but marched down to the courthouse in a protest that marked the third year anniversary of Ajay Dev's conviction on dozens of charges of raping his adoptive daughter.
"I'm here today because I know without a doubt, with 100 percent certainty that my brother, Ajay Dev, is innocent," Sanjay Dev told the crowd on Wednesday evening at Woodland's Freeman Park.
It was around this time in 2009 that Ajay Dev was convicted of dozens of counts for the rape of his adoptive daughter that his family, friends and supporters say never occurred.
An emotional Peggy Dev, wife of Ajay Dev, acknowledged that she was overwhelmed by the continued show of support.
"We feel your love, we feel your support," she said.  "I get very overwhelmed to see your support and it's what carries Ajay and carries me forward."
"It's very difficult, you read in the paper about wrongful convictions and you read that some people have been there for sometimes twenty years," she continued.  "That's all you read.  You don't get to feel it.  You don't get to live it.  But I'm living it.  And it destroys your life."
The family announced on Wednesday, that the appeal has finally been filed in the case.  The Vanguard will be examining that appeal when it becomes a public document, and will report on the findings.
Once again, the family and supporters laid out a program providing details and information that they believe indicates that Ajay Dev is innocent and never could have committed the crimes he was convicted of.
One of the props that was created was a timeline of events that attempted to show the improbability of the crime occurring as alleged by the accuser, the Dev's adopted daughter who came over from Nepal as a teenager.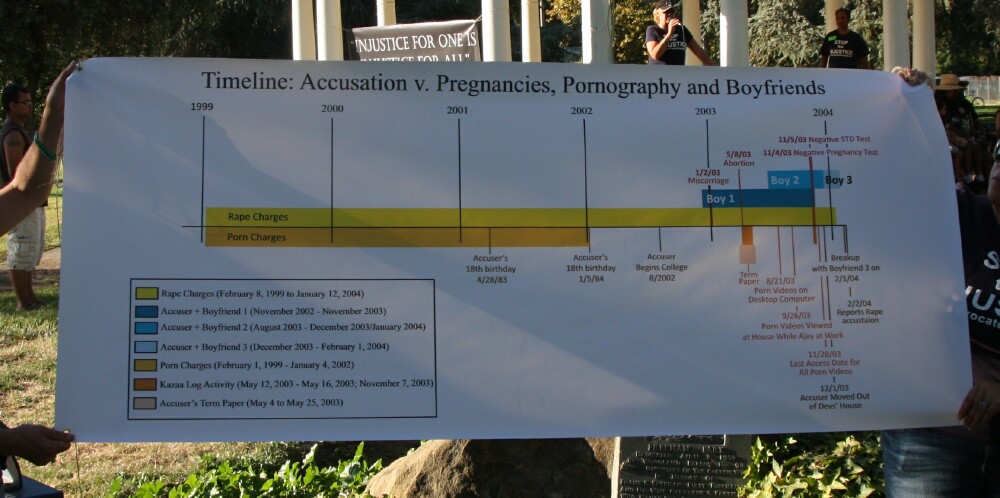 The incidents were alleged to have occurred over a five-year period from 1999 to 2004.
Patty Pursell, the sister-in-law of Mr. Dev, explained, "When you put the case on a visual like this, it becomes very obvious that this was a case, not of rape, but a case of teenager and parents fighting that escalated."
District Attorney Jeff Reisig, immediately after the trial, in his press release wrote, "At some point during these assaults the defendant had the victim watch pornography with him, some of which included child pornography."
However, as the Vanguard has noted multiple times, Mr. Dev was acquitted of any charges of showing the accuser pornography.
"The reason that [they brought up the porn allegations] in the trial, is not that they believed that this really happened," Ms. Pursell said.  "But because they wanted to paint the picture of a really nasty bag.  They want to say this man is terrible, he has pornography…  They wanted to prejudice the jury."
Ms. Pursell argues that they spent three days on this portion of the charges.
She noted that some of the alleged porn was actually spyware that came onto the computer creating the illusion of a file, with no content and that never actually existed.
Ms. Pursell also noted that DA Reisig refers to Mr. Dev impregnating the victim three times.
Mr. Reisig notes, "The victim alleged that the assaults of the defendant actually impregnated her once in late 2002 and another time in the spring of 2003."
Last year the family noted that the victim had actually alleged three times during the trial, though the medical records indicate a miscarriage in January of 2003 and an abortion in May of 2003.  In November of 2003, she had a negative pregnancy test.
Ms. Pursell points out, however, that the timeline shows another likely story.  From 1999 until 2003, the victim, though at least 16 years old throughout, was never impregnated.
"The first four years she never got pregnant," Ms. Pursell said.  "She was asked did he use contraceptive?  Nope."
It was only in 2003 that she became pregnant – this coincided with the time she was in college (beginning in August 2002) and had three boyfriends.
"The last year and a half, she's dating boys," Ms. Pursell continues.  "All of a sudden she gets pregnant three times."
She was asked on the stand whether she ever had sex with any of the boys and she said that she had not.  But on the stand, one of the boyfriends claimed otherwise.
The family claims the motivation for her making up the charges is her anger at Ajay Dev.
"If you look at the timeline, she gets angry at Ajay on February 1, 2004 because he has sent an email to her boyfriend asking that she follow Nepali Cultural Values," she said.  "He decides to break up with her and the very next day, she runs to the police and says I've been raped three times a week since the time I got here.  It was a total retaliation piece."
She noted that everything was fine the first four years, but the fifth year she went to college, started hanging out with boys, started doing poorly in school, started partying, and lost her job – the family argues that the rape allegations arise out of this tension between the accuser and the family over her lifestyle.
In addition, the accuser was convicted of perjury in Nepal.  She had falsified her date of birth on her passport in order to be able to come to the United States and be adopted by the Devs.
The prosecution was able to keep this history out of the trial.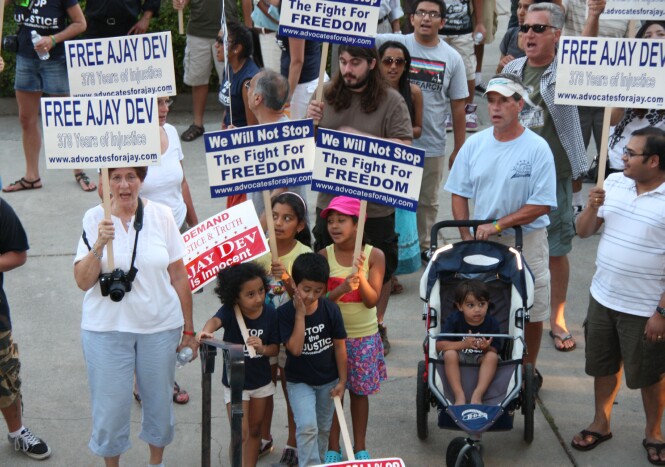 Peggy Dev spoke about the accuser's motivation to fabricate this crime.  She said that as the family had problems with the young girl who was in college and struggling, they sent her back to Nepal to "get in touch with your roots."
She went back to her family in Nepal for a month in 2003.  They were hoping that things would get better, but instead they got worse.
"When it finally broke down as irreparable, she sincerely believed, I believe, that we were going to send her back and this was a way to stop that, a way to circumvent her being sent back," Mrs. Dev said.
When the accusation of rape occurred, the family, a large family in Nepal, was shocked.  No one in Nepal knew for sure what happened, they were angry and the family was divided.  Some believed the accuser and some believed Ajay Dev.
"People took her side, it's a heinous crime.  People took his side, it's a horrible accusation," she said.
Peggy Dev said that their attorney told them to find out if she had made up stories in the past, under the assumption that people who falsely accuse others of crimes, often have a history.
An investigation occurred in Nepal, and "someone from the family… went and told the police."
She continued that Nepal, like the United States, has a prosecutor who takes a case after a complaint is made.  The accuser lost on the merits of the case in Nepali Court.
But this history was never allowed into the US Court.  Judge Fall would not admit it.
"It was ridiculed by the court.  It was ridiculed as they don't even have a system of justice like this," Mrs. Dev said.  "Had these documents been able to come in [to the court trial], the motive would have become very clear."
Darryl Wein was a physician's assistant at the Jamestown Prison.
"I have never known Ajay other than as a prison inmate," he said.  His first meeting was by happenstance, since he was not Mr. Dev's assigned provider and yet he landed on his schedule.
"When I first met Ajay, I knew something wasn't quite right.  He didn't look like any inmates I had ever met before," Mr. Wein said.
He described Mr. Dev as very soft-spoken and very well-educated.  When he looked at Ajay Dev's chart and saw he was a lifer, he asked Mr. Dev about it and was directed to their advocacy website.
He eventually would go to the website spending many hours, "much to the chagrin of my wife and dog and literally read everything that was posted on the website.  The story was so compelling to me that I passed it on to nearly everyone on my contact list."
Mr. Wein told the story about a prison guard who teased him and said, "you know all prison inmates are liars."
Mr. Wein said, "I don't really believe that and in this case in particular there's something unusual."
The prison guard decided to pull his "c-file" to see what his conviction history was.  He returned an hour later and said, "That's the cleanest 'c-file' I've ever seen.  You may actually be right there."
The appeal has been filed.  The Attorney General's office handles appeals, and they will have as much as a year to respond.  The appellate attorney will get another six months or so to reply, as well.
The process takes a long time.  By the time the appeal is heard, Mr. Dev will have been in prison for five years.  There is a reason why many wrongful convictions take 20 years before the individual is exonerated.
Mr. Dev has a large and well-educated family with resources that most in these situations do not have.
The Vanguard will report in the next few weeks about the appellate brief.
—David M. Greenwald reporting