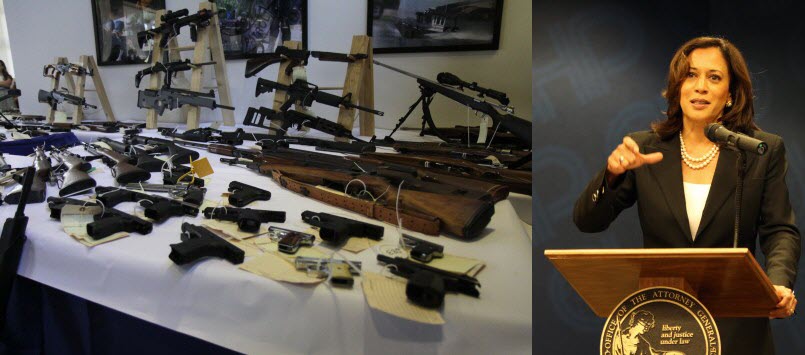 While California may have some of strongest gun control laws in the country, gun manufacturers are getting around one of the state's most important assault weapon laws, claims Senator Leland Yee, sponsor of SB 249.
"Interpretation of existing law allows for the sale of semi-automatic weapons with easily detachable magazines," a press release from Senator Yee's office claims. They argue that similarly-styled weapons were used in the Aurora, Colorado massacre and may have been used in Sunday's tragedy in Wisconsin.
Senator Yee has introduced amendments to his SB 249 that will strengthen the bill, which prohibits assault weapons with pistol grips, telescoping stock or certain other features from being easily reloaded with multiple rounds of ammunition.
"When California enacted our assault weapon law there was no intention of allowing such easily changeable magazines on military style weapons," said Senator Yee. "While SB 249 will not prevent all acts of senseless violence, it will close this loophole and help protect public safety."
In light of the recent gun tragedies, Attorney General Kamala Harris lends critical new support to this bill.
"In recent years, the gun industry has developed a loophole that undermines California's assault weapons law," said Ms. Harris. "I applaud the Legislature's interest in addressing this problem, and support efforts to pass legislation needed to restore the law's original intent. The Bureau of Firearms stands ready to prepare and implement regulations that will follow this clarifying legislation."
The Senate Leadership is now strongly behind this bill.  Several legislators have also already signed on as co-authors including Senate President pro Tem Darrell Steinberg (D-Sacramento), Senator Kevin de León (D-Los Angeles), Senator Loni Hancock (D-Berkeley), Assemblyman Anthony Portantino (D-La Cañada Flintridge), and Assemblyman Mike Feuer (D-Los Angeles).
"No one will convince me it's anything other than a joke to say that having multiple clips in a semiautomatic weapon that shoots a hundred or more bullets at a time is necessary in this state and in this country," Senate President Pro Tem Steinberg told reporters at the Capitol yesterday. "It's ridiculous."
Specifically, Senator Yee's bill will prohibit featured assault weapons with ammunition feeding devices that include, but are not limited to, magazines "that may be detached from the firearm by depressing a button on the firearm either with the finger or by use of a tool or bullet."
The bill will also direct the Attorney General's office to develop new regulations regarding the definition of assault weapons.
"The horror in Aurora sadly reminds us of the carnage that is possible when assault weapons get into the wrong hands," said Senator Yee. "While most gun owners are law-abiding, it is a fact that such weapons are more likely to be used to kill an innocent person than used in self-defense. One only needs to look at England, Japan, and other nations with strict gun access to see that these types of gun control laws are effective in preventing gun-related homicides."
"We must stop unscrupulous gun manufacturers from circumventing California's Assault Weapons Ban by modifying them with 'bullet buttons,' " said Amanda Wilcox, Legislation and Policy Chair for the California Brady Campaign. "In California, you can now buy the 'bullet button' version of the AR-15 used by the Aurora shooter to gun down 70 people in a movie theater."
As a result of the current loophole, Josh Sugarmann of the Violence Policy Center recently told CBS 5 in San Francisco that "the California assault weapons ban basically doesn't exist anymore."
However, gun rights supporters argue that this bill is unnecessary.
"It's a knee-jerk reaction," said Sam Paredes, executive director of Gun Owners of California. "Citizens in this state for the last 10 years have obeyed the law."
A group called Stop SB 249, a coalition made up of The Calguns Foundation, Cal-FFL (California Association of Federal Firearms Licensees), and thousands of law-abiding California gun owners and civil rights advocates opposed to SB 249, argues: "SB 249 could make tens of thousands of law-abiding California gun owners – and visitors, such as shooting sports competitors – into criminals and subject hundreds of thousands of personal property items to state-sponsored confiscation without compensation, an unlawful taking under the Fifth Amendment to the United States Constitution."
They note, "If this Bill passes, beginning July 1, 2013, violating the newly-added gun control laws would subject people to civil and criminal liability."
In a June letter to Attorney General Kamala Harris, Senator Yee wrote, "Recent news reports have highlighted the fact that gun manufacturers are producing assault weapons that are illegal under California statute but may appear to be authorized under the California Department of Justice (DOJ) regulations on detachable magazines."
He adds, "SB 249 in its current form is aimed at conversion parts. It also ensures that the Attorney General and local prosecutors would have the same nuisance authority as they have now as to conversion parts for machineguns and short barreled weapons."
The Senate passed a version of the plan earlier this year.  However, his plan to ban one variety of the bullet button ran into opposition.  With the recent tragedies, support is now growing for the ban.
"It reminded all of us how dangerous the assault weapons are," Senator Yee said. "There's an opportunity now to plug up that hole, and I want to take advantage of that."
However, the NRA (National Rifle Association) is on a counteroffensive.  According to a report in the Associated Press, the NRA has urged its membership to lobby lawmakers to oppose the bill.  They term it "a gun ban monster."
According to the Associated Press, "It warned that hundreds of thousands of semiautomatic rifles legally sold in California since 2001, when the state's assault ban regulations took effect, would become illegal under Yee's bill. The organization also warned that thousands of gun owners could face the threat of arrest."
Last month, SB 249 was approved by the Assembly Public Safety Committee and will be considered by the Assembly Appropriations Committee next week.
—David M. Greenwald reporting