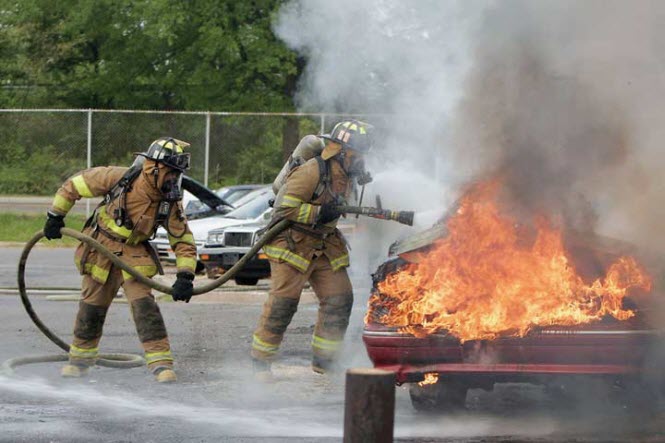 While cities and local government attempt to dig themselves out of self-inflicted holes, the legislature is threatening to makes matters worse by extending the statute of limitations for a presumptive death benefit claim filed on behalf of firefighters or peace officers, at a detrimental fiscal consequence for employers.
AB 2451, sponsored by Speaker John Pérez would eliminate the 4 ½ year statute of limitations on work-related death benefits for public safety employees who die of diseases presumed by law to be job-related.  Opponents fear that there would be no limitation under the law "on the period of time between the employee's exposure to and presumable death from heart disease, cancer, tuberculosis or blood borne pathogens."
As a result, employers, in this case state and local government, "would see a significant increase in cost for death benefits for injuries that may not be job related, but because these are presumptive injuries it would be nearly impossible for the employer to refute the claim."
In a letter in April from a coalition that includes, among others, Representatives of Counties (CSAC) and Cities (California League of Cities), sent to Assemblymember Jose Solorio of the Assembly Insurance Committee, they argue: "Current law requires death benefit claims for workers' compensation to be commenced within one year of: the date of death when death occurs within one year from the date of injury; the date of the last furnishing of workers' compensation benefits when death occurs more than one year from the date of injury; or, the date of death when death occurs more than one year after the date of injury and workers' compensation benefits have been furnished."
"We believe that liberal standards for public safety officers already allow employees to get fairly compensated on the basis of a disease presumption when that injury is presumed to have job causation," they argue.
"AB 2451 would increase workers' compensation costs for counties alone by roughly $60 million annually… at a time when local governments are struggling to provide vital services," the letter continues.  "This bill also erodes the original intent of the Workers' Compensation Act and subsequent reforms to the system enacted in 2004, designed to provide fair and timely benefits to injured employees at a reasonable cost to employers."
The Sacramento Bee issued two editorials in the last week in opposition.  They argue because the bill removes the statute of limitations from job-related survivor death benefits for peace officers and firefighters, a firefighter could retire in 2012 at age 53, and 25 years later they could die of a heart attack.
Writes the Bee: "Although there is a presumption in current law that heart ailments in firefighters and cops are job-related, there had been no evidence of a heart condition for either retiree before the fatal attack."
They add: "Their deaths occurred well beyond the 4 1/2-years-after-injury statute of limitations that governs job-related death benefit eligibility today.  Nonetheless, under this bill their survivors could claim a death benefit worth a quarter of a million dollars at minimum."
Realistic?  Hard to know.
The Bee goes further: "It goes even further. If there are no survivors, the state can claim the benefit, with the money to be deposited into the uninsured employer benefit fund."
As the Bee notes, proponents argue "this bill would help provide for a widow whose firefighter or police officer spouse dies prematurely of cancer six years after filing a workers' compensation claim, just a little beyond the current 4 1/2-year statute of limitations for a death benefit. Supporters insist the widow should not lose the death benefit because modern medicine allowed her husband to linger beyond the statute of limitations."
However, they continue: "Its practical effect is to give every police officer, every firefighter, every prison guard or park ranger a taxpayer-funded life insurance policy. To pay for that extraordinary benefit, services will have to be cut. In some jurisdictions, even police and firefighters could be laid off to pay for it."
That's the point that seems to be missed on the proponents of this bill.  There probably are reasonable scenarios under which the current time period is too short.  But there are practical reasons for statutes of limitations, and one is that the necessary evidence becomes less direct at some point.
Proponents argue, "In some cases, the exorbitant costs caused by AB 2451 could actually end up costing public safety jobs."
The Assembly Insurance Committee stated the following in their analysis of the fiscal effect of this bill: "Undetermined but likely major new obligations, potentially in the hundreds of millions of dollars to both state and local governments as a result of the substantial increase in the number of peace officers and firefighters who would now be eligible for a death benefit."
In fact, the Bee notes "Incredibly, it was never even heard in the fiscal committees of either house, so its fiscal implications were never fully vetted."
Three cities have already filed for bankruptcy protection, the governor is pushing for a tax increase, and the cities that have not filed for bankruptcy, like Davis, sit on the edge, having to cut $8 million in spending.
Writes the Bee: "Despite pleas from local officials worried about the future solvency of their cities and counties, the bill zipped out of the Assembly on a 69-4 vote. It passed out of the Senate Labor and Industrial Relations Committee 5-0."
This one isn't just on the Democrats.  As the Bee notes, "It was a bipartisan outrage. Republicans and Democrats alike voted for this bill."
In a follow-up editorial on Sunday, the Bee reported, "A spokesman for Pérez says amendments are being prepared to soften its financial impact."
They add, "Yet for now, it remains a fiscal train wreck. Lobbyists for cities and counties say there are no changes contemplated that could eliminate the considerable economic hardships this bill places on already struggling local governments."
"In ordinary times, this bill would be a gross overreach. Yet with so many cities, counties and the state facing economic peril, it's a complete outrage. That the Democratic speaker would introduce such a measure and that the Republican leader, Assemblywoman Connie Conway of Tulare, would vote for it makes it a bipartisan outrage," the Bee opines.
"It's a sorry indication of how legislative leaders are out of touch with the economic burdens that their constituents – including cities – are confronting," they conclude.  "This bad bill is only one vote and the governor's signature away from becoming law."
—David M. Greenwald reporting