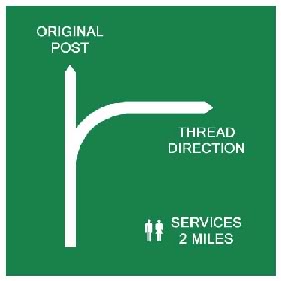 Yesterday there was a spirited discussion here on the
Vanguard
about a long-standing challenge that the
Vanguard
faces . . .  how best to handle reader-submitted comments that are tangentially related to the published article. Tangential comments are not bad in their own right, but they often do sidetrack discussion of the article's topic. I would like to propose a solution to that problem, and hope that readers will comment on that proposed solution here.
A simple straightforward solution to the off-topic issue is that when a reader sees an article that s/he believes is only addressing a selected portion of a larger "whole" picture, and feels that it is important to make a "tangential" point that fleshes out that whole picture, then I suggest that s/he submit an e-mail to David Greenwald containing the additional points so that he can post an article under the e-mail sender's byline that runs side-by-side with the original story. For example, I think a very interesting parallel article for Mayor Krovoza's thoughts on "long-term, environmentally sustainable economic cores for Davis" could have been submitted by Michael Harrington as follows:
In a Vanguard article submitted today, Mayor Krovoza writes about using city funds to ramp up business, for the general economic well being of the city population, AND to increase sales tax revenue.

All that development the Mayor is talking about could be good, or very bad, for Davis. Look at Woodland: its Main Steet and most of the downtown businesses are destroyed by the exterior malls that the CC has approved.

I think we should always be looking to cut the city's waste whenever considering how to use city money to ramp up sales tax to increase the city's budget. You cannot separate the two, and to do so is intellectually bankrupt.

All of you know I have my checklist of waste and pork and simply bad spending, and if the City agrees with my list, and makes the changes, you are going to see an immediate and dramatic shift in the budget outlook, and the City will have more money to spend on business development in town.

Cut the pork; spend some of the savings on business development.

I Hate to rain on the parade, but I am still hoping Mr. DT Bizman or the Mayor or Ken Hiatt will tell me how much retail square footage does it take to generate one dollar of sales tax into the city's coffers?

Then, calculate how much pork and waste and bad spending is going on in the city, total it up, and then calculate the amount of building you would have to do of retail space to earn the city the money it is throwing away?

Evan as recently as two weeks ago, the CC led by the Mayor and city staff where a hari away from throwing another million into the sands for the Woodland JPA project, which as nearly zero chance of making it through the Davis ballot box system if the CC ever actually got to recommending it to the Davis voters.

How about that $97K/month we are still spending on those bonds for the Parking Garage to Nowhere?
How about the 4th crew member on the fire crews?
How about the $30K or so a month we are enriching the city attorney and colleagues with for her creating the DACHA debacle?
Or, the CC's attempt less than a year ago to throw over $250 million of our rate money at a Taj Mahal of a water project that had Davis buying 4x more water than needed?
Or, getting ready to throw up to $600K at a green business consultant. Why not convene a local task force, have some public discussions, make our own list, and do it? All for low cost.
Or, refusing to properly fund the DDBA so it can design programs to increase business? (I was at that CC meeting months ago where the DDBA was forced to beg for dollars … it was embarrassing.)
Or …. add your own item to the long list.
The City simply has to change the mindset of spending like there is no tomorrow. So far, I have not seen evidence of that. Sadly.
As a Vanguard reader, I would have seen that as a good article in and of itself . . . and running side-by-side with the original article, it would produce two simultaneous, focused comments streams that would both be better for their focus . . . and when taken together will flesh out the whole picture (as the author sees it) very well.
The obvious drawback to this suggestion is that it is easy to submit a quick comment, but takes a little bit more time to transform that quick comment into an article that has enough substance to stand up beside the original article.  However, I think that even for the submitter, the extra effort expended will result in a much deeper discussion of the issues that Davis and Yolo County face . . . and a much more valuable Vanguard.