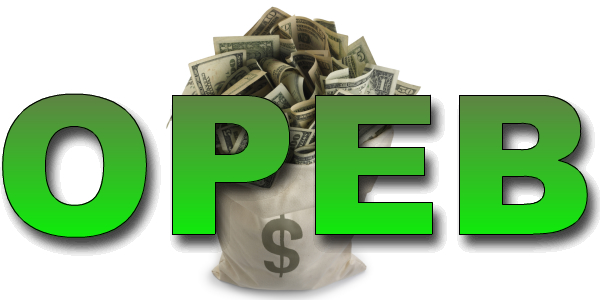 In June, City Manager Steve Pinkerton's pronouncement that the city's retiree medical costs represent over 20% of payroll, and that number could go up as high as 25%, alarmed the
Vanguard
.
"Unfortunately, 20% of payroll is probably not going to cut it in the future," City Manager Pinkerton told the city council back in June.  "We've been ramping this up, the council has been responsible and doing the right thing for the last three or four years by beginning to take on retiree medical, ramping it up each year from 6% to 8% to 10%, last year it was 12% of payroll, the original plan was to go 14%…"
"We're recommending based on some input we got earlier this year to go all the way up to 20%," he continued.  "The reality is that you're probably going to see a discussion soon where we're going to have to ramp it up eventually to closer to 23-24 percent."
The city manager has since downgraded that projection to around 21%, but the number is still very high for a percentage of the payrolls largely going to people who either are no longer working or will be no longer working when they receive the benefit.
Now comes a report from Calpensions' Ed Mendel, who reports, "The cost of retiree health care promised state and local government employees, growing at a faster pace than more-publicized public pensions, has become a common target for cuts in a string of California city bankruptcies."
The three major cities that have incurred bankruptcies are now making huge cuts to their retiree health plan.
San Bernardino has cut $2.2 million from "a deferred retiree health payment in a three-month fiscal emergency plan said to be needed to allow the city to make payroll."
Vallejo has cut monthly retiree health care payments from $300 to as high as $1500, which will save around $100 million over time.
Finally, Mr. Mendel reports that Stockton will end all payments for retiree health care plans, "citing overly generous and costly benefits: immediate eligibility, uncapped payments, less than half of retirees covered, and a cost equal to 31 percent of payroll for proper pre-funding."
What is most interesting is this: "Unlike pensions, there is no widely held view that promised retiree health care is a 'vested right,' protected by contract law, under a long series of court decisions. Some think promised retiree health care can be cut, depending on circumstances."
While pensions are largely protected by CalPERS, which Mr. Mendel cites as the reason that Vallejo did not attempt cutting pensions during bankruptcy, "Cutting retiree health care in bankruptcy was upheld last month. U.S. Bankruptcy Judge Christopher Klein in Sacramento denied a temporary restraining order sought by a group of Stockton retirees."
Mr. Mendel reports that in that case, Judge Klein argues that "Stockton retirees were in a 'dire situation' and that a cut in retiree health care could be 'catastrophic to some of them.' "
However, "The judge asked the retiree attorney to explain why the court's hands are not tied by a federal regulation, 'section 904,' prohibiting interference with the debtor's political or governmental powers, property or revenues and income-producing property."
He notes that Scott Emblidge, who served as attorney for the retirees argued, "His clients want protection of what they believe is a vested right. He said the federal law is broad enough to allow the health care cut to be blocked as the action of an employer, not interference with governmental powers."
"At a minimum, preserve the status quo," Mr. Emblidge said.  "If the bankruptcy court cannot block the cut, he urged the judge to lift the 'stay' on debt collection automatically obtained by a bankruptcy filing, so retirees can seek a block in another court," Mr. Mendel reports.
He continues, "Marc Levinson, the attorney for Stockton who also represented Vallejo, said blocking the retiree health cut would interfere with governmental powers, forcing the city council to make legislative budget decisions about layoffs or other revenue sources.
"Levinson said blocking the retiree health care cut would be telling the city how to spend its money. If the stay is lifted, he said, the court also would be telling the city how to spend its money, raising the question: What is the point of a bankruptcy filing?"
Ed Mendel raises the critical issue for Davis: "Lifetime retiree health care from an employer, rare in the private sector, is an important benefit as public employees decide whether to retire as early as 50 or 55 as most retirement plans allow, well before eligibility for federal Medicare at age 65."
While the city is not currently facing bankruptcy, we believe that the current level of benefits for retirees is unsustainable.
There are two major categories – the full health insurance plan for retirees who are not Medicare-eligible – which means those retirees starting at 50 (for public safety) and 55 (for non-safety employees) up until they are 65.
Second, the city supplements the Medicare plan with its own plan, as well.
The individual plans vary, but at the basic level the city pays up to $1587.14 a month for those under 65 and $833.43 for those eligible for Medicare.
The more typical rate for those under 65 is considerably lower, however.  The typical premium for those under 65 is $600 for single, $1100 for couple and $1500 for family.  However, some singles opt for a plan that is a little over $1000 per month.
Typical premiums for Medicare-eligible are $400 for single, $770 for a couple and $1150 for family.
Currently, the city is paying for 135 pre-Medicare retirees, which includes 52 singles, 56 couples and 27 families.
The city also has 83 Medicare retirees, including 41 singles, 38 couples and 4 families.  Also, there are 21 retirees not on a plan.  Many of those are covered by a spouse.
But this begs two questions.
First, could the city not save substantial money by simply extending employment by five or ten years?
Second, why is the city agreeing to supplement Medicare?
If Vallejo has been forced to cut their payments from $1500 per month downward to $300, couldn't we at least reduce it down to $500 or $1000?
And given that these rights are not vested, why should we not cut back or discontinue post-Medicare benefits?  We cannot afford what we have been paying.  And we certainly cannot afford to continue to spend 1/5 to one-quarter of our payroll on people not presently working.
—David M. Greenwald reporting