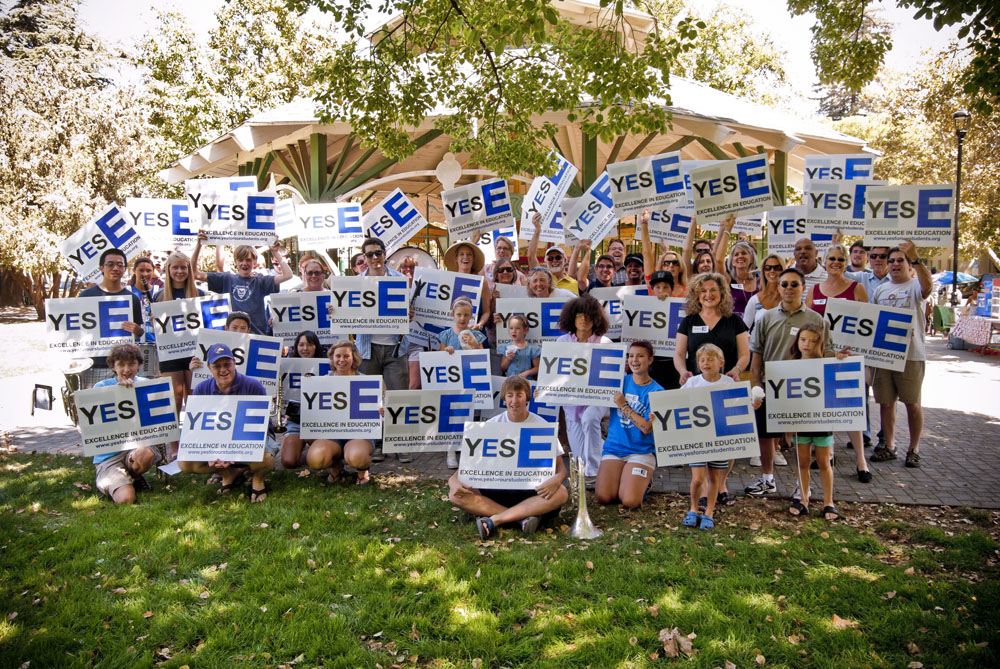 The Davis School Board decided to take a rare risk when they put Measure E on the ballot.  It was largely untested.  Measure A, the measure that the new parcel tax in part renews, passed with the barest of margins just last year in 2011.  And Measure E not only renews the current parcel tax, but there is a good possibility that it will expand it, should the Governor's Tax Measure, Proposition 30, not pass in November.
As we noted last week, Proposition 30 is passing with just 51 percent in the latest Field Poll.  A margin that has pundits and supporters concerned about whether it will pass.
The absence of readily available and reliable polling always makes local prognosticating difficult, but we can look for indicators of past success and trouble in assessing where Measure E stands, just five and a half weeks prior to the November election.
First of all, all the major elected officials who live in Davis, with a notable exception, have come out and backed Measure E.  That includes, not surprisingly, all five members of the Board of Education and also all five members of the Davis City Council.
Add to that the support of Senator Lois Wolk and Assemblymember Mariko Yamada, both Davis residents, and you have a pretty solid group of support.
The Vanguard has confirmed that both County Superivisor Don Saylor and County Supervisor Jim Provenza have endorsed Measure E.  Both are former Davis School Board members.  The campaign spokesperson confirmed they were inadvertantly left off the endorsement list, but have in fact endorsed.
For good Measure, John Garamendi, who represents Davis in Congress, has also supported the measure.  Also, with elected officials, the Davis Democratic Club and the Yolo County Democratic Central Committee have endorsed.
"We join the Yolo County Democratic Central Committee in urging all voters to support Measure E with a yes vote on the Nov. 6 general election ballot," Davis Democratic club president Arun Sen said. "Our club has always understood that it is vital to the health of our community to maintain the excellence of Davis's school system."
Measure E has also gained the support of at least one critical segment of the business community, as the Davis Chamber of Commerce has endorsed the measure.
"We support Measure E to ensure that Davis classroom sizes are small and our campuses are safe," a Chamber statement said. "Those funds also ensure that students have access to many different types of educational opportunities like foreign languages and career technical education that will prepare them for higher education and the skills to enter the workforce."
Finally, the Davis Teachers Association, numerous PTA's, and several of the school support groups like the Blues and White Foundation and Davis Schools Foundation have backed the measure.
The question is always – do endorsements matter?  And the answer is that probably few people base their voting on the existence of an endorsement.  However, there is some research to indicate that community support networks act as a signal, and that people really do look to politicians and other opinion leaders to see where they are heading.
More critically, it suggests that this is largely business as usual for the tax measure.  It has normal levels of support by the leadership in this community.  There is no sign that people are jumping ship or that politicians are shying away from support.  Given that this measure is no slam dunk, that is good news if you support the measure.
A second indicator is whether there is an organized opposition.  As far as we can tell, there is not.  Back in June, Jose Granda announced that he would run the "no-tax" campaign.
"The school board's own mismanagement of the taxpayers' money has led to a structural deficit caused by itself. The board employs four administrators who earn the equivalent of 15 teachers. This will never end as long as Davis residents naively keep approving parcel tax after parcel tax as if our pockets are bottomless and school taxes are the only bills we pay," he wrote in a letter.
However, in August, Mr. Granda announced he would run for school board.  He has been relatively quiet overall on the issue of Measure E.
Moreover, no new opposition has emerged to the tax measure.
Some will rightly point out that given the two-thirds vote requirement, we do not need much opposition.  In fact, past polling suggests this will be very close.
The final question is whether there have been controversies and missteps.  More than anything else, Measure A was marred by some critical missteps that brought about negative publicity.  The biggest one was the senior letter that, to some, appeared to skirt if not cross the line between information and advocacy from an official government body that is not supposed to advocate in elections.
There was also the controversy when the candidate's forum by the League of Women Voters failed to invite the opposition.
The result of that election was a bare majority.  However, a year later, Measure C cruised to an easy victory avoiding missteps and controversies.
One of the critical differences was that Measure C was a strict renewal whereas Measure A actually was a new tax.  This is potentially a new tax in addition to renewing Measure A.
Finally, the source that might represent the greatest threat is taking his yearly vacation and that is Davis Enterprise Columnist Bob Dunning.  However, Mr. Dunning tends to feed on missteps or perceive (sometimes manufactured) missteps.  Avoid those and this becomes a smoother ride.
Our analysis at this point, therefore, is that Measure E is doing about as well as expected.  We have every reason at this point to believe this is still going to take a sell in order to get over the two-thirds threshold.  That makes it more difficult to calculate. However, so far it appears there is not any new opposition to the measure.
—David M. Greenwald reporting