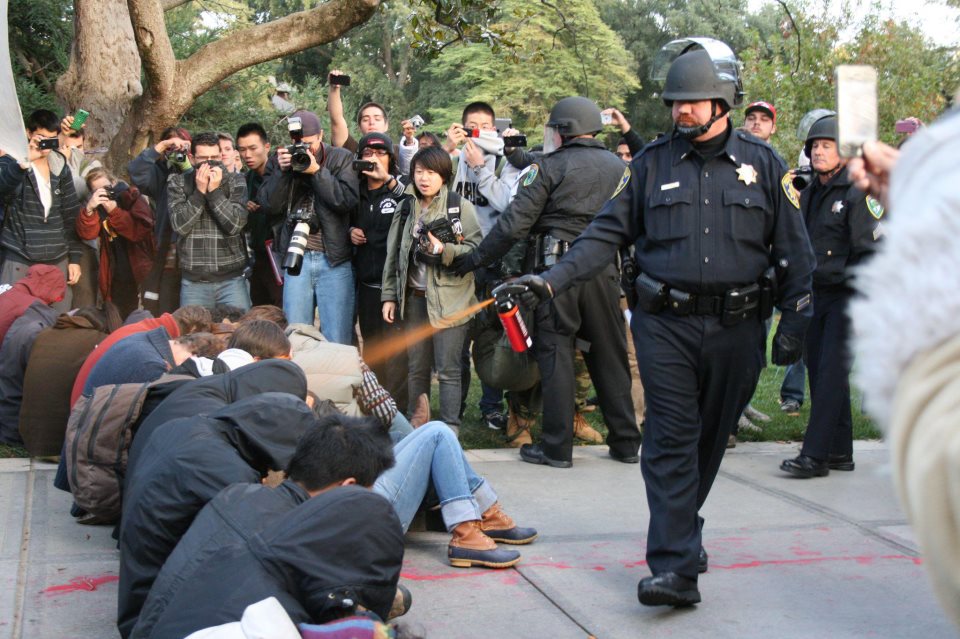 On Wednesday, we finally learned the terms of the pepper-spray settlement.  I was covering the federal civil rights trial of Luis Gutierréz so I missed the press conference.  However, I was quickly able to speak with two attorneys and a protester, and the articles appeared on Thursday and Friday.
I will not mince words about my initial reaction –  I actually felt physically ill.  They did not get much and we the community did not get much.  $1 million spread out turned out to be about $30,000 per student.  They got an apology that was rendered useless by the fact that the officers did not admit wrongdoing.  Finally, the ACLU gets to help shape policy – which is probably the only real redeeming aspect of this settlement.
While I hinted at some of these thoughts in comments, the stories did not contain commentary.  Thursday's story was largely the views of the attorneys and yesterday's was the view of the student.
Some people have suggested that $30,000 is more than enough, given the limited duration of the pain and suffering.  They have even gone so far – I think disparagingly – to suggest that students would probably volunteer to be pepper sprayed for $30,000.
There is, of course, a huge difference between agreeing to voluntarily be pepper sprayed for compensation, and to be protesting, exercising free speech rights to dissent, and have the police use force, many believe excessive force, to compel citizens to stop.
This issue has become the point of divide, but it shouldn't be.
In the days that have passed since this settlement, I have had a chance to speak to a lot of people on this matter and the most influential person to me is still Mark Merin, one of the attorneys.
It is easy to be cynical about attorneys, but many attorneys are not in it primarily for the money.  A lot of civil rights attorneys live very odd existences.  I remember a few years ago, Stewart Katz, who often represents people in cases of police use of force including Brienna Holmes and a few of the bank blockers, was awarded over $300,000 in attorney fees for his work in a case.
For a guy like Stewart Katz, that's years worth of work.  Much of the time, he is taking people either pro bono or with hope of getting attorney fees at the end.
Mark Merin is one of my heroes.  When we began giving out Vanguard Awards, he was the easy first choice for attorney of the year.
A few years back, Mark Merin and some of his friends decided to fight the gang injunction.  They attempted to be paid attorney fees through the state, much as a public defender or contracted defense attorney would.  But Judge White argued that since it was a civil case, the defendants were not entitled to a defense, as they would in a criminal matter and there would be no attorney fees.
So Mark Merin and seven other attorneys agreed to spend six months in trial, every other week, defending the named defendants in the gang injunction.  They got nothing for this.  In fact, several of them ended up having to move to smaller offices because this took up the bulk of their time.
Mark Merin has made a career out of defending the underdog, often for no pay at all.
So when Mark Merin says, "There's not a lot that you can get in litigation.  In fact the only thing you can get in the end is money," I have to listen.
He argued, "We got something that we wouldn't have gotten from a jury verdict."
"What we gained and we couldn't have been able to get had we gone to a jury verdict," Mr. Merin said, "was the participation in the drafting of policy that relates to use of law enforcement on campus, crowd control, response to demonstration, and weapons and all of that kind of stuff."
"That's something that we wouldn't have been able to get," he said.  "We now are able to influence and comment on, and possibility shape the policies that will determine how they will respond in the future."
Talking to Mark Merin, Michael Risher and several other attorneys who did not get a dime, this part was a big deal and will likely help prevent what was a series of police overreactions that culminated in the pepper-spray incident.
So, after talking to Mark Merin, I believe that the attorneys reasonably believe they got as much as they could have.  The university could have dragged this out for years in court, crippling the attorneys in this case.  One need look no further than the Buzayan case, seven years and running with fees well over $1 million, to realize that outcome is going to help few people.
And yet at the end of the day, while I believe the settlement probably was as good as it could be, I am unsatisfied with this outcome and this process.
The defendants in this case can walk away without taking any responsibility.  They continue to deny wrongdoing, continue to maintain that they acted appropriately.
The police in this case – three of them lose their jobs but face no criminal sanctions.  At the same time, the administrators who messed up the planning for this event – they keep their highly lucrative jobs.
This is the end.  This community gets no reconciliation.  No final acknowledgement.  No accounting.
There are vague promises to change policies that have been given more teeth by including the ACLU in the process, but I fully expect that, while officials will be more cautious next time, there will be another major incident in the next five years.
I spoke to a student last week who lamented the fact that the focus has shifted from the issues of privatization and tuition hikes to police practices.
That is one of the reasons I decided to run Ian Lee's article as a stand-alone, because you can see in the eyes of a young protester that this point is not lost on him either.
For me, as a citizen of this community, my primary concern is how the university conducts itself and how the police treat protesters and citizens exercising their primary rights in society.
What separates a democratic society from all others is the absolute right to free speech.  We have chipped away at that absolute right (Congress shall make no law…) over the years, adding time and place restrictions, but that right remains paramount.
However, Ian Lee made a critical point in my mind when he argued that the university was using the police to, in effect, enforce their tuition hikes.
I think that is the point that we have lost in all of this.  Of all of the horrible things that have happened during this great recession, one of the worst is that the state has started to lose its commitment to investment in our future.
And because the state no longer is a consistent and reliable source for funding to the university, the university has had to look at other models, including hybrid and privatized models, in order to survive.
We are producing a generation of young people whose educations have been cut to the bone.  They will be burdened with debt and loans.  They will have had the quality of that education reduced.
I am not just talking about higher education.  I am talking all levels.  We are running the real risk of a lost generation.  And most sadly of all for me, this is the world my kids are living in.
So yes, back in July, the Vanguard honored all of these students for their dedication in exposing corruption and incompetence from the chancellor all the way down to Officers Pike and Lee, but we also honored them for their commitment to the fundamentals of the American Dream – the right to education and its democratization of upward mobility.
That is what we have lost and need to regain.
—David M. Greenwald reporting