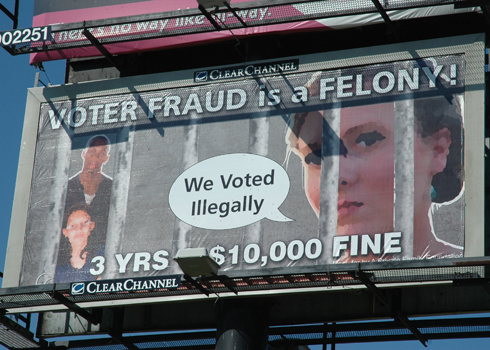 We quickly forget our history in this country and we do so to our own detriment.  It was, after all, not that long before my time that states used onerous poll taxes and literacy requirements to deny whole classes of people their franchise – the most fundamental of all rights in a democracy.
The 24th Amendment to the Constitution was only passed in 1962.  It granted that the right to vote in any national election "shall not be denied or abridged by the United States or any State by reason of failure to pay any poll tax or other tax" and gave Congress the power to enforce this right.
It would take another four years, in the Harper v. Virginia Board of Elections decision by the Supreme Court, to rule that poll taxes in state elections were unconstitutional as they violated the Equal Protection Clause of the Fourteenth Amendment.
Until 2006, no US state required voters to show some sort of photo identification in order to vote.
Now some 20 states are passing more rigorous standards, under the guise of voter fraud.  A photo ID may not seem to be a huge deal to many, though at least 10 percent of voting-age Americans do not have a photo ID.
The problem that we need to learn from history is that allowing for potentially subjective standards could create systems where the enforcement is either not equally applied, or applied in a way to deny some people the right to vote.
Those who support such systems of regulation have a strong argument about the integrity of the system.  And they may have a point if there were evidence of even modest levels of voter fraud – but most studies, conducted objectively and by non-partisan organizations, have not borne out that fear.
It is not clear whom exactly we should be fearing will be illegally voting.  Voting by illegal immigrants, or even non-citizens, seems to be one potentially-cited problem.
Logically speaking, the fear makes little sense.  After all, we know that minorities, whether black or Hispanic, who are US citizens vote at much lower levels than whites.  So now we are to believe that suddenly they have enough interest in our nation's policies to vote illegally?  That simply does not make sense.
Given the logic here, the question as Pia Lopez, editorial writer of the Sacramento Bee, notes is "why did voter ID emerge as a cause in 2006?"
Her answer, based on investigative reporting from the McClatchy newspapers, shows that they "traced the crusade to Karl Rove in an April 2006 speech to the Republican National Lawyers Association, as a strategy to affect voting in battleground states."
The strategy is clear, she writes: "Go after potential voters who move a lot – and thus don't have a current address on their driver's license or other ID – or who are poor or elderly, and don't drive."
As John Dean, no stranger to the Southern strategy writes in Verdict, a journal of legal analysis, "There is absolutely no question that Republicans are trying to suppress non-whites from voting, throughout the Southern states, in an effort that has been accelerating since 2010."
"Documentation of the Republican attack on non-white and minority voters is depressingly vast and complete," he adds.
John Dean notes: "Here are just a few of the reports that I have found informative, since my writing about the GOP's gaming the vote last October.  From the damning November 11, 2011 report from the Democratic National Committee's Institute for Voting, entitled Reversal Of Progress, to the more recent reports like The Atlantic's "New Voting Laws: Bending the Arc of History Away From Justice," and the ACLU's reports on voter suppression, the story is the same.  GOP-controlled state governments have adopted measures that restrict voting, with non-whites and minorities always bearing the brunt."
On Friday, Ohio's elections chief cancelled his order which would have barred counties from setting voting hours on early-voting days.
Reports the Associated Press: "The move comes after a federal judge this week ordered Secretary of State Jon Husted to personally appear at a court hearing over the swing state's early voting rules."
Ohio is among 32 states, plus the District of Columbia, that allow voters to cast early ballots in person without having to give reasons, the AP reports.
As Mr. Dean notes, after 2010, Republicans won control of 21 states and began enacting legislation – based on the pretext of preventing voter fraud of restricting the vote.
He notes, "They adopted laws that fell into the following areas: they cut early voting, eliminated registration on Election Day, created voting challenges that could be made by one's fellow citizens, and required photo identification for voting."
As Ari Berman writes in his piece for The Nation, "Voter Suppression: The Confederacy Rises Again," these efforts have been particularly focused in the South, "where they are clearly intended to block non-whites from voting."
Again, these efforts might be defensible if there were evidence of voter fraud.  But there is not.
Reported the New York Times in April 2007: "Five years after the Bush administration began a crackdown on voter fraud, the Justice Department has turned up virtually no evidence of any organized effort to skew federal elections, according to court records and interviews."
The Times wrote: "Although Republican activists have repeatedly said fraud is so widespread that it has corrupted the political process and, possibly, cost the party election victories, about 120 people have been charged and 86 convicted as of last year."
They add: "Most of those charged have been Democrats, voting records show.  Many of those charged by the Justice Department appear to have mistakenly filled out registration forms or misunderstood eligibility rules, a review of court records and interviews with prosecutors and defense lawyers show."
In May of this year, Slate Magazine, in a provocative article entitled "The GOP Sees Dead People – Voting," argues that Republican plans to fight voter fraud are based not on reality but rather on nightmares, tall tales and paranoid fear.
"These laws, which could disenfranchise more voters than at any time since the 1960s, exist because of one widely held conservative belief: that our elections are plagued with fraud," Slate reports.
They cite RNC Chair Reince Priebus, who discussed a new Wisconsin law requiring photo IDs, and argued, "The state's election system was 'absolutely riddled with voter fraud.'  Priebus may be correct, but only if his standard for 'riddled' is 0.0002 percent. A nonpartisan study on voter fraud in Wisconsin after the 2004 election found just seven ineligible votes – all of which were cast by ex-felons who were ineligible to vote despite being released from prison – out of 3 million ballots cast."
"If you challenge conservatives with just how rare voter fraud is in the United States, you usually get one of three responses: It's easy to do, it's hard to catch, and they've heard of it happening. Let's take these arguments one at a time," they continue.
Some Republicans admit there is no evidence of fraud.
Slate reports, "Last year, Pennsylvania State Sen. Charles McIlhinney conceded as much. Yet in his mind, the mere prospect that it could exist outweighed the possibility that 700,000 citizens may lose their vote in November because of the state's new voter ID law, which passed two months ago."
Bottom line, if there were evidence that there were voter fraud, I think we need to protect the integrity of the system.  But given the utter absence of what I would call fraud – people who vote despite ineligibility is not what I would call fraud, especially when it is a miniscule number – we are risking doing a far greater harm and preventing many eligible people from voting.
The bigger danger is the one that the 24th Amendment dealt with, and that is giving poll workers the ability to subjectively determine who can and who cannot vote.  Mess with that and this could become just like the old South Order again.
That is certainly my fear, and while you are free to agree or disagree with that, it is clear that this is a solution that not only is in search of problem, but will undoubtedly create a huge number of its own problems far worse than what we face now.
—David M. Greenwald reporting