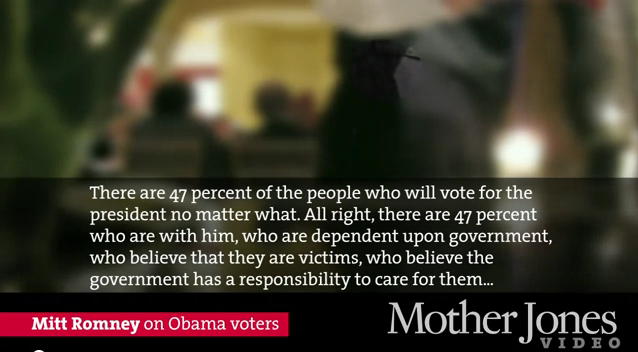 It is difficult to have designed, let alone imagined, a worse week for the Mitt Romney campaign.  How bad was it?  The Romney campaign actually released his tax returns for 2011 to distract from the focus on his statements that came out earlier in the week with regard to 47% of the electorate.
Reading some of the commentary this week from Republicans has been interesting.  Peggy Noonan, former speech writer from the Reagan administration, has been particularly eloquent.
She wrote: "It's time to admit the Romney campaign is an incompetent one. It's not big, it's not brave, it's not thoughtfully tackling great issues. It's always been too small for the moment."
Later she realized that was not strong enough.
The next day she wrote: "This week I called it incompetent, but only because I was being polite. I really meant 'rolling calamity.' "
There are two things that really jump out at me about Peggy Noonan's column.  First, in a way she gets it.
As she wrote: "That's not how Republicans emerge victorious – 'I can't win these guys.' You have to have more respect than that, and more affection, you don't write anyone off, you invite everyone in. Reagan in 1984 used to put out his hand: 'Come too, come walk with me.' Come join, come help, whatever is happening in your life."
What separates Ronald Reagan, Bill Clinton and Barack Obama from people like John Kerry, Al Gore, Bob Dole, and now Mitt Romney, were the former's abilities to inspire and present a positive vision – whether you agree or disagree with that vision.  You do not win the presidency by simply being against the incumbent President.
That is what Mitt Romney is trying to do.  It did not work for John Kerry in 2004 and I do not believe it will work this time.
At the same time, I think Peggy Noonan does not get it, because she believe in the same message recast.
As she noted, "A woman asked me to talk about why in a year the Republicans couldn't lose, the Republican candidate seems to be losing."
This is really the sense you get listening to some conservatives – they are dumbstruck that they are not winning when they believe they should be winning.  The problem is that I think they are making the same mistakes the Democrats did in 2004.
Democrats, in 2004, thought they had a President that had not really won the presidency in 2000.  They thought that the economy was not great.  They thought that we were in an unwinnable quagmire in Iraq.
The problem is that none of their strongest potential candidates wanted to run, they had a weak field, they settled on John Kerry, John Kerry ran a poor campaign, and the country did not believe that the Bush Presidency was nearly the disaster that those on the left did.
This week I have asked some of my conservative friends to objectively tell me why the Obama Presidency is that bad.  Those of us on the left are no great fans of Obama at this point.  He certainly did not fight when we believed he should have, he compromised too quickly, he compromised with partners unwilling to do so, which led to the poor results in 2010, he sold us out on a whole host of war on terrorism civil liberties issues, and so on.
But he has not done much of what he is accused of on the right.  I was not fond of the bail-out of the auto industry, but in retrospect it saved the auto industry.  He took over a situation where the economy legitimately teetered on actual collapse.  The economy still is not great, but it is really unclear to me what policy would have saved the economy or turned it around quicker.
The economy is growing, but not as quickly as we would like.  Jobs tend to be a lagging indicator.
In short, the record is not the disaster that Republicans would have you believe, it's just not as good as anyone would like it.  It is in the gray area now.  That means the public is probably willing to listen to whomever has the better vision and the better plan.
Here's where I think Republicans have it wrong right now – the public does not reject government as part of the solution, and so when Mitt Romney talks about the 47 percent, he is hitting far too close to home with people who have legitimate needs from the government.
I think Noah Millman, in the American Conservative, hits some of the nails on the head here.
He writes, "The Republicans Party – not just the Romney campaign, but the party as a whole – is running on nothing. They are running on the presumption that the country has already rejected the Democrats, and that therefore it is their turn. They are behaving as if choosing Democratic governance was some kind of 'experiment' that didn't work out, and now the American people will, of course, come back to their natural home."
"By contrast, the Democrats actually made a case for their party. They explained what their party has done, and why they should be able to set the national agenda. They defended their foreign policy, their economic policy, and their social policy in strong, unapologetic terms," he writes.  "Obviously, if you already strongly disagree with those policies, you weren't likely to be convinced. But if you are inclined to agree with them, the experience of the convention must have been energizing."
He goes through the particulars and then notes: "Of course, there's plenty of time for additional turns of the screw…  But for right now, what we're seeing, I believe, is a rejection not merely of Mitt Romney and his inept campaign, but of the Republican Party as it has chosen to represent itself in this election. And I suspect it is too late to reverse that judgment – the best the GOP can hope for is that something catalyzes American distrust of Democrats to match."
Mitt Romney had an exceedingly bad week.  The only reason the polls are somewhat close is that the economy is not strong.  But 2004 is what I have believed, since the start, this election was – it was not a large margin for the incumbent, but it was stronger than most believed it would be.
If anything, Barack Obama is running slightly stronger than Bush did.  We will see if that changes.
—David M. Greenwald reporting