Part One – Candidates Questions – We are just five weeks out from the November Election date.  And while all eyes are focused on the Presidential Debate scheduled for Wednesday, locally voters have critical choices and nowhere more than on schools where the public will be asked to decide between five very different candidates for school board and whether to fund another parcel tax, Measure E.
This summer, the Vanguard launched an editorial board.  There will be a number of functions for that board, including helping to direct and advise the direction of the Vanguard.  The first public event was last night's candidates forum for the school board candidates, held at at Harper Junior High.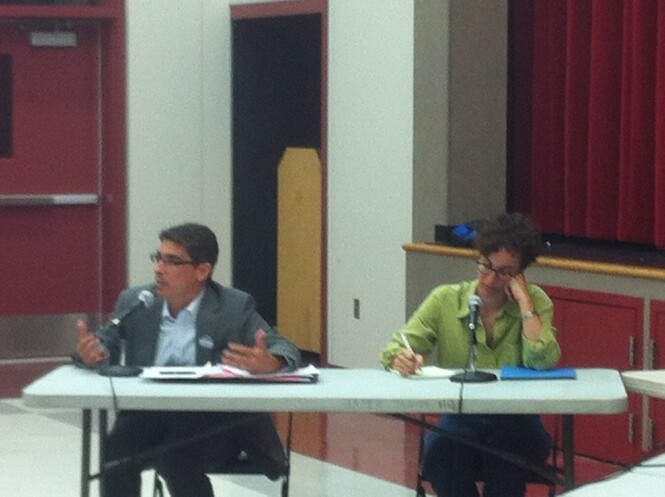 As I joked yesterday, when we first envisioned the candidates forum and planned for October 1, we did not conceive that it would be 100 degrees.  Nevertheless, the evening was a pleasant one as the candidates highlighted their qualifications and differences.
The forum was moderated by Matt Williams (one of the members of the editorial board, along with Robb Davis, Cecilia Escamilla-Greenwald, Tia Will and myself), and we sought to ask questions that might not normally get asked.  The first part of that was the written questions that we published last week in two parts that drew over 100 comments.
Then we had each candidate draft two questions and ask one of their fellow candidates.  Finally, we drew on some audience questions, as well.
The result was a unique set of questions and a diverse set of answers.  For those who criticize the school board for being too homogeneous, this is your opportunity, because each of the candidates has his or her own unique perspective, and from what we could see, well thought out questions.
The first question, asked by Alan Fernandes, was what policies currently pending in the state government do you believe will have a significant impact for our schools?
For the most part, the candidates addressed Proposition 30 and the impact of the proposition on the finances of Davis School Districts.
Jose Granda talked about a measure that would create a sliding scale for taxation, in which those who earn more pay more.
Nancy Peterson addressed AB 5, which passed the Assembly and is on the floor of the Senate.  This is bill "would require the governing board of each school district to adopt and implement a locally negotiated best practices teacher evaluation system."
As Ms. Peterson noted, this is a huge issue, the basis for Chicago's teacher strike.  She argued that we should not do evaluations strictly on test scores because every student is different.
Susan Lovenburg also noted that Governor Brown is proposing that we change the current system of school funding and create a weighted per-pupil funding system which would throw out the current daily attendance.  The argument is that some students are more expensive to educate than others and this would create more funding for district based on needs.
She noted that Davis would receive less funding for schools, since we have fewer at-risk students and that this is not something that we want at the moment.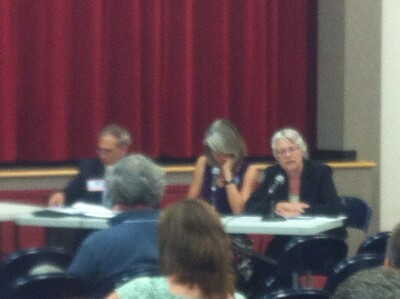 Mr. Fernandes noted that weighted school formula is the one policy that would probably have the biggest impact on Davis.
Claire Sherman drew the next question and asked whether the school board should be evaluated on a yearly basis.
Jose Granda argued that everyone should be evaluated, that it is not a witch hunt but rather a non-partisan, non-political office.
Nancy Peterson was more retrospective, arguing that an evaluation when things are so emotionally charged is difficult. You don't want board members making choices because they're popular.  While an evaluation is always a good idea, she said that she is afraid it would cause us to be driven by politics and not by what's best for the children.
Susan Lovenburg responded that the community evaluates the board every four years at the ballot box, that is built into the process.  She is, however, in favor of self-evaluation where the board can evaluate its effectiveness as a governing team.
Alan Fernandes largely agreed that, while evaluation is healthy, that's what an election is for, ultimately.
Ms. Sherman clarified her question, saying that when she talks about an evaluation, she means the board should check in with the public.  The people at meetings are there not to evaluate the board but for issues of importance.  She wants to make sure the school board really checks in with all the schools and the parents so that it's not the community coming to the board, but the board coming to the community.
Jose Granda asked since the board deals with educational issues and therefore requires expertise, have you spent time teaching yourself?  What is good teaching and what is bad teaching?
All of the board candidates had some experience teaching, whether in the classroom  or in professional situations.
Susan Lovenburg made the additional point that the board's role is not professional education for the district. The district already has professional educators who craft the policy.  She said, they are the experts. The board is the conduit for community input in our schools.
Alan Fernandes added that he would never make his own experience the dictator of what policies should exist at the school, going forward.  He noted that there are marked differences in how children learn and technology has enhanced some of those differences.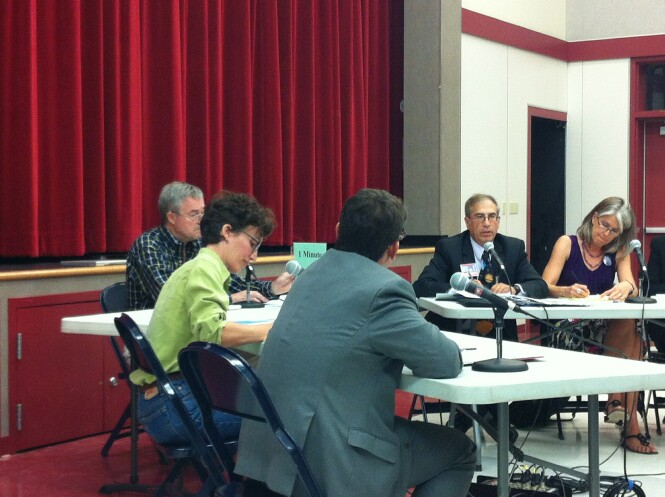 Claire Sherman drew a difference with Ms. Lovenburg, as she argued that teachers are doing a lot more with a lot less and therefore she believes its important to have someone on the board who has some empathy and experience who can relate to what a teacher is going through.
Jose Granda concluded this round, arguing that in order to be in this position, you need to have the experience of being in the classroom. Problem with current board: "I don't see the hands-on experience. I want to give the board a completely different direction."  He added, "I'm the only one currently in the classroom."
Nancy Peterson asked what might be of unique concern for a school with a significant Title 1 population?
Susan Lovenburg said that Title 1 funding has been a significant component of program improvement, that funding levels have been shifting between schools, but this funding is intended to help those students that are considered most at risk.
Alan Fernandes noted that his experience has to do with policies at the state levels and looking at the impact of state issues on local government.
Claire Sherman noted that during her time of volunteering she worked with children of migrant farm workers, who, even though they get extra support in terms of money,  need more individual attention which is not occurring with class sizes at 30.
Jose Granda said that he is the product of the American Dream, coming to this country in high school not speaking any English, but able to go to Berkeley and Davis.  He said that schools have to be able to understand the culture of people with low socioeconomic backgrounds. The objective is for English speaking kids to become bilingual. He said that, given his background, he is sensitive to the Spanish-speaking kids attempting to learn English. And he argued that, since he knows that culture and the need to fulfill the American Dream, it gives him the skills necessary to help other students.
Nancy Peterson noted that even though a student may be from a low socioeconomic family, they may not qualify for services and she emphasized the need to remember that many of the low socio-economic kids are coming to school hungry.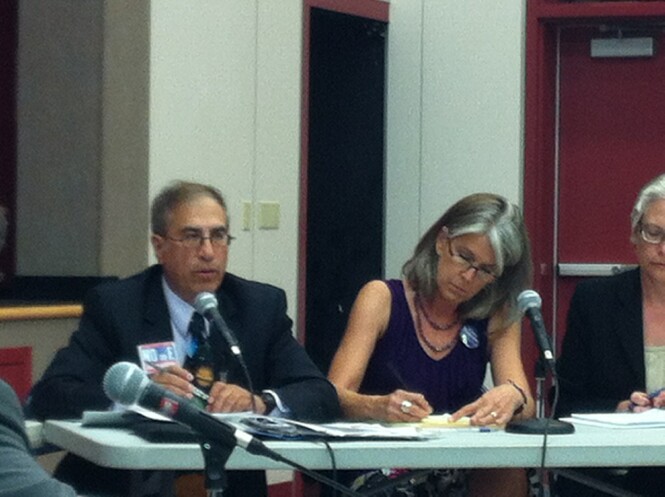 Susan Lovenburg asked the final candidate question, how are you going to build a strong governing team with your fellow board members and the superintendent?
Alan Fernandes noted that when you run for election, you do so as an individual but then you have to work on the board as team.  He believes he has the exact skillset needed to work with his colleagues.  He argued he is a consensus builder who has effectively in his own career shown the ability to find consensus between divergent groups to move government forward.
Claire Sherman argued that the current board has similar opinions and as a result they get along well.  She argued what is needed is some varying opinions.  The sum total is better than everybody agreeing right away and calling it a night, she said.
Jose Granda argued that the board needs someone who will be a watchdog for taxpayers.  He argued that it is good to question the status quo.  He noted he was the only candidate opposed to Measure E and that he may disagree with the superintendent on policy issues.
Nancy Peterson noted that she has now worked with four superintendents.  She said she has gotten to know each of them in order to understand why things have moved in a given direction.  She never assumes that she knows everything, because she acknowledged that she doesn't, but she said she is also decisive and that when there is a decision to be made, they need to make it.
Susan Lovenburg noted that when you run for an election you end up saying "I" and "me," which is important to articulate. But on the board, it's about how you work with colleagues and the superintendent.
That was the end of the candidates' questions.  We decided because there was no specific question on Measure E, we would ask one, so that became the sixth question and we then took about six audience questions – three of which were yes or no questions.
We will cover that portion tomorrow.
—David M. Greenwald reporting