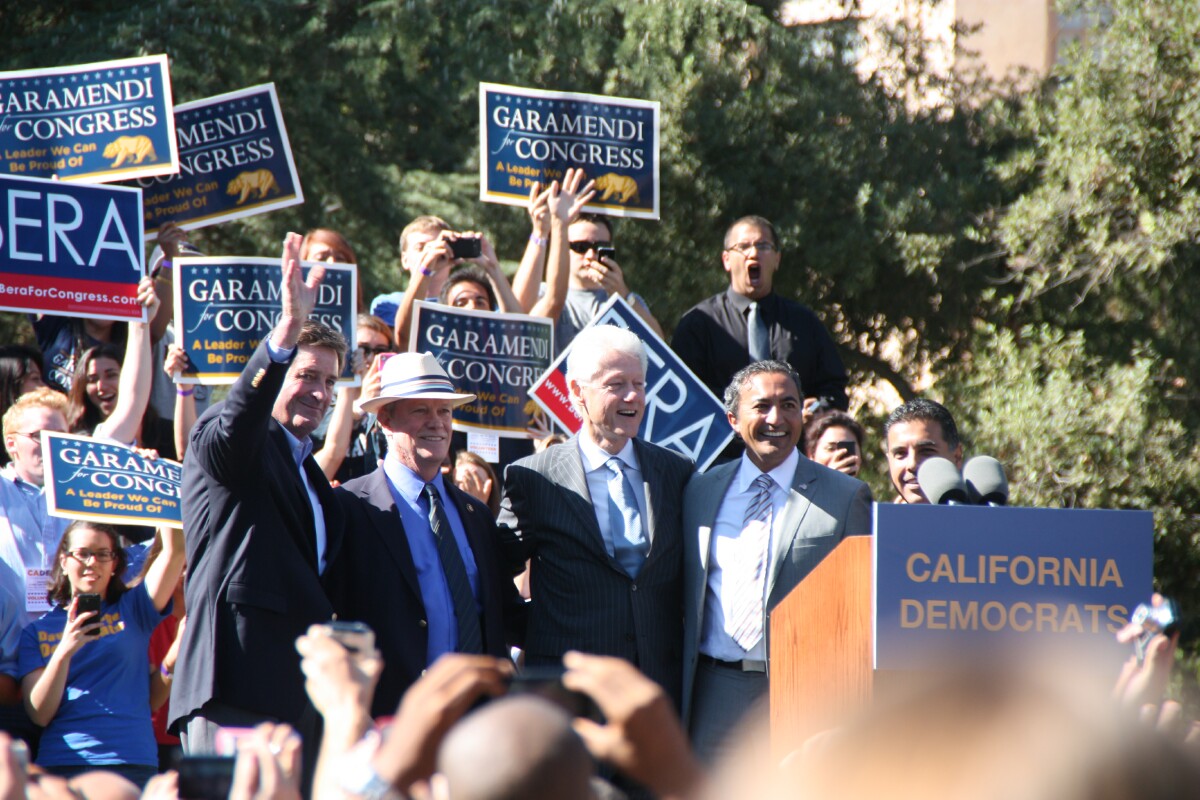 A month out from the November election, the last place you expect to find a former President is in the middle of blue territory in a reliably blue state.  But former President Bill Clinton's visit to UC Davis was more about four Congressional races than about the Presidency.
A huge crowd estimated loosely by officials to be 8,000 to 12,000 and, given the gaps in the configuration, the lower estimate is likely more accurate, packed in to watch the former President who last appeared at the ARC in 2008 – a venue that ended up with 5000 angry people on the outside looking in.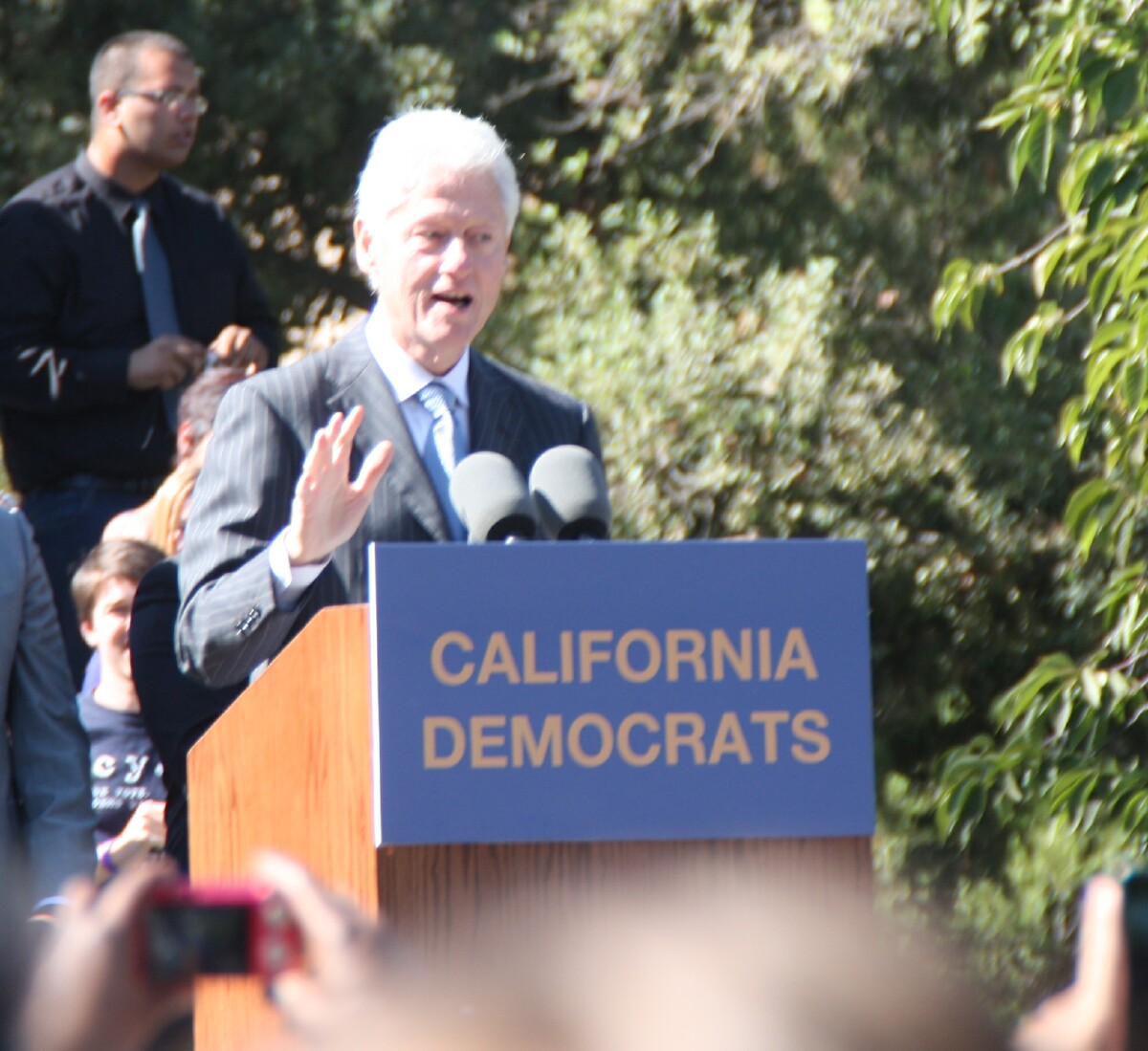 "It is really good to be back," the former President said in greeting the crowd.  "I love this campus, I love it every time I come."
"I want to do something that is rather atypical of political rallies.  Something rather different from that last debate," he said.  "Let's go back to facts.  The folks that run debates are called moderators and they're supposed to ring a bell or something if somebody says something that wasn't so."
"The bell never rang, so we're going to ring the bell today," he said.
The former President was there to help the four congressional candidates.
He told the crowd, "You look at these guys, you see what America is about.  We have standing, four people who believe for very different reasons that a country of 'we're all in this together' works way better than a country of 'you're on your own.' "
He added, "And a country of shared prosperity, a growing middle class, where poor people have a dignified honorable chance to work their way into it is way better than trickle down."
"A government that focuses on the future rather than giving away everything to the rich and the powerful works better."
Local Congressman John Garamendi finds himself in a tough battle with Kim Vann, but perhaps this was more about Congressman Jerry McNerney, and challengers Ami Bera and former-astronaut-turned-Congressional Candidate Jose Hernandez.
President Clinton spoke glowingly of Congressman Garamendi who worked in the Clinton administration as a Deputy Secretary of the Interior, working to protect the environment.
"John Garamendi has been a leader in the Congress of trying to bring manufacturing jobs back to America," the President said.  "He knows there is no great manufacturing country on the face of the earth where the government and the private sector don't work together."
Jose Hernandez had a particularly compelling story.  Growing up as a farm worker, he tried 12 times to become an astronaut before making it.  He is now running in a conservative congressional district in the heart of the San Joaquin Valley against former State Senator Jeff Denham.
"When Mr. Romney talks about how dependent we all are, we Democrats don't believe in self-reliance, he [Jose Hernandez] tried not once, not twice, but twelve times until he was finally accepted as an Astronaut and went into space at the Space Station for us," he said.  "That is a long way from a migrant farm worker."
"We don't need directions on self-reliance," he added.  "What we need is a road map to a brighter future."
Then you have Ami Bera, who was narrowly defeated by Congressman and former Attorney General Dan Lungren in one of the narrowest contests in the Republican-dominated 2010 election.
President Clinton called Ami Bera, "a product of the American Dream," from an immigrant family, who got into medicine to help people, volunteering for seventeen years at free student-run clinics.
As Chief Medical Officer in Sacramento County, President Clinton said Dr. Bera is a "man who believes that poor people deserve the same healthcare that the rest of us get.  And believes that many people need health care so medical professionals ought to worry about giving it to them instead of trying to control women's choices."
The President noted, "The United States ranks first or second in surveys in the capacity to produce electricity from the sun and the wind."
"Want to know the big difference between the two candidates?  Barack Obama and the Congress supporting him have done more to take us from the back of the pack to the front of the pack in approaching solar and wind energy than any administration in history," President Clinton said.  "His opponent says we have to get rid of those tax credits for wind.  We have to get rid of those tax subsidies…"
The President then moved on to more general topics.
He said, "You know sometimes I think the most popular line in my speech at the convention was arithmetic.  Arithmetic does help to clear things up."
The President said that despite the roadblocks that President Obama faced, to his jobs bills and other initiatives to improve the economy, "since the beginning of 2010… the private economy has produced 5.3 million jobs.  That is twice as many as were produced in the seven years of the Bush administration after the first recession in 2001 and before the crash – we won't count the crash against him.  Even if we don't, Obama wins two to one."
"Why are we talking about going back to what didn't work in a different package?" he asked.
The President noted that Mitt Romney touted Massachusetts' great educational system.  He said, "I thought, I was Governor of Arkansas and we were the number one rice producer in America, but I didn't have anything to do with it."
President Clinton also hammered Mitt Romney on his tax plan that he claimed was not a $5 trillion tax cut.
"Let me be fair here," the President said.  "What he really said was we're going to start by cutting everybody's taxes by 20 percent, but don't worry I'll make it up by repealing deductions."
"The problem is, everybody who knows anything about the arithmetic says if you're income is high enough, you can take all the deductions away and you still get a big tax cut," he said.  "So we're going to dig the debt hole deeper before we start pulling our way out of it."
"That was obscured in that debate," he said.
President Clinton noted that when the unemployment rate finally dipped below 8%, "I swear I'd never seen so many long faces in my life."
He spoke of Jack Welsh, the former CEO of General Electric and his comment that the Obama Administration cooked the numbers.
"The interesting thing was, when the unemployment rate was above 8% every month when it came out, the same Republicans said this is right up there with the commandments Moses brought down from Sinai.  This is enshrined in stone and perfectly accurate and shows how terrible, terrible, terrible, our president is," he said.  "But oh when it falls below eight percent it is a colossal problem."
"I sympathize with the Republicans because they worked real hard on their number one priority which is to keep unemployment about eight percent," he continued.  "It's disappointing when you work hard for three years and you almost get to the finish line and poof, it turns out the American people are so good… and all these other things are working so well, you just can't quite get it done and in spite of your finest efforts… in spite of all of it, it still went down below eight percent."
President Clinton's visit coincides with a surge in the polls by challenger Mitt Romney, following the President's seemingly poor performance in the debate last week.
These numbers show a virtual dead heat now, despite better economic news and a concerted push back by the Obama Campaign to highlight the points that he did not combat forcefully last week.
On Thursday, the Vice Presidential candidates will clash and there are two more Presidential debates in what is now considered by many an up-for-grabs Presidential election.
—David M. Greenwald reporting