By Jose Granda, PhD 

GUEST COMMENTARY – I want to have an open line of communication with Davis voters so that they get to know me beyond the issue of Measure E.  Position on a measure is a miniscule part of being qualified to lead the schools and impact the lives of students making a difference from the status quo.  For this reason I also think Claire Sherman has the right qualifications to be a School Board member even if we are on separate sides of Measure E.
I am a product of the American Dream.  I immigrated to the United States invited as a Foreign Exchange Student at the age of 16.  I did not know English at the beginning of the school year but in three months of immersion and not finding anyone to speak my native Spanish language I learned English quickly.  I graduated from high school in Dayton, Ohio.  I attended engineering school at UC Berkeley where I obtained my Master in Mechanical Engineering and the PhD degree also in Mechanical Engineering at UC Davis.  I became a Professor in the Mechanical Engineering Department at California State University, Sacramento since 1982.
NASA invited to become a NASA Faculty Fellow since 2002 and that means, I am part of their engineering team, my students and I worked on the Space Shuttle and the Space Station Program doing the computer simulations of the maneuvers in space.  In 2005, the dream of my life came through.  I always dreamed to be an engineer in Mission Control.  That was my dream when I saw Neil Armstrong walk on the moon.  Little did I know that in 2005, the dream will become a reality as I was part of the engineering team in Mission Control in Houston during the STS-114 mission of the Space Shuttle Discovery.  I learned a lot as an engineer and learned to make tough decisions, those that can make you lose sleep when you are to bring the astronauts and the vehicles safely to earth. Being there and learning how to assess risk and make decisions had an impact on my career and on me as a person.
We continue new projects with them.  A NASA faculty fellow works at the university when school is in session and at the NASA centers when invited during the summers.  Because of my position as a professor, I acquired another responsibility with NASA as part of their Education Department and outreach to young people to motivate them to study STEM careers.  In the last ten years I have been going to Kindergartner, Elementary and High Schools in the US and overseas, wherever they invite me to teach children about space and to set a spark in them to motivate them and let them know that math, physics, and aeronautics are a lot of fun.  That has been a reward of my career.  One of the biggest highlights of this experience happened just six weeks ago.  I was invited to be the Keynote Speaker and a judge at the scientific Olympics.  Did you know there is such a thing as the Olympics of Science Astronomy and Aeronautics?  Participants have delegations from different countries and they use their minds for events instead of their bodies.  There are individual events and group events and they get gold, silver and bronze medals.  I took place in Barranquilla, Colombia, the city where Shakira is from.
I am lucky that I have a very supportive and intelligent wife. Imelda is also a Systems Engineer, both of us love going into the schools and set up projects to build Hubble Telescopes, airplanes, space vehicle models with children as young as kindergarten.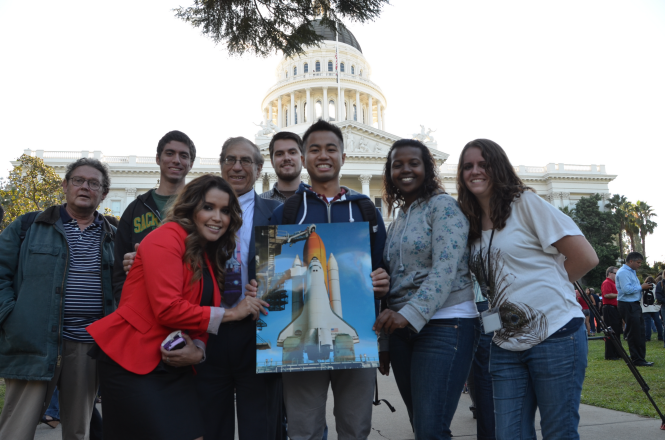 While I was at NASA Langley, at the Kennedy Space Center, at NASA Ames and at the Johnson Space center, she worked for NASA's education department, training the teachers that came to the centers to improve their teaching of science and math.  She has a collection of NASA posters that we use in our presentations and kids love it.  We are a very international family.  She went to school in Brussels and then did her Master at the University of New Mexico.  So she speaks Spanish, French and English.  We lived in Germany, France and in Switzerland during my sabbaticals and thus I speak English, Spanish, German and French.  Our son JJ is the more versatile of all, he speaks English of course, he was born here, Spanish, German and Swiss German which is a separate language. He studied French and Latin also as in those countries in school all kids take at least two foreign languages and in the case of Switzerland four.
Education, teaching and being always surrounded by students from five years to adults, who learn something from me is my life and my business.  At this point in my career, I have been in the position to evaluate other teachers and professors, which has given me an expertise on what it takes and what tools you need to be a good teacher, not only looking at my own but those of others who are successful.  My main specialty in teaching is teaching with technology.  In my classes students are free to use Ipads, iPods, I phones, laptops, you name it, always as teaching tools. I am experimenting with little tablets which one day will replace the blackboards and with digital homework. That means in my classes there is not a single exchange of paper, all is electronic and in color. Students are set a high bar and because of that I get results.  Three of them have gone on to do their PhDs, four went to NASA, one works for Boeing in Seattle and others are applying now.  I love what I do.
On the personal side, I love soccer.  I am the most senior referee in Davis AYSO, not in age but in years of service.  I started in 30 years ago and I am still there.  I hold a National Referee badge and one from USSF, which took me many years to earn.  If you are a parent reading this, chances are that I have refereed your kids' game.  I do it every Saturday and I love it.  Being a referee is very interesting.  You are making constant decisions and you have to remind yourself to distinguish what is fair and what is foul, you are a judge in fact for the entire duration of the game.  You have to be decisive, quick thinker, fair and stick with your decisions.  Some of my colleagues laugh when I tell them that being a referee is a challenge because you start the game with 24 people against you.  The two teams and the two coaches and you have to earn the respect they need to have for you so that you can be in control and while the score may not satisfy one of them, all may believe you were fair and did a good job.
Imelda and I are board members of a Non Profit Organization AECALIFORNIA www.aecalifornia.org This organization raises funds to support American doctors who travel to South America to perform surgeries for free on children with facial deformities.  We help also with natural disasters and support the hospitals and homes for the elderly.  We meet once a month and have events with typical food and salsa dancing which have proven successful and a lot of fun.  We have a great time, get to know many people and as a group make a contribution to alleviate needs of those less fortunate.
I decided to run for the School Board because I feel I can make a difference in the lives of children and young teenagers in this city where I have lived 32 years.  I feel confident that I have the education knowledge, background experience to change the status quo.  I am a strong person, with a thick skin to enter the world of politics and stand my ground for what I believe to be in the best interest of the children first and second in the best interest of the taxpayers.  For that reason the theme of my campaign "Excellence in Education with Sound Financial Responsibility".
We cannot continue in a never ending vicious cycle of deficits and treating taxpayers as if they were an ATM machine.  My special interest groups are the kids and the taxpayers.  More details at: www.electjose.org My priorities are:
Yes First Priority To The Children's Excellence In Education

Yes On Total Commitment To Financial Responsibility To The Taxpayers

Yes On Teaching With High Technology

Yes On Reducing Administrators Salaries And Cutting Waste

Yes On Foreign Languages

Yes On (Stem), Science, Technology, Engineering and Math.

Yes On Teaching Music

Yes On Teaching Art

Yes On Vocational Education

Yes On Teaching Performance

Yes On Hands On Management

Yes On Schools Additional Funding (Grants, Endowments, Wills, Tax Deductible Donations, Etc)

Yes On Professionals Becoming Teachers