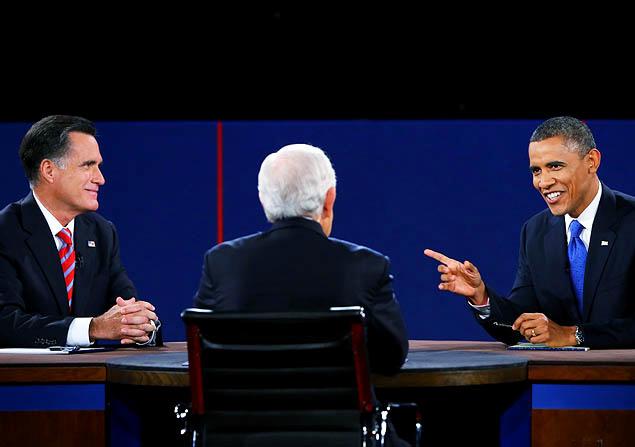 ANALYSIS – For a lot of reasons, in the end it may not matter.  But in their third and final debate, Mitt Romney made a lot of the same mistakes that Barack Obama made in the first debate.
He attempted to play it safe, and present himself as a competent, level-headed and plausible alternative to President Obama as the Commander in Chief.  However, in the process he seemed to cede a number of positions to the President – positions that he seemed to change on the fly.
"I'm glad that Governor Romney agrees with the steps that we're taking," President Obama remarked. "There have been times, Governor, frankly, during the course of this campaign, where it sounded like you thought that you'd do the same things we did, but you'd say them louder and somehow that would make a difference."
But that strategy clearly backfired.  Mitt Romney had the opportunity to show how a Romney administration would move the country in a new and different direction, but instead he seemed to punt.
On the other hand, President Obama had the opportunity to debunk some of what he saw as misleading attacks.
When Governor Romney attacked, "Our Navy is smaller now than any time since 1917…  We're headed down to the – to the low 200s if we go through with sequestration. That's unacceptable to me. I want to make sure that we have the ships that are required by our Navy."
The President would turn it on him.  He countered, "I think Governor Romney maybe hasn't spent enough time looking at how our military works. You – you mentioned the Navy, for example, and that we have fewer ships than we did in 1916. Well, Governor, we also have fewer horses and bayonets – (laughter) – because the nature of our military's changed. We have these things called aircraft carriers where planes land on them. We have these ships that go underwater…nuclear submarines."
"And so the question is not a game of Battleships where we're counting ships. It's – it's what are our capabilities."
One of the big pieces of news is that Governor Romney now appears to favor a hard date for withdrawal from Afghanistan.
"Well, we're going to be finished by 2014. And when I'm president, we'll make sure we bring our troops out by the end of 2014," Governor Romney said. "The commanders and the generals there are on track to do so. We've seen progress over the past several years. The surge has been successful, and the training program is proceeding at pace."
President Obama would point out that the Governor is all over the map on a whole host of issues: "Governor, the problem is, is that on a whole range of issues, whether it's the Middle East, whether it's Afghanistan, whether it's Iraq, whether it's now Iran, you've been all over the map. I mean, I'm pleased that you now are endorsing our policy of applying diplomatic pressure and potentially having bilateral discussions with the Iranians to end their nuclear program."
He added, "But just a few years ago you said that's something you'd never do, in the same way that you initially opposed a time table in Afghanistan, now you're for it, although it depends; in the same way that you say you would have ended the war in Iraq, but recently gave a speech saying that we should have 20,000 more folks in there; the same way that you said that it was mission creep to go after Gadhafi."
On bin Laden, the President also attacked the previous position: "When it comes to going after Osama bin Laden, you said, well, any president would make that call. But when you were a candidate in 2008 – as I was – and I said, if I got bin Laden in our sights, I would take that shot, you said we shouldn't move heaven and earth to get one man, and you said we should ask Pakistan for permission."
The President would add, "And if we had asked Pakistan for permission, we would not have gotten him. And it was worth moving heaven and earth to get him."
Somehow, a foreign policy debate turned to the question of the Detroit auto industry.
"Attacking me is not talking about an agenda for getting more trade and opening up more jobs in this country," Mitt Romney would say, though it would appear the President could have said the same thing.  He then launched into a defense of his own policy on the auto industry.
He said: "But the president mentioned the auto industry and that somehow I would be in favor of jobs being elsewhere. Nothing could be further from the truth. I'm a son of Detroit. I was born in Detroit. My dad was head of a car company. I like American cars. And I would do nothing to hurt the U.S. auto industry. My plan to get the industry on its feet when it was in real trouble was not to start writing checks. It was President Bush that wrote the first checks. I disagree with that. I said they need – these companies need to go through a managed bankruptcy, and in that process they can get government help and government guarantees, but they need to go through bankruptcy to get rid of excess cost and the debt burden that they'd – they'd built up."
"Governor, the people in Detroit don't forget," President Obama responded at one point.  "I think anybody out there can check the record. Governor Romney, you keep on trying to, you know, airbrush history here. You were very clear that you would not provide government assistance to the U.S. auto companies even if they went through bankruptcy. You said that they could get it in the private marketplace. That wasn't true."
In 2008 Governor Romney wrote, "If General Motors, Ford and Chrysler get the bailout that their chief executives asked for yesterday, you can kiss the American automotive industry goodbye. It won't go overnight, but its demise will be virtually guaranteed."
He had added, "Without that bailout, Detroit will need to drastically restructure itself. With it, the automakers will stay the course – the suicidal course of declining market shares, insurmountable labor and retiree burdens, technology atrophy, product inferiority and never-ending job losses. Detroit needs a turnaround, not a check."
The question then turns to who won the debate and does it matter.
Nate Silver's analysis is that, while President Obama is unlikely to get a big debate bounce, a small one could matter.
"There is, obviously, some disagreement on the magnitude of Mr. Obama's advantage – the polls surveyed different types of voters and applied different methods to do so," Nate Silver wrote.  "But averaging the results from the CBS News, CNN and Google polls, which conducted surveys after all three presidential debates along with the one between the vice-presidential candidates, puts Mr. Obama's margin at 16 percentage points."

Writes Mr. Silver: "The first presidential debate produced roughly a 4-percentage-point bounce in head-to-head polls toward Mr. Romney, while the second presidential debate brought no appreciable bounce toward Mr. Obama."
He adds, "It is tempting to split the difference, and assume that Mr. Obama might get a 1- or 2-point bounce in the polls, but there are some mitigating factors. The pace of the debate was slow, and it was competing against professional baseball and football games, which may have kept viewership down."
Our view is that this debate is not going to produce a huge swing.  What it will do is arrest some of the momentum that Governor Romney had.  After a lackluster first debate, President Obama has had two solid debates.
I actually think that President Obama was better in the second debate than the third.  The difference is that Governor Romney was relatively good in the second debate, but much worse in the third debate.
The New York Times analysis: "For Mr. Romney, this final debate before the election in two weeks was clearly his weakest. While he seemed familiar with a range of topics, speaking about rebellions in Mali and ticking off the insurgent groups in Pakistan, he also took every opportunity he could to turn back to economic issues at home, his campaign theme."
Where this might matter is that Governor Romeny has need to make two sells.  He has to convince a sufficient number of voters that not only was President Obama's first term a failure, but that he would be the better alternative.
He actually undermined both cases on Monday night.  He essentially argued that he agrees with President Obama on most foreign policy areas and that any failures of Obama on the foreign policy front likely would have occurred under a Romney administration as well.
Now, is the Presidential election going to turn on foreign policy?  Not likely.  And Presidential Obama is probably not going to spend the resources to show that Romney's position is a moving target here.
In the end, I see this as about a one-point lead for President Obama with two weeks to go.  I have had this pegged as 2004 all along, and I see no reason to change that view now.
—David M. Greenwald reporting