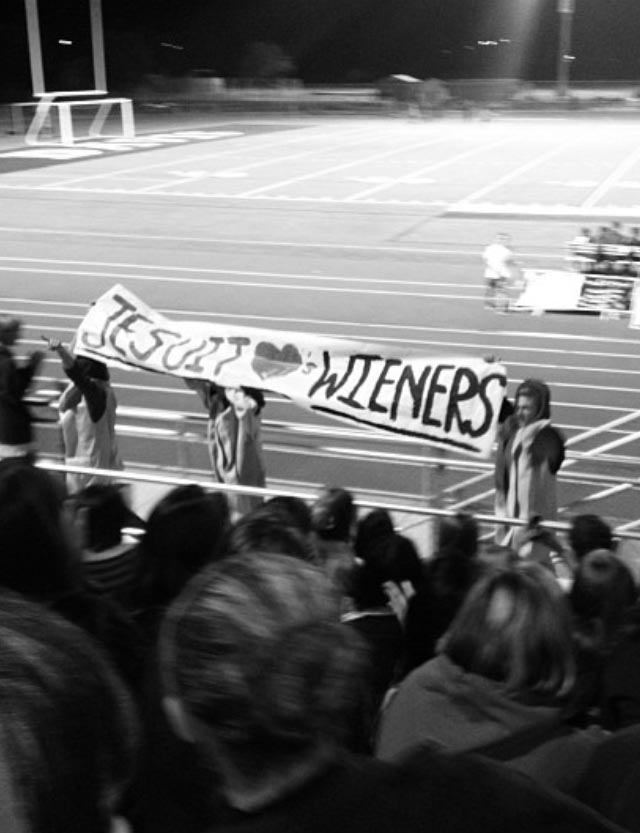 I have to admit while I have gotten used to some people in this community apologizing for abhorrent behavior, I was taken aback by the lack of concern about the banner and behavior at the recent soccer game between Davis High and Jesuit.
What do you mean you don't understand why it's homophobic to have a sign at a soccer game that says "Jesuit (Hearts) Wieners?"
Do I need to spell this out?  Wiener in this case is slang for male genitalia.  So they are implying that the all-male student population likes male sexual organs rather than female ones.
One person responded: "While I happen to be straight, if someone called me 'a wiener lover' I would not think he was trying to disparage gays."
Really, what would you think?  The implication here is the same as it was in my day when the term "faggot" was often used as a synonym for weakness.
It reaches into a stereotype that implies that people who are gay are somehow less masculine, and therefore weak.
Incredibly, that same person wrote: "Further, if the game had been between St. Francis's girls' team and Davis High's girls' team and the banner had read "St. Francis ♥ Loves Wieners," I don't think anyone would think that was an anti-gay slur."
There is a level of absurdity here.  The putdown is not prima facia an anti-gay slur.  It's not like calling someone "faggot" or using the "N-word" to describe African-Americans.  It is a situational insult.  Suggesting that females love male genitalia is obviously not implying that they are gay, though I suspect many females would be similarly offended by the sexism.
As one person noted, the insensitivity here is the implication that gays are something negative.
But it is more than that.  One person noted, "There is a huge difference between the insensitivity of what they may have considered  a light-hearted playful name calling as young men are prone to do back and forth… and true hate speech which has an entirely different intent."
Some of that may be true and I certain do not believe that the act represents deep-seated hatred or fear of gay people.
On the other hand, it perpetuates a needless and pointless cultural stereotype that gay people are somehow less manly and, by extension, weak.
Indeed, another popular phrase is "That's so gay."  It has become a common part of popular lexicon for some time.
But this summer, the Huffington Post reported on a study from the University of Michigan which "revealed the phrase could have deep consequences for lesbian, gay, bisexual and transgender (LGBT) students."
Published in the Journal of American College Health, "The study reportedly examined the impact of hearing 'that's so gay' among 114 LGBT students between the ages of 18 and 25."
"The resulting data found that LGBT students who heard the phrase frequently were more likely to feel isolated and experience headaches, poor appetite or eating problems than those who didn't. Still, the study also revealed another troubling statistic: a mere 14 respondents (13 percent) hadn't heard 'that's so gay' at all throughout the duration of the survey."
"Given the nature of gay-lesbian-bisexual stigma, sexual minority students could already perceive themselves to be excluded on campus and hearing 'that's so gay' may elevate such perceptions," Michael Woodford, an assistant professor of social work and co-author of the new study, said in a statement. " 'That's so gay' conveys that there is something wrong with being gay."
Professor Woodford went on to suggest, "Policies and educational programs are needed to help students, staff and faculty to understand that such language can be harmful to gay students. Hopefully, these initiatives will help to eliminate the phrase from campuses."
Some may argue that this is all some sort of political correctness gone amuck, that people are too sensitive.  Sure, and let's just laugh off the high rate of suicide for gays and lesbians.
The problem is that adolescence, even for those seemingly in the mainstream, can be an awkward and uncertain time.  Add to that the ambiguity and confusion of sorting out one's own sexuality in the face of a culture that, while more accepting than it was even twenty years ago when I was in high school, still has pockets, particularly in the religious community, that is intolerant if not hostile to the gay lifestyle.
Given all of that – and given this community's surface reputation for tolerance – it is stunning not only the reaction of some on here, but the lack of action at the sporting event.
And so while I believe the superintendent has not gone nearly far enough, at least he was quick to acknowledge the act itself was wrong.
He wrote to the community: "On Monday, my office became aware of inappropriate behavior from three fans at last Saturday's DHS vs. Jesuit home soccer game. The three fans, dressed as hot dogs, displayed a large banner that read 'Jesuit (heart symbol) Loves Wieners.' "
He writes, "Students and staff agree that the sign was a clear anti-gay message targeting the Jesuit all-male student body population."
He states unequivocally: "The Davis Joint Unified School District opposes this type of messaging and fan behavior and apologizes to those who were present."
The bottom line for me is that if you are not offended or otherwise believe that a banner stating "Jesuit (hearts) Wieners" is inappropriate for a high school sporting event, replace "wieners" with "dick" and see if that floats your boat.  Because that's what they are saying.
—David M. Greenwald reporting