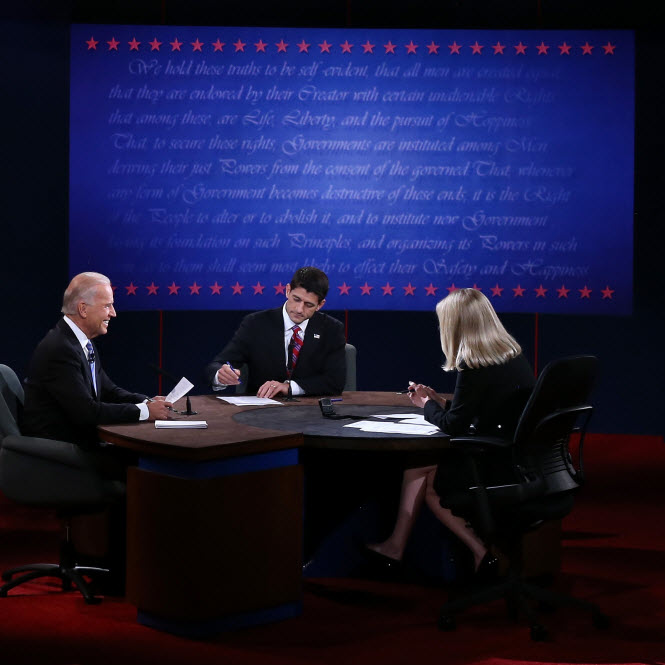 Vice President Joe Biden appears to have done what he needed to do against Paul Ryan.    He was never going to get, nor did he really to do to Congressman Ryan, what Mitt Romney did to Obama.  What he needed to do was be fiery, combative, call out what the Obama campaign is calling lies and deception, and fight for their record.
On Thursday night, for the most part, he did just that.  The two most widely available polls largely reflect that.  A CNN poll of debate-watchers gave Mr. Ryan a slight edge of 48 to 44, basically a tie.  A CBS poll of undecided voters found it was 50 to 31 for the Vice President with another 19 percent calling it a tie.
To be quite frank and off-topic for a second, the media's fixation on undecided, I think, is misplaced.  The real group that we should be watching are the percentages of those who have been moving with the ebb and flow of the polls since the Republican convention, those who moved toward President Obama and then toward Governor Romney after last week's debate.
The last two debates I have done so, watching my Twitter feed.  It is a good instapoll to assess where the pundits and activists are.  The liberals on my Twitter feed last week were hammering President Obama for his failure to call Mitt Romney on what they perceived as lies.  This week they were hammering Joe Biden more playfully for what they saw as abusing his younger opponent.
As Nate Silver points out this morning, "Vice-presidential debates rarely move head-to-head numbers between the presidential candidates – even when there is a much clearer verdict in instant-reaction polls. So one should err on the side of caution in assuming that the debate had much influence either way."
However, what this does do is stem some of the tide and reassures the base about the viability of the ticket.
From the beginning of this election my read of this was this is 2004.  In 2004, Democrats thought that President George Bush was vulnerable.  His popularity was below 50 percent for much of the election.  His policies were unpopular.  The war in Iraq was unpopular and going poorly.
But the Democrats nominated a weak opponent who performed poorly over the summer and, in particular, after the convention.  John Kerry, like his Massachusetts counterpart, was widely considered dead until the first debate re-opened the door.
People heavily questioned the competence and knowledge of George Bush, but his performance in the second debate stemmed the tide.  But it still remained close until Election Day, when George Bush pulled out a narrow but improbable victory.
One thing that Joe Biden may well get marked down for is his smirking demeanor during the debate.  Back in 2000, George Bush made gains in the polls after criticism of Al Gore's demeanor.
The difference here is that we kind of expect the Vice Presidential candidates to roll around in the dirt a bit and be combative.  Joe Biden is a street fighter for sure, he is, in a lot of ways, unpolished and he can be crass despite his long years in Washington.  We saw a bit of that last night and for many, that is actually what they wanted to see.
I tend to agree with Mr. Silver's overall interpretation: "My best guess: perhaps Mr. Biden can be credited with what in baseball statistics would be termed a 'hold': something a bit shy of either a win or a save and which will probably seem perfunctory with the passage of time, but which might have done his team a bit of good."
The bottom line is that everyone is going to be waiting to see how President Obama does in the next round.
What should concern Democrats, however, is the fact that a Democrat close to the Barack Obama Campaign reported that when President Obama stepped off the stage, he actually believed he had won the debate.
Moreover, the President did not take his debate preparation seriously and ignored the advice of senior aides, refusing to use the one-liners that had been prepared that would have wounded Governor Romney.
One-liners are critical because, in the age of social media, they are easiest to tweet and repeat.
As Toby Harnden reported earlier this week, "The Democrat said that Obama's inner circle was dismayed at the 'disaster' and that he believed the central problem was that the President was so disdainful of Romney that he didn't believe he needed to engage with him."
"'President Obama made it clear he wanted to be doing anything else – anything – but debate prep,' the Democrat said. 'He kept breaking off whenever he got the opportunity and never really focused on the event."
"'He went into the debate armed with a number of one-liners to throw at Romney, including at least two about Romney not caring about 47 per cent of the country. But he decided not to use them.'"
This has been a complaint of Democrats about Barack Obama from the start.  Joe Biden was always going to be more natural at getting into the mud.  Paul Ryan was unable to match his passion and intensity, but he did give a solid performance.
The tone was set from the start, as Congressman Ryan delivered a criticism of the Obama administration's foreign policy.  It was clear that allegations would not be unresponded to.
After Congressman Ryan said that "when we show that we're cutting down on defense, it makes us more weak. It projects weakness. And when we look weak, our adversaries are much more willing to test us. They're more brazen in their attacks and our allies are less willing to…"
Vice Presidential Biden responded, "With all due respect, that's a bunch of malarkey" and explained "Because not a single thing he said is accurate."
Paul Ryan's best moment came when Joe Biden mentioned the 47% percent line and he responded, "I think the vice president very well knows, that sometimes the words don't always come out the right way."
Even Joe Biden, who is prone to such gaffes, laughed at that one, though he added, "I always say what I mean.  And so does Romney."
Bill Clinton's refrain this week has been that it is about arithmetic.  Joe Biden picked up on this during the Jack Kennedy exchange.
Congressman Ryan said: "You can cut tax rates by 20 percent and still preserve these important preferences for middle-class taxpayers"
Vice President Biden interjected, "Not mathematically possible."
Congressman Ryan continued, "It is mathematically possible. It's been done before. It's precisely what we're proposing."
BI Vice President Biden responded, "It has never been done before."
Congressman Ryan countered, "It's been done a couple of times, actually."
Vice President Biden persisted, "It has never been done before."
Congressman Ryan explained, "Jack Kennedy lowered tax rates, increased growth. Ronald Reagan…"
Vice President Biden, in a moment that invoked Lloyd Bentsen's conquest of Dan Quayle, responded, "Oh, now you're Jack Kennedy?"
An underrated line was from Vice President Joe Biden when he said, "I've never met two guys who were more down on America."
It is a juxtaposition from recent years when it is the Democrats accused of being the party of doom and gloom and tearing down America.
It was an interesting contrast in their message here, as Joe Biden gave the message for hope.
In his closing, Vice President Biden said, "People are in real trouble. We acted to move to bring relief to the people who need the most help now.
"And – and in the process, we – in case you haven't noticed, we have strong disagreements, but I – you probably detected my frustration with their attitude about the American people. My friend says that 30 percent of the American people are takers. Romney points out 47 percent of the people won't take responsibility.
"He's talking about my mother and father. He's talking about the places I grew up in, my neighbors in Scranton and Claymont, and he's talking about – he's talking about the people that have built this country. All they're looking for, Martha, all they're looking for is an even shot. Whenever you give them the shot, they've done it. They've done it. Whenever you've leveled the playing field, they've been able to move. And they want a little bit of peace of mind."
Governor Ryan's message was "If you don't have a good record to run on, then you paint your opponent as someone to run from. That was what President Obama said in 2008. It's what he's doing right now."
Ironically, then, he proceeded to paint President Obama as someone to run from by arguing, "Look at all the string of broken promises."  He then began listing them off.
It was a far better performance by Joe Biden than his boss last week, but until President Obama delivers this kind of performance in his own way, there will be open questions – questions that must now be answered by President Obama rather than Mitt Romney.
—David M. Greenwald reporting