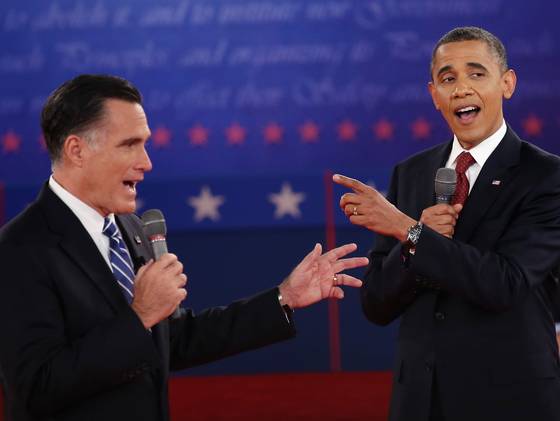 The remarkable thing about the second debate, is a recognition of just how far to the right the Democrats have moved to counter the lurch to the right by the Republicans.
It is true that when asked how he would differ from President George W. Bush, Mitt Romney largely fumbled the ball by responding, "President Bush and I are different people, and these are different times. And that's why my five-point plan is so different than what he would have done."
President Obama then nailed the former Massachusetts Governor: "You know, there are some things where Governor Romney's different from George Bush. George Bush didn't propose turning Medicare into a voucher. George Bush embraced comprehensive immigration reform. He didn't call for self-deportation. George Bush never suggested that we eliminate funding for Planned Parenthood."
"So there are differences between Governor Romney and George Bush, but they're not on economic policy. In some ways, he's gone to a more extreme place when it comes to social policy, and I think that's a mistake."
Mr. Obama's statement here, that Governor Romney on social issues is more extreme than George Bush was, is another illustration of the continued rightward movement of the Republican Party, even by someone who was generally considered a moderate.
The problem is that to match that movement, the Democratic Party has moved well to the right, as well.
This debate was largely about the middle class, with a little bit of talk about tax breaks for the wealthy mixed in.  President Barack Obama never mentioned the poor.  He never even mentioned poverty.  While Mitt Romney was willing to attack President Obama with the one in six people living in poverty statistic, he too was not willing to address the broad social issues.
No one talked about foreclosure or credit scores, and when the college student asked the question about student loan debt, both candidates addressed jobs rather than student loan policies.
Reverend Jesse Jackson made the point on Wednesday that here you had a Vice Presidential Debate in Kentucky, where the poorest county in America is, and no questions about poverty.
"How can you have a debate in Kentucky and don't mention poverty?" he asked in an interview with Politico.
"Not one moderator has raised the issue of poverty or the issue of low credit scores," he said. "Fifty million people are in poverty. Another 50 million are 'unbankable' – they have a credit score so low they can't borrow money from the bank…they go to the worst schools, have the fewest life options…yet from that group comes our soldiers. That's where the 47 percent resides."
There were similar complaints after the first debate.
"We were 75 minutes in before Gov. Romney became the first to mention poverty at all, and neither he nor President Obama mentioned child poverty," said Ed Walz of First Focus as reported in a Washington Post op-ed. "There was some mention of the Child Tax Credit, but no acknowledgement at all of the fact that some of its best anti-poverty enhancements are going to vanish without real leadership."
Mark Shriver, a senior vice president at Save the Children USA, told the Washington Post that he "would have liked to have heard a commitment to cutting child poverty rates in half over the next eight years." He added, "I would have liked to have heard a strategy for providing every poor child with a high-quality early childhood education (birth to age 5)."
"Again, poor children remain politically invisible," said Irwin Redlener, a pediatrician, president of Children's Health Fund and professor at Columbia University. "In a debate focused on the economy, it would have been entirely appropriate to ask about plans to deal with poverty in general – and poverty among children in particular. For those who are legitimately worried about cutbacks in vital safety net programs for children during this economic downturn, this debate fell short."
It was not just poverty that lost out.  In the debate over gas prices, the debate was over oil production.
Barack Obama responded, "We have increased oil production to the highest levels in 16 years. Natural gas production is the highest it's been in decades. We have seen increases in coal production and coal employment."
Now, give President Obama some credit – at least he was willing to talk about green energy: "I've also said we can't just produce traditional sources of energy; we've also got to look to the future. That's why we doubled fuel efficiency standards on cars. That means that in the middle of the next decade, any car you buy, you're going to end up going twice as far on a gallon of gas. That's why we've doubled clean energy production like wind and solar and biofuels. And all these things have contributed to us lowering our oil imports to the lowest levels in 16 years."
Mitt Romney has made too much of the $1.84 gas price figure – it was a blip because the oil market literally collapsed in late 2008.  Barack Obama was right to point out the gas prices were over four dollars during most of George Bush's second term.
The answer is not to bring oil production up, not to open land up to more drilling. The answer is to develop alternative green energy so that we can move away from our oil dependency, which leads to high gas prices and foreign entanglement, and contributes to global warming.
In fact, global warming or climate change may be the biggest crisis we face, and no one has talked about it during the debates.  Instead, the debate focused on licenses and permits on federal land.  And the fallacy of clean coal.
Then you have the assault weapons exchange.  This is about politics.  The Democrats were tough on guns for about a decade and then they learned something very interesting in 2000 – even though the majority of the people in this country favor tougher gun laws, the majority of the people who care enough about the issue to actually cast their vote based on it, favor less regulation of the gun industry.
All of the swing states support fewer regulations on guns.
So when asked about what his "administration has done or planned to do to limit the availability of assault weapons?" his answer was "nothing."
Oh, it was not literally nothing, but his administration has not signed any new federal gun control legislation in the first four years and his answer was something out of the NRA handbook.
"We're a nation that believes in the Second Amendment, and I believe in the Second Amendment. We've got a long tradition of hunting and sportsmen and people who want to make sure they can protect themselves," the President said.
As one observer noted: "It's an indisputable statement about the deep-seated American attachment to firearms. It does not say anything about AK-47s in the hands of criminals. What it does reveal is Obama's determination to steer clear of the gun issue at all costs."
Now President Obama probably wins this exchange on points – but not do to any particular courage of his own.
Mitt Romney said, "I'm not in favor of new pieces of legislation on, on guns and taking guns away or making certain guns illegal."
The moderator pressed him on his past support for an assault weapons ban in Massachusetts and asked "What is it that you have changed your mind?"
His answer was  basically that in his state they had bipartisan support – but he never explained his change of thinking.
President Obama had the better answer, responding: "I think Governor Romney was for an assault weapons ban before he was against it. And he said that the reason he changed his mind was in part because he was seeking the endorsement of the National Rifle Association."
Mitt Romney had the weirder answer, offering two-parent households as the solution.  Somewhere out there, Murphy Brown was not happy on Tuesday night.
A few months ago, we noted how far to the right the Republican party has moved, but on Tuesday we saw how far the Democrats have gone in ceding ground.
—David M. Greenwald reporting