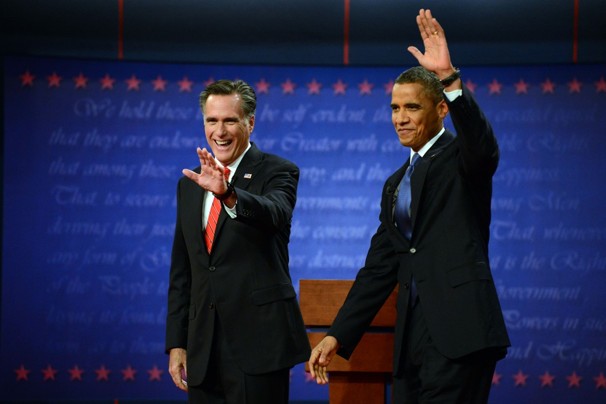 The long-anticipated first debate featured a desperate Governor Mitt Romney facing a President Obama, who appeared to be sitting on his lead, trying to play prevent defense and not make any major errors.
But, as happens so often, playing it safe inevitably allows the opposition to seize the initiative, and Governor Romney not only seized the initiative, he seized the stage and, with the help of the inept performance by Jim Lehrer who was clearly out of his depths as moderator, at least of this formula, he controlled the night.
Critics hammered President Obama who looked tired and disinterested, stumbling early, and lacking passion or fire until very late.  They pointed out numerous missed opportunities.  They noted the utter lack of mention of 47% or any of the themes the campaign has absolutely hammered Governor Romney on in the paid commercials.
A CNN Poll has a three to one advantage for Romney, a CBS poll of just undecided gave the advantage at 46-22 but with 32 percent believing it was a tie.
That is the initial take and it is difficult to argue with that.  Even President Obama advisor David Plouffe seemed to acknowledge that in the short term this was Governor Romney's night, though he indicated that in the coming days, many of the claims that Mitt Romney made may come back to bite him.
We will discuss this shortly, as we believe there is some truth to that.  However, that will depend on the skill and expertise of President Obama's campaign team.  When Wednesday night began, Governor Romney's campaign was dead.  When the night ended, his candidacy was very much alive with fresh momentum.
Still, commentator Al Sharpton, of all people, may have had the greatest insight into the performance.  First he noted that Mitt Romney was acting like it was 1812 rather than 2012, and that his statements made on Wednesday couldn't and wouldn't be placed side-by-side with earlier comments.
Mr. Sharpton cracked, "He gave great testimony, but he could be indicted for perjury."
For instance, observers have long been wondering how Governor Romney would manage to reconcile his $5 trillion tax cut with his statement that he would not add to the deficit.  Governor Romney argued that he could do so by closing tax loopholes, but most importantly he argued that he did not have a $5 trillion tax cut proposed.
"I don't have a $5 trillion tax cut. I don't have a tax cut of a scale that you're talking about," the former governor said.
In one of the few moments where President Obama seemed to have a good response, he said, "Well, for 18 months he's been running on this tax plan. And now, five weeks before the election, he's saying that his big, bold idea is 'never mind.' "
Governor Romney would hammer the President's economic policy, arguing, "And the proof of that is 23 million people out of work. The proof of that is 1 out of 6 people in poverty. The proof of that is we've gone from 32 million on food stamps to 47 million on food stamps. The proof of that is that 50 percent of college graduates this year can't find work."
However, it is an inaccurate statement to say that 23 million are out of work.  The unemployment figure is 12.5 million, but there are also about 8 million who are working part time who would prefer a full time job and another 2.6 million who have stopped looking for work for a variety of reasons.
The other problem with his claim is that nowhere near 50 percent of college graduates could not find work.  One study suggests its perhaps half that, though others suggest the number is far lower than that.
Both sides played fast and loose with the facts, but it was Governor Romney that hit on it.  First he said, "Look, I got five boys. I'm used to people saying something that's not always true, but just keep on repeating it and ultimately hoping I'll believe it – but that – that is not the case, all right?"
Later, he responded, "Mr. President, you're entitled, as the president, to your own airplane and to your own house, but not to your own facts – all right?"
Mitt Romney, of course, was as guilty of this as his opponent, but President Obama failed to capitalize.
For instance, the LA Times fact checking reports, "Mitt Romney repeated a number of erroneous claims during Wednesday's debate about President Obama's healthcare law, including that it relies on a board that will decide 'what kind of treatment' patients can get."
"This is a myth advanced repeatedly by critics of the Affordable Care Act and debunked consistently by independent fact-checkers. The board – known as the Independent Payment Advisory Board – was set up to recommend ways to reduce Medicare spending if it increases too rapidly," the Times explains.
"The panel of independent experts is empowered to suggest cuts to how much the federal government pays healthcare providers. These cuts would go into effect unless Congress votes to overturn them.  But the panel is explicitly prohibited from cutting benefits for people on Medicare.  And there is no provision in the law that empowers the advisory board to make any decisions about what treatments doctors may provide for their patients."
Meanwhile, the tax cut plan will be interesting to see play out.  Governor Romney claims he does not have a $5 trillion tax cut, but the nonpartisan Tax Policy Center says that Governor Romney's plan would reduce tax revenue by nearly $500 billion in 2015, or about $5 trillion over 10 years.
Governor Romney can counter that his plan is revenue neutral (different from the above claim), by removing tax loopholes and deductions.
"The Tax Policy Center has analyzed the specifics of Romney's plan thus far released and concluded the numbers aren't there to make it revenue neutral," but President Obama, most observers think, failed to really hammer home the point about the lack of specifics or press Governor Romney to explain which tax loopholes.
Governor Romney also revisited the $716 billion cut to Medicare.
According to the Washington Post fact checkers, "This $700 billion figure comes from the difference over 10 years (2013-2022) between anticipated Medicare spending (what is known as 'the baseline') and the changes that the law makes to reduce spending."
The Post notes that there is no actual decrease in spending year to year, and the reduction comes from anticipated levels and that savings comes from providers not beneficiaries.
Writes the Post, "While it is correct that anticipated savings from Medicare were used to help offset some of the anticipated costs of expanding health care for all Americans, it does not affect the Medicare trust fund. In fact, the Obama health-care law also raised Medicare payroll taxes by $318 billion over the new 10-year time frame, further strengthening the program's financial condition."
Moreover, President Obama failed to make the case that Paul Ryan's plan "retains virtually all of the Medicare 'cuts' contained in the health-care law, but diverts them instead to his Medicare overhaul."
Bottom line, there is plenty of material that the Obama camp can make light of in the next week.  Mitt Romney won the night, but in the process he seems to have opened some cans of worms that may be more difficult to close than he would like to believe.
Nevertheless, this is a disconcerting night for those of us who have complained throughout Barack Obama's first term that he was listless, unengaged, and refused to put on the gloves and fight for what he believed in.  All of those worst qualities came through on Wednesday night.
We also know that he has run a good campaign, but he has not really engaged, mostly because he doesn't have to.  Will the gloves come off?  Will the President fight for his record?  I don't know.
The comparison point I have used from the start for this election is 2004.  In the first debate, John Kerry absolutely cleaned up on President Bush.  The result was that John Kerry revived his campaign.  The pundits remember that George Bush would recover, but they should also remember that, for a time on election night, we thought John Kerry was going to win the presidency.
—David M. Greenwald reporting