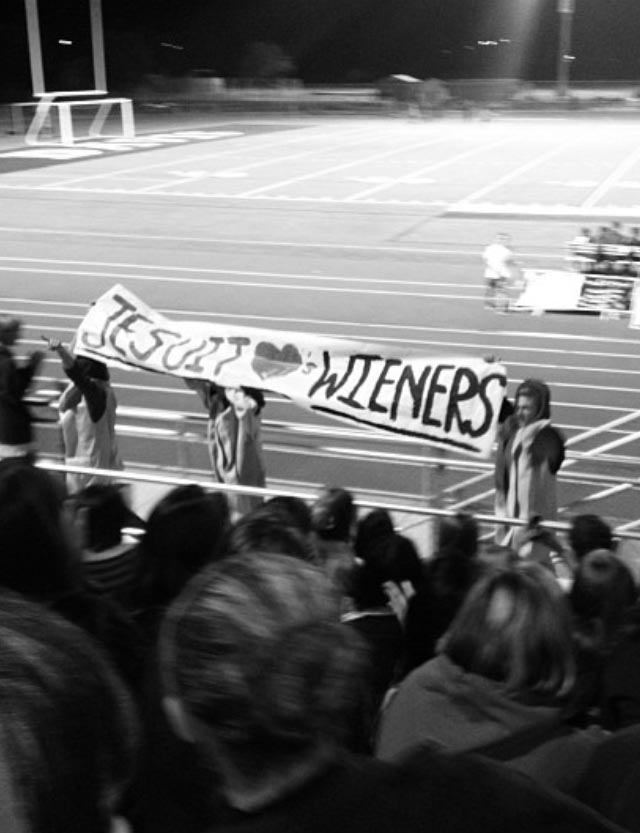 The
Vanguard
received a few notes and a photo about an incident that happened last weekend at a soccer game between Davis High and Jesuit. It has now become completely clear what occurred, based on two letters to the editor of the local newspaper.
One letter writer in the newspaper reports, "Homophobic slurs were being hollered out throughout the game and a large banner with homophobic language was displayed to the crowd as they paraded in hot dog costumes in front of the stands."
Now Superintendent Winfred Roberson writes an apology to the community, stating, "On Monday, my office became aware of inappropriate behavior from three fans at last Saturday's DHS vs. Jesuit home soccer game. The three fans, dressed as hot dogs, displayed a large banner that read "Jesuit (heart symbol) Loves Wieners.""
He writes, "Students and staff agree that the sign was a clear anti-gay message targeting the Jesuit all-male student body population."
He states unequivocally: "The Davis Joint Unified School District opposes this type of messaging and fan behavior and apologizes to those who were present."
At the same time he writes, "Though disappointed by the incident, it was reassuring to know that the three fans were not currently enrolled DJUSD students. We encourage our students to display sportsmanship, fair-play and respectful cheering behaviors during athletic events. We want everyone who attends a DJUSD event to feel respected and included."
However there is a bigger problem here, as the letter writer to the newspaper indicates: "As appalled as I am at the behavior of these spectators, I am even more appalled at the adults in the crowd who did nothing, at least from what my daughter and adult sister observed."
In fact, this is a systematic failure: "Security failed to detect these fans and the banner at the gate, even though administrators and faculty members were present and on guard for this vulgar behavior."
When the writer's sister removed the banner from the young men, she was verbally assaulted with profanity.
The writer adds, "According to DHS Principal Jacqui Moore, Davis fans are well-known for being inappropriate and crass. She told me the school is taking great measures to educate the students about appropriate fan behavior, but she can't compete with a community that remains silent when administrators don't catch such horrific hate speech."
Commentary: Not An Isolated Incident
The problem here is that this really is neither an isolated incident nor anything new.  The Reverend Tim Malone often makes it a point to show Davis Enterprise photos from 1978 where Davis High Students showed up to a basketball game wearing KKK hoods.
In June, barely four months ago, a noose was found on the uprights at the high school football stadium.  While the perpetrator of that was never caught, it is widely believed to have been a Davis High School student.
The overall climate and diversity in the district is still concerning.  There has and continues to be a large achievement gap between the performance of white and Asian students on the one hand, and African-American and Latino on the other hand.
Last week, at the Vanguard's school board candidates forum, the question was asked about the lack of diversity of teachers.
While Davis has become increasingly diverse – In 1992-1993, just twenty years ago, the student population was 75% white.  Hispanics were just 10.8% and the number of Asians just 8.5%.
By 2010-2011 according to the California Department of Education's Educational Demographics Office (CBEDS), the percentage of white students in Davis school is 57.9%.  Hispanic is the largest subgroup at 17.2%, Asian just behind at 15.1%, mixed race at 4.3% and African Americans at 2.8%.
That is remarkable change in two decades.  But one not matched by teaching population.
The number of teachers of color is still remarkably low.  81.6% of teachers are white.  There are 41 Hispanic or Latino teachers, but a large number of them are hired through the dual immersion program.
The stunning number is that we have just 3 African-American teachers and 16 Asian teachers.
These numbers have not improved over the last twenty years.
The bottom line here is that the district has an increasing problem with diversity and tolerance.  It is unfortunate that these demographic changes are occurring during times of budget crisis when the district is strapped for resources.
The question at this time is what is the district going to do?  The letter writer noted that Davis fans are well-known for being inappropriate and crass.  Perhaps.  But in 2012, it should be unacceptable – particularly in a community like Davis, for fans to make such inappropriate comments and have such inappropriate banners.
The fact that personnel and adults did not step in is appalling.
The Vanguard is pleased that Superintendent Roberson has published an apology, but we believe more needs to be done – far more.
—David M. Greenwald reporting