by Alan Pryor
GUEST COMMENTARY – While many Davis residents are aware that the Davis City Council is considering a Staff recommendation on wood burning restrictions this Tuesday, few probably realize that there are actually 2 additional somewhat competing recommendations that the Council is considering. One is a long-awaited "Guidance" document submitted by the Yolo Solano Air Quality Management District. The other is a recommendation passed 6-1 by the Natural Resources Commission resulting at their September meeting.
Each of these recommendations or proposals are similar in that they would prohibit wood burning on certain days when PM2.5 (particulate matter less than 2.5 um diameter) concentrations in the region are expected to exceed certain thresholds. Each of the recommendations also differ with respect to which projected PM2.5 threshhold is used to issue mandatory "No-Burn" advisory, which air quality agency's PM2.5 projections are used, and whether EPA Phase II stoves and pellet stoves are exempted from compliance with the otherwise mandated "No-Burn" notices.
The 1st part of this article discusses and compares similarities and differences between the various recommendations. The 2nd part addresses questions pertaining to technical specifications of the recommendations and the potential impact this would have on public exposures to PM2.5 and costs associated with the program.
Part 1 – Following are three tables providing a simplified comparison of the 3 different recommendations for wood burning restrictions presented to Council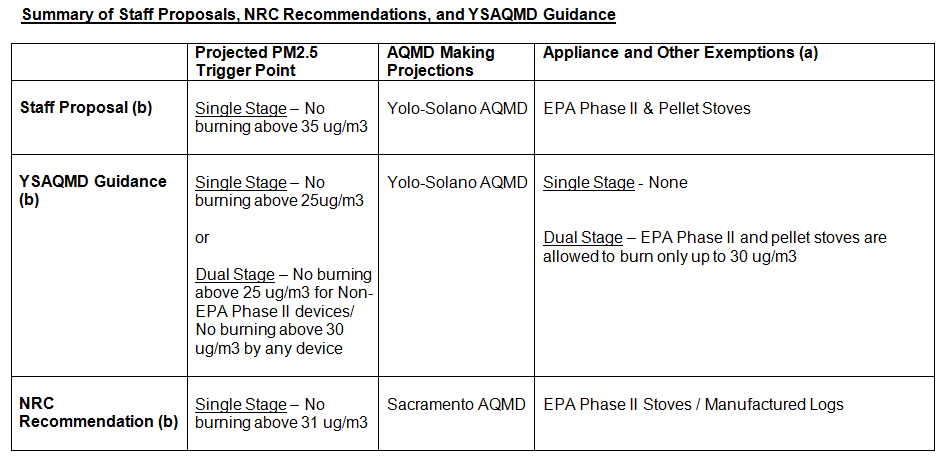 (a) All include exemptions for loss of electrical power and low income hardships
(b) All proposals allowing for restricted use of EPA Phase II and pellet stoves include the requirement for no visible emissions after start-up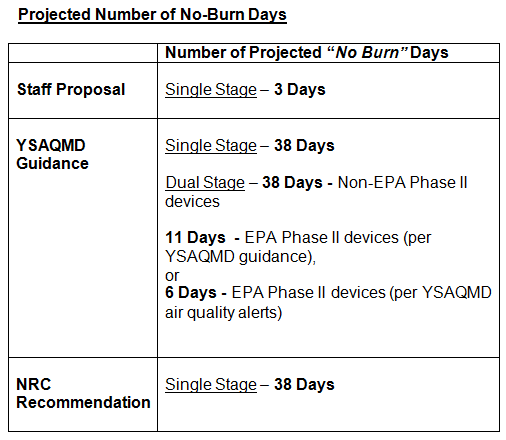 The actual 38 "No-Burn" days in 2011-2012 was up from 30 the prior year and 16 in the 2009-2010 burning season. The differences were due to different average weather patterns prevailing during each year. The 2009-2010 wood burning season was marked by many storms and higher than average rainfall. The 2011-2012 season was marked by very dry conditions with comparatively fewer storm fronts moving through the area thus providing more stagnant air conditions and issuance of more "No-Burn" notices.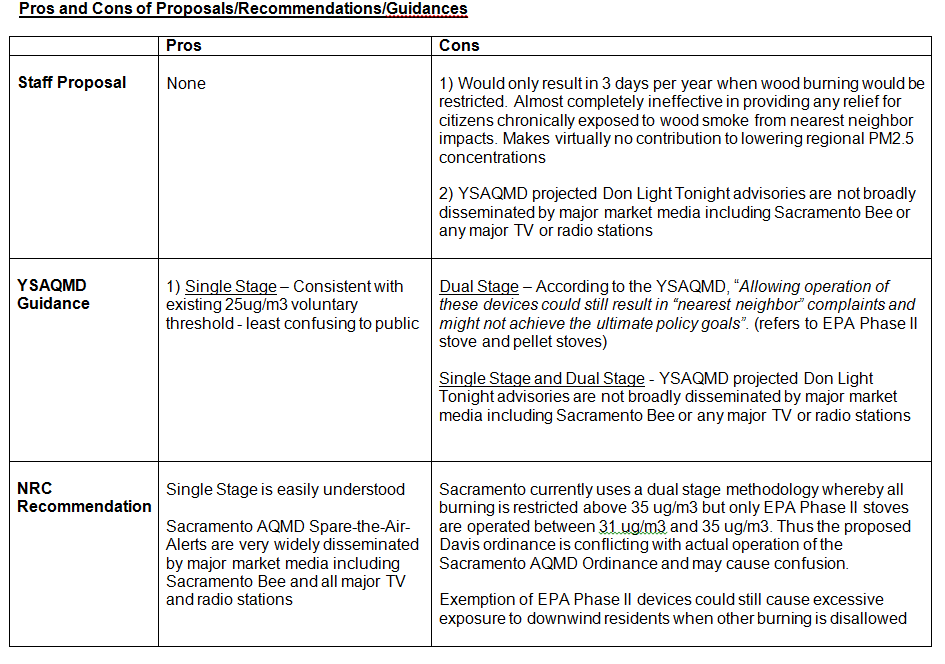 Part 2 – Following are questions that have been raised about certain technical aspects of the various recommended wood burning restrictions.
Re: NRC and Staff Proposed Exemption of EPA Phase II Stoves and Pellet Stoves
Both Staff and the NRC recommended exemption of EPA Phase II wood stoves and pellet stoves under their respective proposed wood burning ordinances that will be considered by Council this coming Tuesday. Conversely, the YSAQMD stated in their Guidance document included in the Council packet, "Allowing operation of these devices could still result in "nearest neighbor" complaints and might not achieve the ultimate policy goals". (referring to use of possibly exempted EPA Phase II stove and pellet stoves during otherwise "No-Burn" days). A member of the Davis Wood Smoke Scientific Advisory Committee also wrote, "…continuous or longer-term use of even these more efficient wood burning devices can still result in excessive wood smoke exposure to nearby downwind residents. This is especially true at the low wind speeds during which mandatory no-burn advisories are likely to be issued".
Question – If operation of EPA Phase II stoves can result in excessive downwind exposures under typical "No-Burn" day advisories, why did the NRC and Staff recommend that EPA Phase II stoves be exempted from its recommended wood burning ordinance?
Answer – It is unknown why Staff proposed this exemption and not explained in their proposal to Council. As for the NRC-proposed exemption, this was proposed simply as a political compromise without any scientific underpinnings. Past Councils and Staff had consistently rejected previous NRC science-based proposals using wind speed dispersion modeling as being too restrictive. Some members of the NRC proposed that exempting EPA Phase II wood stoves was something that Council might consider implementing even though the underlying science clearly indicated that operation of EPA Phase II stoves under such weather conditions common to "No-Burn" days would very likely result in excessive exposure to immediate downwind residents.
Inspection of the 3rd column in Appendix A at the end of this document (the dispersion modeling results previously used by the NRC to formulate its wind speed-based recommended proposals) clearly shows that use of an EPA Phase II stove can produce 24 hour PM2.5 exposures to immediate downwind residents that are far in excess of allowable federal standards. For instance, even with winds up to 2.5 mph during the night and overcast days, use of an EPA Phase II stove would likely produce downwind maximum exposures of from 125% to over 300% of allowable federal standards.
It is worth further noting, however, that the EPA is now in the process of promulgating more stringent standards for EPA Phase III wood stoves which are expected to be implemented early next year. The wood stove industry can now routinely produce wood and pellet stoves that will produce down to 2 g PM2.5 per hour if properly operated and the EPA is expected to recommend these values as its new standard for wood stoves. Use of such devices could result in emissions about one-quarter of current standards and these lower emission devices can probably be safely used under somewhat stagnant air conditions. These appliances are currently rare in the real world, however, as very few such units have been manufactured and sold to date.
Re: NRC Proposed Exemption of Manufactured Logs
Some producers of manufactured logs have commissioned studies which indicate that burning their products in a non-EPA Phase II wood stove will produce emissions only about 25% of the emissions produced by burning Douglas fir cordwood with 20% moisture levels under similar conditions. However, others have pointed out that this is not a fair comparative evaluation because 20% moisture Douglas fir is not considered to be nearly as clean burning as very dry hardwoods such as almond, walnut, or oak firewood. These detractors point out that the emission profiles of these manufactured logs when burned are only slightly better than when burning very dry hardwoods. For this reason neither the Sacramento Air Quality Management District, the Bay Area Air Quality Management District, or the San Joaquin Valley Air Pollution Control Districts allows exemptions from wood burning restrictions for manufactured logs.
Question: If manufactured logs are not substantially better in reducing emissions than seasoned hardwood, why did the NRC propose to exempt manufactured logs?
Answer: As with EPA Phase II stoves, manufactured logs are newly-proposed to be exempted by the NRC in an attempt to obtain political acceptance by offering a perceived slightly less environmentally damaging option. However, this proposed exemption is NOT based on a rigorous scientific analysis of the resultant "nearest neighbor" impacts resulting from the use of manufactured logs. That said, a manufactured log burned in an open hearth fireplace may show about the same emission profile as burning somewhat marginally dried Douglas fir cordwood in an EPA Phase II device. Thus, they would still be expected to produce PM2.5 exposures in excess of federal standards to immediate downwind neighbors.
Re: Comparative Wood Smoke Concentrations Produced by Fireplaces and EPA Phase II Wood Stoves under "No-Burn" Conditions
In Sunday's Enterprise, Bob Dunning wrote, "Even more telling, Cahill adds that "models used in a recent City of Davis study show the local ground level impact is enhanced for wood stoves because its cooler smoke tends to hang closer to the ground, compared to the generally hotter and more buoyant smoke from an open hearth fireplace."
Question: If this statement is true, why are open hearth fireplaces so stringently regulated under low wind speed conditions as might exist under "No-Burn" day advisories?
Answer: Dr. Cahill is partially correct and only for a very narrow range of atmospheric conditions. Firstly, a close examination of Appendix A will show that EPA Phase II wood stoves do not burn cooler than open hearth fireplaces as quoted in Bob Dunniing's column. In fact, they burn quite a bit hotter than open hearth fireplaces and that is why their combustion efficiency is higher. Open hearth fireplaces can, under a very limited set of conditions, produce projected lower ground level concentrations of wood smoke than EPA Phase II wood stoves under identical weather conditions. This is because the volume of wood smoke from chimneys of open hearth fireplaces is so much greater that it substantially increases the chimney escape velocity of the hot, burned gases.
This air exits at such a high velocity from the chimney that it can literally punch a "hole" through a low hanging inversion layer and be dispersed higher into the atmosphere. As I said, however, this only occurs at very low wind speeds and a very low inversion layer. If the inversion layer is slightly higher and/or higher wind speeds prevail, the excessive amount of wood smoke produced by an open hearth fireplace is pushed back down to the ground producing far higher concentrations and exposures to wood smoke to immediate downwind neighbors as shown in Appendix A
Dispersion modeling shows us that even given this phenomena, the resultant concentrations of wood smoke produced by open hearth fireplaces under low wind speed conditions (e.g.2.5 mph) can still produce wood smoke concentrations exposures in excess of the 35 ug/m3 federal standard and thus present a danger to susceptible populations particularly if regional air quality is already compromised.
Simply put, burning in open hearth fireplaces even under low wind conditions is still dangerous to your neighbors' health. And, of course, as wind speeds pick up and effectively push more of the very high levels of wood smoke produced by open hearth fireplaces down to ground level, the wood smoke concentrations can become even more injurious to respiratory health. Thus, open hearth fireplaces can produce ground level concentrations of wood smoke with far more adverse impacts than Dr. Cahill's and Bob Dunning's interpretation of the data would otherwise indicate.
Re: Recommended Use by the NRC of the Sacramento AQMD's Air Quality Projections for Determining "No-Burn" Days as Compared to the Staff Recommendation to Use Air Quality Projections Made by the Yolo Solano AQMD (YSAQMD)
Both the Sacramento AQMD and the YSAQMD use the same outside consulting firm (Sonoma Technologies, Inc. – STI) to make their daily district-wide PM2.5 projections. Because there is remarkable similarity in the overall district-wide average PM2.5 concentrations (as previously demonstrated by both Tom Cahill and the YSAQMD) and the day to day measured changes are so consistently similar, it is believed that either agency will provide very close approximate concentration projections with no material difference. The Sacramento AQMD has historically had a slightly higher daily projected PM2.5 but their trigger points for calling for "No-Burn" advisories are also slightly higher. That said, both air quality agencies called for an identical number of "No-Burn" days last year (38).
Question: Why did the NRC recommend using the Sacramento AQMD as the agency for issuing "No-Burn" advisories instead of the Yolo Solano AQMD in whose district Davis resides?
Answer: There are two reasons the NRC recommended using the Sacramento AQMD as the lead agency for issuing "No-Burn" advisories. The first is that the Sacramento AQMD "No-Burn" advisories are disseminated through a far broader network of regional TV and radio stations and newspapers than those advisories issued by the YSAQMD. Thus, there is a greater likelihood of Davis residents actually becoming aware of the daily "No-Burn" advisories issue by the Sacramento AQMD. Plus the Sacramento AQMD has a far larger public outreach and educational budget than the more provincial YSAQMD. The 2nd reason is that the YS AQMD has declined to support mandatory wood-burning restrictions in Davis over the six years so there is a question of their ability to provide support services to the City.
It is worth noting that the unusually high number of "No-Burn" advisories last year (38) was unique over the 120 day season, and due to the unusual stagnant, dry weather patterns across the state. By comparison, two years ago when normal weather patterns prevailed, only 16 "No-Burn" advisories were called by the YSAQMD – or greater than 50% fewer days than last year.
Re: YSAQMD's Recommendation that They Make a Special Daily PM2.5 Concentration Projection (per STI) for Davis instead of Relying on the Existing District Wide Daily Projections
The YSAQMD's current district-wide daily "No-Burn" advisories are partially based on daily PM2.5 concentrations as measured at a monitoring station maintained by the California Air Resources Board located off Gibson Rd. in Woodland. The YSAQMD has stated that they believe their daily projections of PM2.5 concentrations would be enhanced for Davis if they instead base their projections on daily PM2.5 concentration readings taken from the YSAQMD-maintained monitor located west of Hwy 113 on rural UCD property. However, they have estimated this would cost the City about $7,000-8,000 annually following an initial cost of $29,000 to provide these special services.
Question: Will these extra costs to the City result in more accurate PM2.5 projection specific to the City of Davis?
Answer: As discussed above, the pattern of regional PM2.5 concentrations are very closely related across both the YSAQMD and the Sacramento AQMD. Indeed, the YSAQMD's own data supplied to the NRC show very little overall differences between Woodland and Davis on a day-to-day basis. Some days Woodland is a little higher than Davis. On some days, the opposite is true. On average, the Woodland monitor reads about 1-2 ug/m3 higher than the Davis monitor but that is really likely more a function of the more rural location of the Davis monitor. In fact, being closer to the urban center in Woodland may more accurately reflect urban conditions in Davis than a Davis monitor in a field far removed from any wood burning sources. As a result, using the Davis monitor as a source for PM2.5 projections may even serve to underestimate conditions in central Davis. If Council chooses to use the YSAQMD projections as the basis for "No-Burn" day advisories, it would be technically and economically well advised to adhere to the current YSAQMD method of projecting PM2.5 concentrations based on the urban Woodland monitor without charge rather than the rural Davis monitor. The old adage seems to ring true, "Why buy the cow when you can get the milk for free".
The Council will be weighing all these issues this Tuesday evening. The agendized item will probably not come up for discussion until at least after 8 pm as the Council is first considering the proposed selection of the surface water project and plan for the election next Spring.