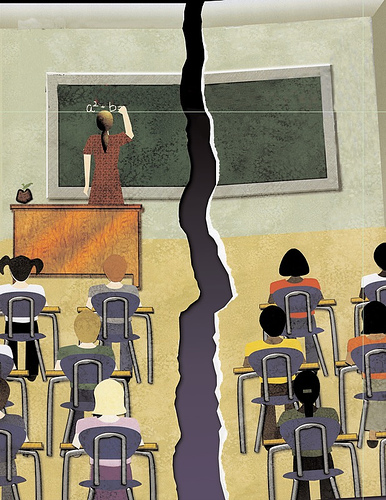 ANALYSIS: The Demographic Breakdown May Surprise You
– One of the audience questions that we asked at Monday's candidates forum at Harper Junior High was "Why are there so few teachers of color in this district? In the last five years there have been very few teachers of color hired, except at Cesar Chavez for obvious reasons.  Shouldn't there be more parity in the teaching force to reflect the student population?"
The candidate responses ran the gamut.  Alan Fernandes said that he did not know why this was the case but said that he believed there should be more parity.
Claire Sherman's response was, "Part of the reason why there is an achievement gap is because the students that are in these classrooms don't actually see a role model.  What they see is the general middle class man or woman teaching class and they don't actually see themselves as potentially being a teacher."
She argued that the presence of teachers of color could inspire minority students.  "I think it would be good if the school district made very large attempts at getting teachers in the school district that reflect more the composition of the population in Davis."
Jose Granda said that this relates to his efforts to get more students of color into the university.  He said that he does not believe the problem is with the administration, but rather, "We have to go and actively seek these students just as you would have to go and actively seek these teachers."
Nancy Peterson responded, "I think one of the basic reasons why we don't have more teachers in color here is that, in general, our population of students either Latino or African-American is very low and teachers who are of Latino descent or African-American prefer to go to communities where there is a need for … where there's a greater population of kids from a similar background.  Because they feel they want to do more for their community."
"While we strive to increase the number of teachers and administrators of color, their interests lie in other communities where the population is higher," she said.  "We're after our highest quality teacher and if they match a certain ethnic or racial background then great."
Susan Lovenburg disputed the premise of this question because "I don't believe it's true."  She cites a visit she took to the high school where she visited 13 different classrooms: "We have teachers of color, we have principals of color in this district, we have a superintendent of color in this district.  This has been a focus of this school board even before I was on it."
"There has been considerable improvement in this area and what was striking to me when I was in those classrooms today is that our student population is increasingly diverse.  This is no longer a white enclave this community, it is really a community of diversity and if you walk around the high school you will see that and our teacher staff, and our principals and our superintendent reflect that."
Fact Check
The interesting thing about these responses is that, other than Claire Sherman's point about the achievement gap, they are nearly all either factually inaccurate or based on faulty assumptions.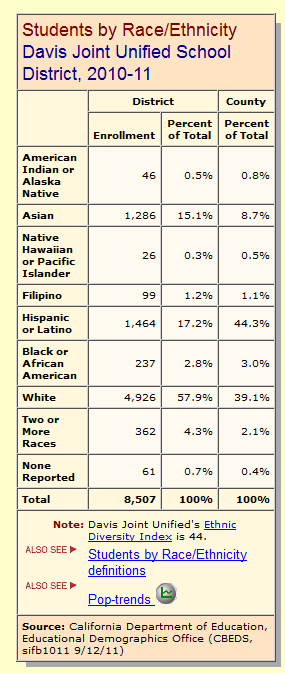 Let us start by looking at the student population, because I believe it will be an eye opener for many.
Susan Lovenburg is part right here when she said, "Our student population is increasingly diverse."
In 2010-2011 according to the California Department of Education's Educational Demographics Office (CBEDS), the percentage of white students in Davis school is 57.9%.  Hispanic is the largest subgroup at 17.2%, Asian just behind at 15.1%, mixed race at 4.3% and African Americans at 2.8%.
She is correct when she noted that it is "increasingly diverse."  In fact, stunningly so.  In 1992-1993, just twenty years ago, the student population was 75% white.  Hispanics were just 10.8% and the number of Asians just 8.5%.  That is remarkable change in two decades.
However, Susan Lovenburg goes too far when she says, "This is no longer a white enclave this community."  It may not be a 75 percent white community like it once was, but it is still far more white than surrounding areas.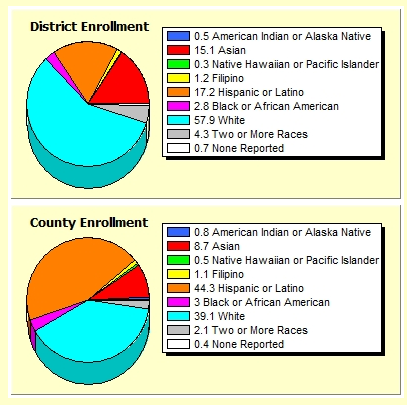 The countywide data bear this out.
Countywide, whites account for just 39% of the student population compared to nearly 58% in Davis.  Hispanics are the largest group at 44%.  Davis is, in fact, still 73% white or Asian, whereas the county as a whole is 47.8%.
So, while Davis is far more diverse than it was two decades ago, it still is disproportionately less diverse than the rest of the county or the region.
Moreover, Susan Lovenburg is overly-optimistic about the percentage of teachers of color.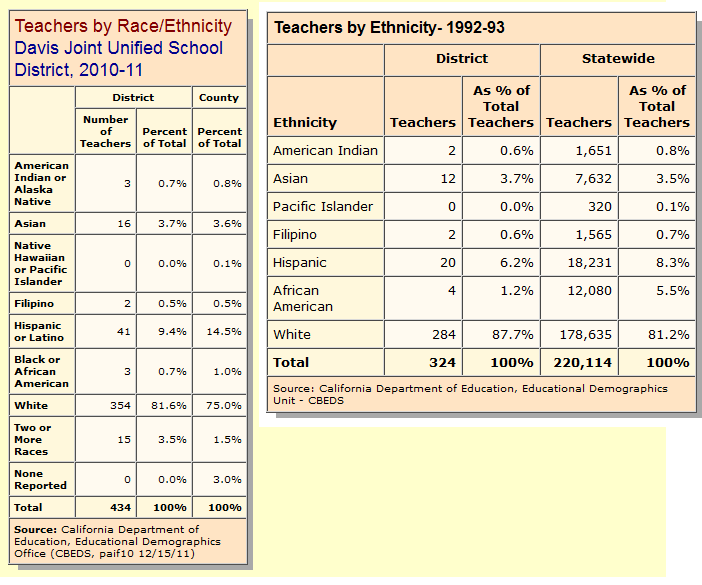 The number of teachers of color is still remarkably low.  81.6% of teachers are white.  There are 41 Hispanic or Latino teachers, but a large number of them, as noted in the answer to the question, are hired through the dual immersion program.  It is not that those numbers "don't count" so much as the distribution of Hispanics throughout the rest of the district is low.
The stunning number is that we have just 3 African-American teachers and 16 Asian teachers.
These numbers have not improved over the last twenty years, despite the comments by Susan Lovenburg about this being a district priority.
Twenty years ago, we had 110 fewer teachers than 2010-11.  And yet, the number of African-American teachers has actually fallen from 4 to 3.  Asian teachers have only increased from 12 to 16, maintaining their same proportion.
The percentage of white teachers decreased only slightly from 87.7% to 81.6%.  And remember what happened to the percentage of white students over that time.
The only area of increase was in number of Hispanic teachers, which doubled in absolute numbers from 20 to 41, and whose share increased from 6.2% to 9.4%.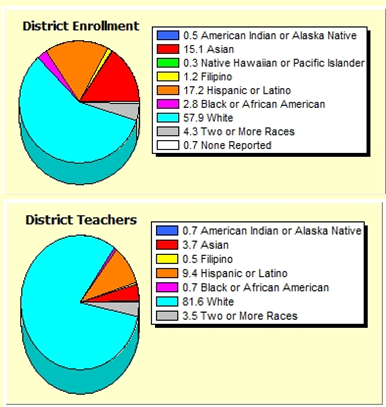 The result is that, while the student population is increasingly diverse, the teacher population is lagging behind.
District wide, the proportion of white students is 57.9 percent but the proportion of white teachers is 81.6 percent.  Minorities are under-represented across the board.
There are 15.1 percent Asian students but only 3.7 percent Asian teachers.  There are 17.2 percent Latino students but only 9.4 percent Latino teachers.  And there are 2.8 percent African-American students, but only three African-American teachers or .7 percent.
Jose Granda's suggestion about recruiting teachers of color is a good one, but the problem is that the district has actually spent considerable time and expense to do just that – limited as they are by state laws on Affirmative Action – but those efforts have not produced noticeable results.
Nancy Peterson's response seems almost defeatist.  And while the explanation she gives is certainly one that has been used in the past as the explanation, it does not really account for what is now a growing gap between the demographic changes of the community as opposed to the relative stagnation of the district in terms of teachers.
Certainly the perception of the demographics of this community may make it more difficult to hire quality teachers of color; the reputation of this community is perhaps even starker than the actual demographics might suggest.
In short, there is no easy answer, but looking at the data suggests that this is going to be a bigger problem in the future if it is not addressed by the district.
—David M. Greenwald reporting