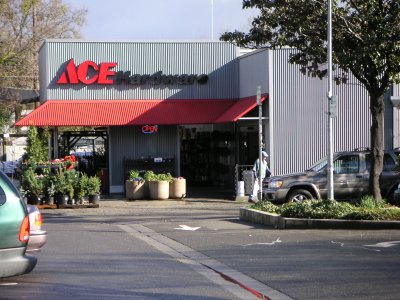 A poster on the
Davis Wiki
posted a letter from Davis Ace owner Jennifer Anderson urging their employees to vote for Mitt Romney and Paul Ryan.
The letter dated October 27, 2012 reads, "I am joining other business owners around the nation in asking employees to vote for Romney & Ryan."
She continues, "This is a first for me.  It is your choice who you vote for, but I want to share with you my concerns and how I feel it will impact our company."
While she is clear that it is the individual's choice, Ms. Anderson does add, "it will impact each employee."
While Jennifer Anderson argues that this is a first for her, the Vanguard actually began receiving complaints about Jennifer Anderson and Davis Ace in the 2010 elections.
At that time, the employee was reluctant to come forward, fearing identification and retribution.  The Vanguard forwarded the complaints and the matter to the Davis Downtown Business Association.
At that time, the individual complained that Davis Ace, on at least two occasions, distributed political propaganda along with employees' paychecks.  The political information, as well as the employer's opinions about various political issues, and paychecks were being handed out together.
The paycheck is grabbed, then the political propaganda, and then they were both given to the employee together.
The individual however indicated that they were not physically attached together – i.e. not stapled or clipped – nor were they enclosed in the envelope containing the paycheck.
While Ms. Anderson suggests that this was a first for her in the October 27, 2012 letter, the employee at that time indicated that two incidences preceded the upcoming election, and they continued with several points, arguments and suggestions made by the employer both times, within the body of the political propaganda.
On June 8, 2012 they wrote employees: "We are supporting fiscally conservative candidates. We are deeply concerned with the fiscal state of Davis, Yolo County, California and the Federal budget. No balanced budget, deficit spending. More laws make it difficult to comply and will add expense to the business. More expenses equals a smaller bottom line profit. More programs, mean more taxes, means a smaller take home paycheck. It is that simple. We urge you to ask financial questions. We believe in individual responsibility and accountability."
September 2, 2012, about Repeal Obamacare, was an opinion editorial: "I am concerned that with continuing soft sales – we will reduce our payroll. And if healthcare becomes too expensive – we will stop offering health care. I certainly will not be re-investing because there will not be the money to do so – and if taxes increase – all of us will suffer with less money to spend – which will continue to spiral downward."
A source indicated that Davis Act has an "Employee Pledge," which they claim for the success of the company all must abide by.
The first rule (pledge) is: "I pledge to read all company bulletins, newsletters and notices that are either posted on bulletin boards or included with my paycheck, since they are for the best interests to all employees."
Ascertaining the legality of these actions is somewhat tricky, but there are at least two applicable sections of the CA Elections Code.
Section 8540: (a) Every person who makes use of or threatens to make use of any force, violence, or tactic of coercion or intimidation, to induce or compel any other person to vote or refrain from voting at any election or to vote or refrain from voting for any particular person or measure at any election, or because any person voted or refrained from voting at any election or voted or refrained from voting for any particular person or measure at any election is guilty of a felony punishable by imprisonment in the state prison for 16 months or two or three years.
Section 8542: Every employer, whether a corporation or natural person, or any other person who employs, is guilty of a misdemeanor if, in paying his or her employees the salary or wages due them, encloses their pay in pay envelopes upon which or in which there is written or printed the name of any candidate or any political mottoes, devices, or arguments containing threats, express or implied, intended or calculated to influence the political opinions or actions of the employees.
In the October 27, 2012 letter she argues that "Obamacare will change our business and our benefits to our employees."  She adds, "We have a huge number of unemployed and underemployed people in the U.S…  This affects everyone's lives."
She argued, "This affects us because I won't hire more people" as she sees Obamacare costing their business and that taxations will cost them more.
"While all of these may not affect you – they do affect us and they affect our family and our company," she wrote.
She concludes the letter: "I am not perfect.  I have put my heart and soul into this company on behalf of our family, and for the benefit of our employees and all of our families."
She adds, "I don't want to be told 'I did not build' this company.  I have earned what I have done.  Yes, I did 'get the job' through our family, however, I could have destroyed this company with poor management – but I haven't.  Together, with our team, we have helped it grow and prosper and contribute back to this community."
"I want our President to help us do that for our country.  Please vote for Mitt Romney and Paul Ryan on November 6.  The outcome will affect our business.  The choice is yours."
There is nothing wrong with the letter from a legal point of view, unlike perhaps distributing propaganda with a paycheck.  Nevertheless, in this community, it does not seem like a good business move.
—David M. Greenwald reporting