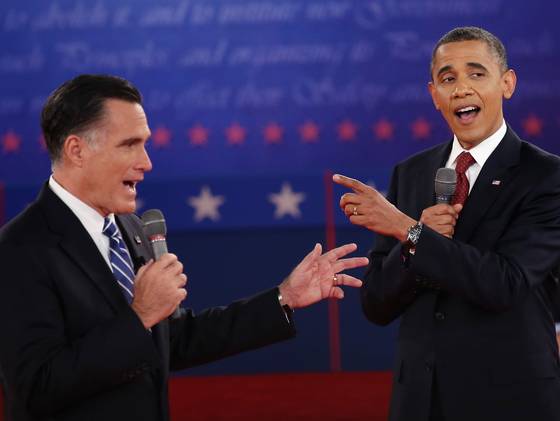 I spent far more time than perhaps I should have yesterday, reading not only polls but arguments on both sides of the issue about whether the polls are right.  The bottom line is that those who claim that the polls are wrong and that Romney will win, may not be wrong necessarily.
Within the 30 to 40 percent chance I would give Romney is contained a lot of the scenarios that Republicans and a few prominent Republican strategists have suggested.
That said, I still believe that most likely President Barack Obama is poised for a close but decisive enough reelection.
Yesterday, there were 12 national polls as of about 6 pm that came out.  Three of them – Politico, CNN, and Rasmussen – showed a tie race.  The other nine showed between a 0.3 and a 3.2 point Obama lead.
The average of those polls was a 1.3 point lead which marks a slight uptick for Obama over polls released in the immediate aftermath of the decisive Romney victory in the first debate.
These national polls are now correlated well with a slew of battleground state polls released late in the week, the overwhelming majority of which favored Obama by a narrow margin.
In order to believe that these polls – conducted by different polling firms – are all wrong you have to believe that there is a systematic error with them.
One of the key points in contention is that the polls that favor Obama seem to include a higher percentage of Democratic voters than the 2008 election.
There is a big debate over whether a pollster should assign a weight to partisan identification and essentially assume that you can know the partisan breakdown of the election, or whether partisan ID is fluid and something that you need to measure.
This debate I first saw in 2004 when the roles and numbers were reversed, and it has reemerged this year.
The problem with weighting or assigning  breakdown of party identification is that the balance can fluctuate in the electorate and that is part of what a poll needs to capture.  There is no steady breakdown and, in fact, if you track voters over time their party ID actually fluctuates widely in the middle.
I was surprised that while most pollsters and a lot of political scientists believe you should allow party ID to float, most political insiders as polled by the National Journal thought otherwise – although there was a heavily-partisan split with Democratic insiders only slightly in agreement and Republican insiders strongly so.
Here where I think this debate really misses the mark.  So you take a poll with a random sample of people.  Most polls look at demographic groups and anchor them to census data to make sure they are representative samples.
They then discern voter preference and also, through a battery of questions, determine the likelihood of their voting.
It is very true that as you move up the scale, from registered to likely to certain voters, the sample favors Romney more strongly.
But here's the problem for those who believe that the polls are wrong – nowhere is there an indication that there is going to be a tsunami for Romney.
If there were a wave forming, the polls ought to be able to capture it.  In 2008, the polls were pretty accurate in predicting the outcome and these same polls were able to capture the Republican tide in 2010.  So you're going to tell me that there is a huge wave that somehow the polls are missing?
Let's go further.  There is a poll that does weight by party ID – that has been the Rasmussen Poll.  All year, the Rasmussen Poll has be tilted well to the right of other polls by about 2.8 points.  In 2010, they were about 5 points to the right of the actual results.
One of the other limitations of Rasmussen has been their exclusion of cell phone only voters, which now according to the same research accounts for about 30% of the electorate.  They do supplement that with the inclusion of online surveys, but online surveys are far less reliable.
It would appear that cell phone only households are anywhere from six to ten points more likely to support Obama than landline households.
Those using Rasmussen as their baseline will be dismayed to note that, even they are showing a tie race in their poll released on Sunday.
And here is a final note on the polls – trends are perhaps more important than absolute numbers at times.  If the polling company is using the same methodology, at least within a given election, tracking results over time tells you the trend.
The trend over the last two weeks was a slight uptick for Obama.  The last batch of national polls matches the earlier batch of state polls.
If you believe the polls are wrong, fine, but when you see Rasmussen's poll at a tie, you know about where things stand.
Moreover, we can look at trends from Romney's tracking polls.
As we noted yesterday, Jan Crawford of CBS News reports: "For eight straight days, polls showed him picking up support. The campaign's internal polling, which is using different turnout models than most public polls, had him on solid ground in Florida, Virginia, North Carolina and Iowa. He had a slight lead or was tied in Ohio, New Hampshire and Wisconsin and was in striking distance in Pennsylvania, a state Republicans hadn't won since Ronald Reagan in 1984.
"Those leads in Florida, Virginia, North Carolina and Iowa still hold in the internal polls, campaign sources say, but Romney's movement flattened out or, as the campaign likes to say, 'paused.' Nevada is now off the table, and those neck-and-neck swing states are even tighter."
Again, what is the trend here?  Romney's own internal polls show the trend is moving toward Obama.
Putting this all together, I think that Obama is favored and he has a small but real lead, but there is still a 30 to 40 percent chance (at least) that Romney will win.
—David M. Greenwald reporting