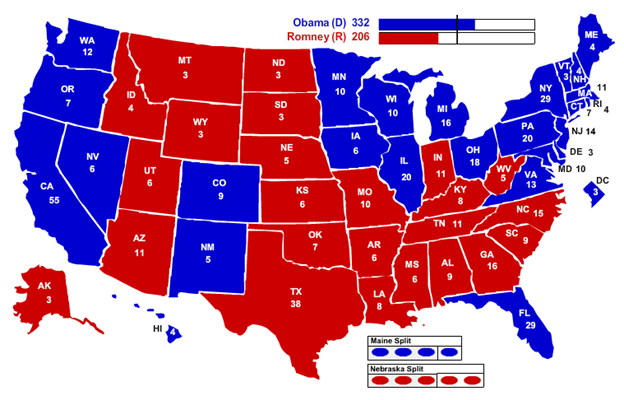 I hope this is going to be the last column on the Presidential Election.  We will start with a bit of local flavor.  The city of Davis went for President Obama by a whopping 81 to 18 percent margin.
President Obama received 18,397 votes to 4,284 for Mitt Romney.  The county of Yolo went for the President, as well, by a more modest 65 to 31 percent margin.  Without Davis, President Obama still wins the rest of the county, but narrowly, by a 20,000 to just under 15,000 vote margin.
Polling Firm Performances – Low Marks for Gallup and Rasmussen

Throughout the campaign, members of the 18 percent club in Davis would continually argue not only that the polls were skewed, but would use either the Rasmussen or Gallup poll to suggest that Mitt Romney was either in the lead or that the race was closer than some believed.
Nate Silver performed his polling analysis of accuracy and bias.  It turns out that overall, most polls not only were not skewed toward President Obama but, rather, they underestimated his performance.
Of 23 polls that Mr. Silver looked at, only four were biased in favor of President Obama and their margins were quite small – two of them less than .3 percentage points and the other two 1.5 and 2.5 percentage points.
Two of the least active polls were Rasmussen, which favored Mitt Romney by 3.7 points and, amazingly enough, Gallup, which was off by a remarkable 7.2 points.
"Among the more prolific polling firms, the most accurate by this measure was TIPP, which conducted a national tracking poll for Investors' Business Daily. Relative to other national polls, their results seemed to be Democratic-leaning at the time they were published," Nate Silver writes. "However, it turned out that most polling firms underestimated Mr. Obama's performance, so those that had what had seemed to be Democratic-leaning results were often closest to the final outcome.
"Conversely, polls that were Republican-leaning relative to the consensus did especially poorly," he adds.
On the minus side he writes, "Several polling firms got notably poor results, on the other hand. For the second consecutive election – the same was true in 2010 – Rasmussen Reports polls had a statistical bias toward Republicans, overestimating Mr. Romney's performance by about four percentage points, on average."
And Mr. Silver also discussed Gallup's poor showing for three straight elections.
"It was one of the best-known polling firms, however, that had among the worst results. In late October, Gallup consistently showed Mr. Romney ahead by about six percentage points among likely voters, far different from the average of other surveys. Gallup's final poll of the election, which had Mr. Romney up by one point, was slightly better, but still identified the wrong winner in the election. Gallup has now had three poor elections in a row. In 2008, their polls overestimated Mr. Obama's performance, while in 2010, they overestimated how well Republicans would do in the race for the United States House," he writes.
Last Vestiges of Republicanism?
Maureen Dowd writes the provocative column this morning, "Romney is President."  There have been a slew of columns talking about Republicans' state of denial, but she makes a few interesting points that our local members of the 18 percent club should agonize over.
She writes, "Team Romney has every reason to be shellshocked. Its candidate, after all, resoundingly won the election of the country he was wooing. Mitt Romney is the president of white male America."
You want to disagree?  I can see why.  But as Ms. Dowd points out, the Republicans "made little effort not to alienate women."
She cites Karen Hughes, a former staffer to President W. Bush, who said, "If another Republican man says anything about rape other than it is a horrific, violent crime, I want to personally cut out his tongue."
"But the truth is, Romney was an unpalatable candidate. And shocking as it may seem, his strategists weren't blowing smoke when they said they were going to win; they were just clueless," she continues.  "Until now, Republicans and Fox News have excelled at conjuring alternate realities. But this time, they made the mistake of believing their fake world actually existed."
As Fox's Megyn Kelly said to Karl Rove on election night, when he argued against calling Ohio for Obama: "Is this just math that you do as a Republican to make yourself feel better?"
That was perhaps the underrated line of the night.
But perhaps the comments by Bill O'Reilly were most telling.
"It's a changing country," Bill O'Reilly said during Fox News' coverage of the election on Tuesday. "The demographics are changing. It's not a traditional America anymore. And there are 50 percent of the voting public who want stuff. They want things. And who is going to give them things? President Obama. He knows it. And he ran on it."
"Whereby 20 years ago President Obama would have been roundly defeated by an establishment candidate like Mitt Romney, the white establishment is now the minority," Bill O'Reilly added. "And the voters, many of them, feel that this economic system is stacked against them, and they want stuff."
"Romney and Tea Party loonies dismissed half the country as chattel and moochers who did not belong in their 'traditional' America," Maureen Dowd countered. "But the more they insulted the president with birther cracks, the more they tried to force chastity belts on women, and the more they made Hispanics, blacks and gays feel like the help, the more these groups burned to prove that, knitted together, they could give the dead-enders of white male domination the boot."
"The election about the economy also sounded the death knell for the Republican culture wars," Ms. Dowd continued.  "Romney was still running in an illusory country where husbands told wives how to vote, and the wives who worked had better get home in time to cook dinner. But in the real country, many wives were urging husbands not to vote for a Brylcreemed boss out of a '50s boardroom whose party was helping to revive a 50-year-old debate over contraception."
Maureen Dowd put forward the interesting point that in 2008 Barack Obama won when "Obama lifted up the base with his message of hope and change," and fashioned himself as the exalted one, much to the chagrin of much of the country.
However, she writes, the scene shifted in 2012 which "was about the disenchanted Democratic base deciding: 'We are the Ones we've been waiting for.' "  Ms. Dowd writes, "This time the base lifted up Obama, with the hope he will change. He has not led the Obama army to leverage power, so now the army is leading Obama."
She adds, "When the first African-American president was elected, his supporters expected dramatic changes. But Obama feared that he was such a huge change for the country to digest, it was better if other things remained status quo."
"The president's record-high rate of deporting illegal immigrants infuriated Latinos. Now, on issues from loosening immigration laws to taxing the rich to gay rights to climate change to legalizing pot, the country has leapt ahead, pulling the sometimes listless and ruminating president by the hand, urging him to hurry up," she said.
While she certainly captures my disillusionment of President Obama, it remains to be seen whether he will follow the lead of the people.
Republicans got something else wrong – they believed somehow that the masses were still enraptured with the President.  I did not vote for the President because I love him.  I tolerated him because I had no other choice.
Are the Republicans in as Much Trouble as the Pundits Say?
Electoral maps change very quickly, but a quick glance at the current map suggests that the Republicans have a tough task to win in the short term.
1992 marks a much more pivotal year, I think, than most are willing to acknowledge.  From 1972 to 1988, Republicans won every year but 1976 and they did it with overwhelming advantages in the electoral college.
Since 1992, not only have the Democrats won four of six elections, but they have reworked the electoral map.
In 1988, Bush won the states of California, Illinois, Michigan, Pennsylvania, Connecticut, Vermont, Rhode Island and Maine – states that Reagan also won twice.  Republicans have not won any of those states since, and only Pennsylvania is really competitive since.
Bill Clinton completely changed the map and made the Democrats competitive over the next six elections.
Since 1992, the Democrats have won 19 states all six times for a total of 242 electoral votes.  That means that the Democrats only have to find 28 electoral votes in the remaining 31 states.
Now that does include Pennsylvania, Wisconsin and Minnesota, which are more competitive.  However, Minnesota went +7, Pennsylvania +5.2 and Wisconsin +6.7.  So even in a low ebb race they were not that close.
What is equally remarkable is how much the country has changed since 1996.
In order for the Democrats to retake the White House in 1992, Bill Clinton had to pull together something that remarkably resembled the old coalition. 
Bill Clinton would win in California, Illinois, Michigan, Pennsylvania, Connecticut, Vermont, Rhode Island and Maine – states that had gone for Reagan and Bush – states that Republicans would not only never take again, but would not even be competitive in, for the most part.
The Clinton map would forge together the West Coast, the Industrial Midwest and the Northeast, and add to that seven southern/ border states.
By 2000 however, all of those southern and border states that made up the Clinton margins were gone again.  Not only did Al Gore lose his home state where he and his father had served in the Senate, they lost Arkansas which was Clinton's home, and the Democrats are no longer competitive in any of the southern states that Clinton won in 1992 and 1996, except for Florida which Clinton won in 1996, replacing Georgia.
For Obama to win in 2008 with 365 electoral votes – similar to the 370 that Clinton won in 1992 and 379 that he won in 1996 – they had to remake the map.
To regain the advantage, Democrats now rely on 19 states in which they have won every year since 1992.  In order to win, they need some combination of New Hampshire (5 times), Iowa (five times), Ohio (four times), Colorado (3 times), New Mexico (five times), Nevada (four times), Florida (three times), Virginia (last two elections), North Carolina and Indiana (in 2008 only).
To regain the White House in 2008, the Democrats added to the Kerry states with: Iowa, Ohio, Indiana, Virginia, North Carolina, Florida, Colorado, New Mexico and Nevada.  Obama would then hold all of those states but Indiana and North Carolina.
The biggest winner in this election is Bill Clinton.  Not only did he remake the Democratic Party in 1992, but he probably saved Barack Obama.
In 2016, if Hillary Clinton wants it, the Democratic nomination is hers.  Think about this, Hillary Clinton in 2000 would run and win the New York Senate seat.  She would then face Barack Obama and lose.
She could have slunk off into the sunset.  Instead, she agreed to give up that Senate seat and become Secretary of State.  In the four years there, she has largely been an asset and never a problem.
She now has a pretty good public service record, her husband has united the party behind them, and if she runs, my guess is she will get limited opposition for the nomination and would be, in this electoral math, the odds-on favorite to win in 2016.
I don't think that the Republicans are as dead as some are suggesting – the country is too divided, the margins too close.  But there are demographic problems that are not going to be solved just through immigration reform.
—David M. Greenwald reporting