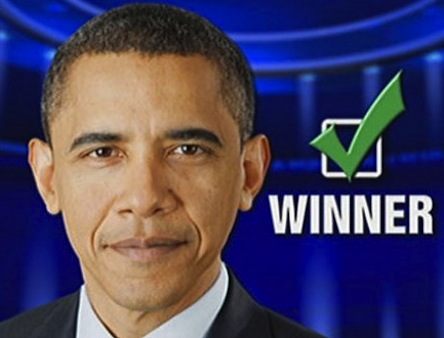 The Much Lambasted Polls Were Right – For the last week, even as polls seemed to shift decisively back to President Barack Obama's favor, the poll deniers – unskewers if you will – came out in force to argue that the baseline Party ID numbers were wrong, that there would be a tsunami of support by Republicans angry about Obama's presidency, that the enthusiasm gap would win out.
Nate Silver -a Bayesian math geek – would somehow be one of the more reviled figures at the end of the campaign, for sticking to his mathematical formula that once again proved out, as he nailed the calls on all states despite their closeness.
Despite the venom that the Marist University pollsters received, the exit polls in Ohio showed a party breakdown that was remarkably similar to the nine percent spread their poll had showed.
By all stretches of the imagination this was a remarkable win for President Obama, in the face of what can at best be described as a disappointing economy.  But the exit polls showed some remarkable factors – most people felt that the economy was the most important issue, but by a 39-31 margin thought that the economy was improving rather than getting worse.
Moreover, about half the voters still pinned the blame on former President Bush rather than Barack Obama.
President Obama would win just 39% percent of white people – figure that mirrored the total that Michael Dukakis would receive in 1988.  But demonstrating the changing demographics, George H. W. Bush would win over 400 electoral votes with that figure; Mitt Romney would win half of that.
In part what killed Mitt Romney was his decision to move to the right of Rick Perry, his position of self-deportation, which he could never or at the very least would never back off of.  Hispanics set a record with a turnout that marked 10% of the electorate, and 70% of them backed Barack Obama, a departure from the 44% mark that backed George W. Bush just eight years ago.
For all of the bellyaching it turns out both the youth and black vote would turn out in numbers comparable to 2008.  Barack Obama's decline in vote share is largely attributable to his drop from 44% of the white vote in 2008 to 39% in 2012.
As of now, Florida has not been called, but Obama leads and we expect him to prevail there.  Right now, Obama has a 2.5 million vote edge, 50% of the vote to 48%, mirroring the average in the last polls.
If Florida holds, Obama would have by narrower margins still held his entire coalition from 2008 except Indiana and North Carolina (narrowly), the two most conservative of his state victories from 2008.
In California, he had a stunning victory with most of the precincts reporting.  Obama led by 20 points, 58 to 38 with a 1.7 million vote margin.
Pundits will point probably to three things.  We mentioned the Hispanic vote, critical in Florida, Virginia, New Mexico, Colorado, Nevada and California.
There is the Sandy factor.  A large 15% said that was the most important consideration and another 25% said it was an important consideration.  Of those, 70% would go for Barack Obama.
Hurricane Sandy would illuminate leadership and bipartisanship, and the President and New Jersey Governor Christie would work together to save the ravaged state.
And then there is Ohio, which it turned out that he did not actually need to win, but was critical anyway.  What was critical to Ohio was the bailout of the auto industry and the lack of Mitt Romney compassion and attentiveness to that issue.
Mitt Romney would unleash a dishonest last-minute attack in Ohio that forced even his Republican surrogates to have to come forward to set the record straight.
But the most interesting thing is that the much-maligned polls were right on the mark, both nationally as well as at the state level.
To put this bluntly – the Bayesians were right, the pollsters were right, the conservative bloggers and pundits were completely wrong.
The biggest mistake made by these naysayers – if they were doing anything other than spin and posturing – was that they believed they could estimate what turnout should be.
The biggest point of contention was that the partisan breakdown was not going to be the same in 2012 as it was in 2008, at the height of what they called Obamamania of hope and change.
It turns out they were completely wrong on that point.  And one reason they were wrong is that they treat party ID as a static number.  Pollsters have argued that it actually floats, and that for a group of voters they may vacillate.
In fact, the final exit polls show about the same margin of Democrats to Republicans as 2008.  However, they also showed that Mitt Romney won Independents by about 4 percent.
But be careful how you read into those numbers.  What many now believe has happened is that a lot of the left-leaning independents are now identifying as Democrats.  Whereas a lot of the right-leaning independents, especially some Tea Party enthusiasts who voted for Republicans, are not identifying as Republicans.
If this analysis is correct, it may skew both party ID and what it means to be independent.  The caution is not to assume independent equals moderate, or even an undecided voter.
The biggest errors the unskewers made was to assume that polling was not sophisticated enough to capture the dynamics they claimed existed in the electorate.
It is a weird claim because the polls pretty much captured the move left in 2006 and 2008, and the move right by the electorate in 2010.
Why would a random sample not be able to capture higher Republican turnout?  Why would it not be able to capture if the Democrats were going to stay home because there was an enthusiasm gap?
The answer is that the polling both should and did capture those kinds of trends.  Polling is complex and sophisticated, but pollsters have gotten better at their craft over the years.
The answer to whether party ID should be fixed or float is that it should float.  Fixing the party ID assumes you can make an accurate prediction as to what the turnout will look like.  Allowing it to float allows the voters themselves and your sample to dictate what turnout will look like.
It turns out that those who allowed party ID to float were right.
Finally, I hope the vindication for Nate Silver – for whom many of the media and critics simply did not understand either his math or what his math was saying – is message to pundits and prognosticators to look at mathematical models rather than hunches and guesswork to make electoral predictions.
All Nate Silver did was run his numbers into a formula to determine what they meant.  It turns out that even slim margins, if they are persistent, are very predictive.
My only real criticism was that he was a bit too sanguine about the accuracy of the polling.  His model was right because the polling was accurate, but I would have upwardly revised the possibility that the polls were wrong.  As it turns out they were not, so perhaps I was wrong on that score.
—David M. Greenwald reporting