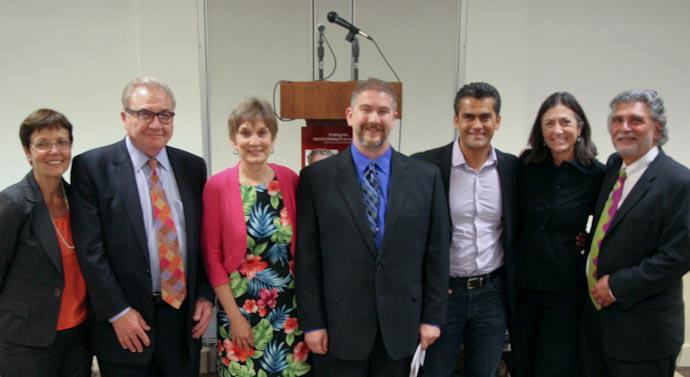 This is actually going to be one of the more personal pieces I have written, other than a couple about my family.  I should be happy – the results, most of them, are what I wanted, but I am not particularly happy and those who really know me will know exactly why.
Proposition 34 did not pass last night.  It would have ended the death penalty.  It would have ended one of the most immoral and disgraceful things in our society.  It is a flawed system.  The justice system is not about justice, it's about political victories for prosecutors and arcane laws that scared voters passed years ago, that many have lived to regret.
But it is worse than that.  At the end of the day, I'm a numbers guy and I look at the numbers here.  Proposition 34 got the perfect electorate at the perfect time.  Obama won California by 20 points.  He won it by 1.7 million votes.  The death penalty proposition failed by 500,000.
It underperformed Obama statewide by 2.2 million.  I don't know if we get another shot like this.  Looking at the numbers, it is obvious what the problem is.  Yolo County passed it but only 54-46; I was hoping and even expecting about a 70% yes vote here.  Sacramento failed it.
The entire Prop 34 campaign focused on LA County and that only passed it by 54-46 margin.  Not good enough to make up for the red parts of the state.
So on the single biggest issue to me, I lost and it hurts a lot because, looking at the field poll last week, I thought this was going to pass.
Moving on.  I cover local politics.  I like local politics and spend most of my time thinking about local politics.  So I found it surprising to me how wrapped up I got in the Presidential Election.
From the start I have analyzed this as 2004 in reverse and it played out almost entirely that way from start to finish.  Even the blip in the road when it looked like Romney was going to pull this off played according to script.
Democrats learned that anger is not enough to win an election.  In 2004, we believed that a flawed John Kerry could win.  There were times at the end when I thought he would win, but Democrats misread the numbers on election day, and got out-maneuvered by a more skillful Karl Rove.
It is somewhat ironic that it was Karl Rove predicting a massive Romney win, it was Rove trying to talk Fox News into pulling their call of Obama in Ohio, and it was Rove who was wrong.
I thought I had analyzed the numbers pretty closely last weekend and was stunned to read the Republicans who were CERTAIN that Romney would win and that the polls were wrong.  I spent way too much time pouring over the numbers – way too much time.  I couldn't find what I was missing.  It started eating at me.  I lost sleep over it.
It turns out I was not the one who was missing anything.  Next time I will trust the polls.  Republicans were in denial just as Democrats were in 2004.
If Republicans cannot figure out how to capture more of the minority vote, they are in trouble in the long term.  The fact that the map held even in a close victory, the fact that Hillary Clinton will have a united party behind her in 2016, portends poorly for Republicans.
Make no mistake, the biggest winners on election day aside from the Obama strategists who found a path to victory where NO ONE believed possible a year ago, are the Clintons.  There is no dissension in the Democratic ranks.
Hillary Clinton, who many believed unelectable, has rehabilitated her image.  Bill Clinton saved the ticket this year, everyone knows it.  Hillary Clinton is a tough and battle-tested campaigner, and she will be a force in 2016 if she chooses to run.
Republicans need to kick themselves – they lost two Senate seats in Missouri and Indiana where Romney won easily, and they lost them because they picked the only candidates on this planet that could lose.  One strategist noted that Republicans have essentially given away five Senate seats simply by nominating people that were unelectable in red states the last few cycles.
And Democrats thought they were the only ones capable of doing that.
Big victory for education in California.  Proposition 30 passes narrowly enough to make people fearful but decisively enough to send a clear message.
Proposition 32 has gone down to defeat.  The $11 million by outside forces wasted.  The message on Prop 32 is very clear, you're not going to get one-sided reform through the electorate in California – not an electorate that is going to elect Obama by a 20-point margin.
You want real reform, then put up real reform.  This was a joke and the voters slapped it down by over a million votes.  I think the scandal of the $11 million is a wake-up call.  I'm hoping we can fix the campaign finance system and hopefully Obama will name some SCOTUS Justices that can fix that travesty.
I'm not even a guy who supports campaign finance reform, but I think Citizens United was a travesty and an abomination.
It was a good night in California in the House races.  Locally, John Garamendi won a narrow victory over Kim Vann.  She ran a good and had-fought race, but the District's numbers basically held.
The big upset is not quite called yet but Ami Bera has a very narrow 176 vote lead over incumbent Dan Lungren.
John McNerney once again holds his seat narrowly.  Actually the 13,000 vote spread and 8-point lead is more than feared.
Mary Bono looks like she may well lose her seat.
But to me, the biggest win is down in my former home district, as Lois Capps has narrowly defeated Abel Maldonado, the former Lt. Governor and State Senator.
Way back in 1994, I was a student at Cal Poly and Walter Capps, a very popular professor at UC Santa Barbara, very narrowly lost to Andrea Seastrand.  Of course that was a bright spot on a horrible night for Democrats.  Two years later, in 1996, Walter Capps would face Ms. Seastrand again and win.
But a year later he would die of a heart attack.  I was so heartsick that, even though I was a grad student at UC Davis, I came back for several weeks at a time and worked 16 hours days punching in absentee ballot data and Lois Capps, the wife of Walter, would eke out a victory over right wing Assemblymember Tom Bordonaro – in a nasty and dirty campaign that extended over the Christmas Holiday.
So, for Lois Capps to extend her tenure in the House is a great victory personally.  Hard to believe how much time has passed.
Finally, the projections are the Democrats will have a supermajority in both the Assembly and Senate in California.
Speaker John Perez announced it late last night.
The key was an upset between Fullerton's Mayor Sharon Quirk-Silva and GOP Assemblyman Chris Norby. Ms. Quirk-Silva led Assemblymember Norby by 50.5 percent to 49.5 percent in the 65th Assembly District with 100 percent of precincts reporting.
"This just gives us 54 people that we know are going to come together on day one to focus on improving the economy," Speaker Pérez said.
Democrats thought they could win two-thirds in the Senate, but not the Assembly.
"Let's be very clear," Speaker Pérez said. "This is something that nobody expected to be possible."
In the Senate, Senate President Pro Tem Darrell Steinberg told the Bee this morning that he was not ready to declare victory but feels good about his prospects.
The Democrats only have to win one of three swing races for that to happen, and two of those are in LA which is lagging behind other parts of the state in reporting results.
Writes the Bee, "If Democrats take both houses by a supermajority, it would be the first time a party has done that since 1933."
"If we get there, and it's certainly possible, we will use it but also govern with humility," Senator Steinberg said. "It's an even larger responsibility."
So, overall, a great day if you are on my side of the fence, but Prop 34 hurts and hurts a lot.
—David M. Greenwald reporting
PHOTO CAPTION: That's me in the middle standing with (From Left to Right) Jeannie Woodford, Don Heller, Ellen Eggers, Franky Carrillo, Linda Starr, and Maurice Possley at the Vanguard July 26 Event in Woodland.