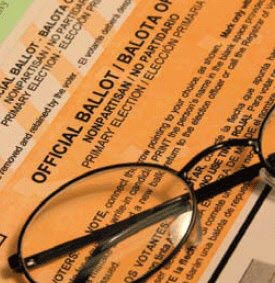 It took less than a week after Bob Dunning's column "Will bad grammar doom education measure" where he wrote, "it's just confusing enough that it's unlikely to survive a court challenge should someone decide to sue after it passes," for someone to take the bait and sue the tax measure.
The remarkable thing about Bob Dunning's column is that the Davis King Hall Law School graduate never bothered to do his own legal research.  Instead, he relied on a textual analysis in determining that the ballot language was muddled.
He apparently never consulted with the county clerk, he never talked to the district, and he never talked to the county counsel's office – all of whom reviewed the language and evaluated the standards.
If the parcel tax measure passes on Tuesday, do you really think a court in California or a federal court is going to overturn the will of more than two-thirds of the voters of the city of Davis because they may have used a comma where they should have used a semicolon?
The legal experts the Vanguard consulted with believe pretty strongly that no court will even hear this matter.  The district can utilize the typical voter standard and point to the impartial analysis by the county counsel who apparently had no problem whatsoever interpreting the ballot language.  Neither did numerous newspaper articles.
And for that matter, neither did Bob Dunning himself, as he wrote, "Now, I know what the authors of this measure meant to say…"  Turns out that fact may be sufficient.
The problem is that Thomas Randall and probably a few others who did not want to put their name on the suit are desperately looking for any straw to grasp, no matter how fleeting.  The federal lawsuit is in fact a joke – they are not only taking on the muddled language which is probably an issue for the state courts, but also arguing that the tax law is inherently unfair.
The problem for them is that this is embedded in state law – law that has been challenged and has survived numerous court battles with top-notch attorneys.  So this band of non-lawyers is going to challenge state law that every locality utilizes, with no attorney?
This whole thing would be comical if it weren't for the fact that the district likely is going to have spend money and legal resources to quash it.  The district believes they will have to file a motion to quash on the grounds that it is a frivolous suit with no merit.  When you spend $300 per hour or more on legal advice, that costs money.
Should Bob Dunning have to flip that bill for the taxpayers, since it was his column that led to this desperate lawsuit?  Whether he should or should not, we know he will not.  Thomas Randall and company may not be so lucky.  The district would be well within their rights after the suit is thrown out to recoup their attorney fees from the plaintiffs here.
The argument is in fact nonsensical.
The plaintiffs here cite the "Federal Plain Writing Act of 2010."  They go on to note, "It requires that government agencies issue documents, announcements and any communication with the citizens be done in comprehensible plain English and avoiding technical terms."
But all that law requires is that the federal government write all new publications, forms, and publicly-distributed documents in a "clear, concise, well-organized" manner.  It is not clear that this would apply to the states and, more importantly, it basically focuses on not using technical or highly legalistic terms.
However, the only point in question here is whether the ballot language would have been clearer with a semicolon rather than a comma.
The ballot measure reads: "To offset the continued loss of significant state funding, shall the Davis Joint Unified School District be authorized to continue a special tax for a period of 4 years not to exceed the base annual rate of $20.00 per dwelling unit for multi-dwelling parcels and $204.00 per parcel for all other parcels, and levy up to an additional $242 to cover State funding shortfalls ONLY if the November 2012 Temporary Taxes to Fund Education initiative does not pass?"
It is pretty clear here the meaning of this.  It would be a four-year extension of the parcel tax at the base rate of $204 per parcel, except $20 per dwelling unit for multi-dwelling parcels.  You then levy up to an additional $242 to cover state funding shortfalls if Proposition 30 does not pass.
What's the confusion here?  It's in the impartial analysis by the county counsel.  It has been in countless Enterprise and Vanguard articles.
Mr. Randall argues that the "current wording is incomprehensible."
If it is incomprehensible, how does the county counsel know what they mean?
This is a more powerful argument than you think.  If the county counsel did not know the meaning of the ballot language as written, they would have had the authority within the ten-day window to ask the district to revise it.  The fact that they did not suggests that the meaning was very clear.
Mr. Dunning is simply acting as grammar police, as he often does in his columns, to lampoon and mock various officials and citizens who dissent.  That's fine, but just because the ballot language does not rise to the technical grammatical perfection does not mean it rises to the legal standard for nullifying the will of two-thirds of the voters' intentions.
And that's the standard that the court will consider.  It's the highest standard there is.  And we believe no court will overturn it based on arguably incorrect punctuation.
But there is a bigger loser here than the taxpayers, and that is the voters and even the parents and educators.
You see, while I support the parcel tax and believe that the district is forced to essentially collect money locally where they have lost money from the state, I believe that there should be a community discussion as we move forward.
There is a philosophical and political discussion here that we could be having as to how we should fund our schools, what programs we need, and how much funding it will take to have the district we like.
To DJUSD's credit, we have fought to not only preserve the top-tier programs for the top students, but we still have school counselors, we still have psychologists, we still have paraeducators, we still have resources that many school districts can only dream about.
If parcel tax money goes away – the kids who will suffer the most are the ones like mine.  The nine-year-old that we have been caring for since first grade has a chance at a normal life only because DJUSD believes that kids like him deserve resources.
For those of you who do not believe we need things like counselors and psychologists at a school, maybe you have never had to deal with a kid where the barriers to education are wrapped up in psychological wounds suffered from early in childhood.
As we finally fought for and utilized a county-funded therapist, she worked with a number of kids initially at our school site and was absolutely astounded with the commitment and cooperation by staff at DJUSD.
In the local paper today, Jose Granda, the school board candidate and opponent of Measure E, runs his "life without parcel taxes," a piece that he had similarly run in the Vanguard a few weeks ago.
He talks about his plan for replacing the parcel tax system "with a new, more robust and fair system for providing extra funding for schools."
While perhaps well-intentioned, he writes, "The backbone is the formation of the Davis School District Excellence in Education Foundation, a central 501(c)(3) nonprofit organization with a master plan and a full-time staff whose main purpose would be to seek funding from external sources such as grants, endowments, wills and tax-deductible donations."
The irony is that this seems not too different from what we already have – the Davis Schools Foundation which has been fundamental in saving programs in the district.  The problem is that they rely on one-time money which is not merely enough on an ongoing basis as is needed to replace the loss of state funding or the parcel tax.
The fact that I do not agree with him or do not believe it would work is aside from the main point that the news this week on the district has not been devoted to a discussion of these philosophical and political differences, but rather a lawsuit.
Bob Dunning, as a columnist, has never debated the merits of Dr. Granda's plan or even the merits of the parcel tax.  Instead, he made a highly subjective assessment consulting few if any legal resources and turned the discussion from a political debate over ideas to a legal fight over ballot language and what constitutes clear and plain language.
Is it really a service to the community to raise the issue in this way without discussing with legal analysts, the county clerk, county counsel, etc?
Bob Dunning as a columnist is not bound by the same rules that govern journalists, but doesn't he have some ethical responsibility to be sure that he is printing the accurate information?
Is he not responsible at least in some way for the actions of Thomas Randall and Janet Zwahlen?
—David M. Greenwald reporting
PS – I don't really believe that a columnist should have to pay the legal bills for the district, it would be a bad precedent and have a chilling effect both on the freedom of speech and the ability of the press to feel free to criticize public policy.  At the same time, I use this as a rhetorical device to suggest that one needs to make responsible decisions for columns and do your best to check with experts before offering less than well-founded opinions.