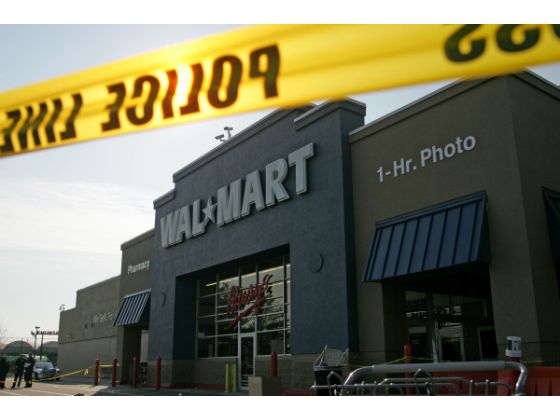 It is a day hyped as the biggest shopping day of the year, but Walmart workers are threatening to use that hype to their maximum leverage, as they plan to walk out from a job at American's largest private-sector employer, whose workers make on average $8.81 per hour with one third of their employees working less than 28 hours per week – thus not qualifying for benefits.
Officials for the United Food and Commercial Workers have said this week that they expect thousands of workers to participate in the protest planned this week. The employees will ask the country's largest employer to end what they call retaliation against speaking out for better pay, fair schedules and affordable health care.
They claim retaliation includes shuffling around shifts, cutting of hours and moving them around departments.
Walmart has countered that the protesters just make up a handful of its 1.3 million workforce, but belying that downplay, they have filed a complaint with the National Labor Relations Board, arguing that UFCW illegally "organized picket lines and other demonstrations in the past six months." The retailer said the "actions have disrupted business, and that workers' ongoing actions violate the National Labor Relations Act, which prohibits picketing for any period over 30 days without filing a petition to form a union."
ABC News reported, as of Wednesday, that the issues around allegations that UFCW is conducting illegal picketing is "complex."  Walmart does not recognize an official workers' union.
"The legal issues — including questions about what constitutes picketing and whether the activity was aimed at gaining recognition for the union — are complex," the labor board said. "Also, there are many distinct factual circumstances at stores across the country to consider."
The company argues that less than 0.0003 percent of its 1.3 million employees are expected to join in the strike on Friday.
"In fact, many of our associates have urged us to do something about the UFCW's latest round of publicity stunts because they don't think it's right that a few associates that are being coerced by the UFCW are being portrayed by the media as representative of what it's like to work at Walmart," Walmart national media relations director Kory Lundberg said in a statement as reported by ABC News.
Mr. Lundberg noted that "most of the numbers of people the UFCW claims at their events aren't even Walmart workers. They are union representatives and other union members."
Colby Harris, OUR Walmart member from Lancaster, Texas, fired back.
"Walmart is doing everything in its power to attempt to silence our voice. But nothing — not even this baseless unfair labor practice charge — will stop us from speaking out," he said in a statement.
"Walmart's employees… have no union to represent them. So they've had no means of getting much of the corporation's earnings," Robert Reich, a Berkeley Professor of Economics who served as Labor Secretary in the first Clinton Administration.  "Walmart earned $16 billion last year (it just reported a 9 percent increase in earnings in the third quarter of 2012, to $3.6 billion), the lion's share of which went instead to Walmart's shareholders — including the family of its founder, Sam Walton, who earned on their Walmart stock more than the combined earnings of the bottom 40 percent of American workers."
He asks whether this will change and writes, "At the very least, the action gives Walmart employees a chance to air their grievances in public — not only lousy wages (as low at $8 an hour) but also unsafe and unsanitary working conditions, excessive hours, and sexual harassment. The result is bad publicity for the company exactly when it wants the public to think of it as Santa Claus. And the threatened strike, the first in 50 years, is gaining steam."
He adds, "What happens at Walmart will have consequences extending far beyond the company. Other big box retailers are watching carefully. Walmart is their major competitor. Its pay scale and working conditions set the standard."
"More broadly, the widening inequality reflected in the gap between the pay of Walmart workers and the returns to Walmart investors, including the Walton family, haunts the American economy," Mr. Reich writes.
The policies of Walmart, he argues, are self-defeating.
"Consumer spending is 70 percent of economic activity, but consumers are also workers. And as income and wealth continue to concentrate at the top, and the median wage continues to drop — it's now 8 percent lower than it was in 2000 — a growing portion of the American workforce lacks the purchasing power to get the economy back to speed," he writes. "Without a vibrant and growing middle class, Walmart itself won't have the customers it needs."
"But if retail workers got a raise, would consumers have to pay higher prices to make up for it? A new study by the think tank Demos reports that raising the salary of all full-time workers at large retailers to $25,000 per year would lift more than 700,000 people out of poverty, at a cost of only a 1 percent price increase for customers," Robert Reich continues.  "And, in the end, retailers would benefit. According to the study, the cost of the wage increases to major retailers would be $20.8 billion — about one percent of the sector's $2.17 trillion in total annual sales. But the study also estimates the increased purchasing power of lower-wage workers as a result of the pay raises would generate $4 billion to $5 billion in additional retail sales."
What will happen on Friday?  Stay tuned.
—David M. Greenwald reporting