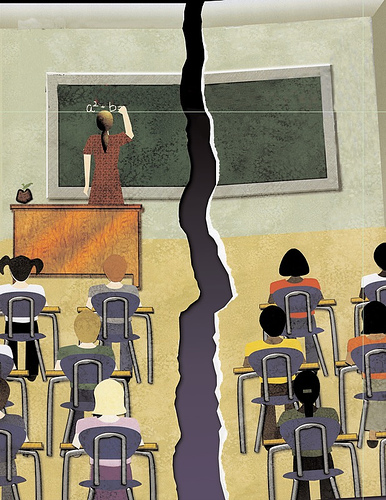 The other day I got a chance to spend a few minutes with a group of about twenty young Davis residents that most people in this community do not know exist.  In a few months, some of them will become close friends of my daughter.
As we count down to the end of the year, it is easy to focus on the big picture for the city of Davis: water, the budget, economic development.  I'm not going to sit here and tell you that these issues, which comprised a major portion of the Vanguard's efforts in 2012, are not important.
What I am going to tell you is that 2012 was a real eye-opener for me and that's a telling comment because, of all issues, this is the one that I am probably most passionate about.
There is irony in what I am about to tell you, because a few months ago I was sitting in Woodland City Manager Paul Navazio's office, interviewing him for a story, and when we were done, we were chatting.  I spend a lot of time in Woodland talking and meeting with people and families of people who get caught up in the legal system.  And I really believe that there are two Woodlands – one official Woodland, represented by the all-white-male-Republican city council, and the other a heavily working class, if not impoverished, Woodland that seems very much disconnected from their political leadership.
The reality is that, while Davis is not quite at that level, there are increasingly two Davises.  We have the well-educated, upper middle class community that comes to city council meetings, works at UC Davis or in Sacramento, and is well represented on our largely liberal Davis City Council.
But there is another group of people, and I'm not talking about UC Davis students at the moment, that get hidden in the large renter population, that are not nearly affluent or educated.
The first hint of this divide comes in a little fact I learned following the school board candidates forum.  Twenty years ago, Davis' student population was about 75 percent white, now it's just 57 percent white.
For years we have covered the stark achievement gap in our schools, where whites and Asian students have excelled, but there is a large gap between the achievement of those students versus blacks and Hispanics.
Some suggest that this is simply a reflection of a socio-economic gap.  At the city's event, Breaking the Silence of Racism, Lawson Snipes suggested that, in fact, Davis does not have a racial problem – it has an elitist problem, which manifests itself as a racist problem.  Given that 81% of the population voted for the African-American president, Barack Obama, he has a point.
That said, one of the stark statistics that has emerged from district testing is that, when you control for education level of the parent, which is the single highest correlate of academic performance by the student, there is still a statistically significant gap between the performance of blacks and Latinos, versus whites and Asians.
Even among college-educated parents, the children of blacks and Hispanics do worse than the children of whites and Asians.
Why is that?  Unfortunately, due to budget cuts and economic crises, I don't think we really have a great handle on this question.
When the Human Relations Commission had its event about racism, one of the big questions in my mind, other than would anyone show up and who would show up, was who would tell a personal story.
The answer to that surprised me, as well.  There were some very notable complaints about the DA's office.  There were some notable complaints about police interactions.  There were some interesting comments on a variety of subjects – but the words that hit home were from parents of children of color or of multiracial students, who talked about the school climate.
There were a variety of problems that were laid out, but the message I got very clearly, from listening to the people talk, is that students of color or mixed race felt that they were bullied and treated differently from others.  To the point where one person described a grandchild putting on white paint so he or she would look white.  Other students transferred out of the district, and functioned better in schools elsewhere in this region.
So we have a group of students that has grown from 25 percent to 42 percent of the population in the last 20 years, but they feel that they are being treated poorly in the school climate.
Might that help us to understand the achievement gap?
The question that now burns into me, of course, is what we can do about this.  But what occurred to me as I sat there watching the group of my daughter's future peers, is that we do not even know this part of Davis.
What connection do these residents have with our city governance, our political process – who is hearing their concerns?  We talk about affordable housing in this community, and design small public housing projects for people who make $35,000 to $60,000 – is this reaching that segment of the population?  Is that all that we are about?
What little we know, we may have heard in anecdotes early last year, when the school district had meetings on the Montgomery school, which has a rising Title 1 population and declining enrollment, in addition to having a program improvement status.
But these discussions have waned as the district has had to focus on operating budget, parcel taxes and negotiations with the teachers over concessions.
So, as we move forward, one of my goals is to start learning more about this other Davis, a large and growing group of people that have needs in our community that perhaps are not being met.
—David M. Greenwald reporting