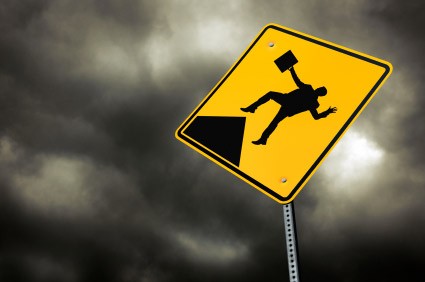 The news that leaked out this morning is that Senate Republican Leader Mitch McConnell and Vice President Joe Biden made significant progress toward perhaps a deal that would prevent the so-called fiscal cliff.
The reality is that there is no real fiscal cliff, only tax increases for 2013 that would easily be reduced a month or two into the year without much turmoil, except perhaps for an over-reaction of the financial markets.
The deal looks like they would compromise on the tax increases, pushing the level up to $400,000.  Even at that level, this would be a big victory for the President.  Although liberals are yelling already that the President is ready to cave, they too seem to be missing the point here.
Senator Lindsey Graham seemed to get it most – when he said that the President won.
"Hats off to the president. He won," Senator Graham said. "What have we accomplished? Political victory for the president. Hats off to the president. He stood his ground. He's going to get tax rate increases, maybe not at [$]250[,000], but on upper-income Americans. And the sad news for the country is we've accomplished very little in not becoming Greece or getting out of debt. This bill won't affect the debt situation."
The funny thing in all of this is that the crisis was to the advantage of three sides here – the President, the Republicans, and the press who fanned the flames.
Hearing Lindsey Graham lamenting the fact that the bill will not impact the debt situation is laughable.  The Republicans have cared about the debt and the deficit during two stretches since the early 1980s.  They cared about in when Bill Clinton became president and that was the only stretch when we reached a balanced budget.  And they quickly forgot all about it as soon as Bush became President.  Suddenly, after eight years of exploding deficits and not caring, the debt is the big issue for the Republicans?
The truth is the Republicans did not care in the 1980s and 2000s when the deficit was being built through military spending, but saw it as a means to cut social spending in the 1990s and now.
The Republicans also know they can settle now and even given President Obama a win, because the debt ceiling is the bigger issue and a much more real crisis.  The Republicans never really had leverage here – they will with the debt ceiling.
President Obama wanted this crisis because it enabled him to expose the Republicans for their recklessness.  He already was able to embarrass the house speaker when John Boehner could not even get his own caucus to support his "Plan B."
He has watched his approval ratings soar as the Republican leaderships' plummet.
Yesterday he told David Gregory, "I think this notion of, 'Well, both sides are just kind of unwilling to cooperate.' And that's just not true. I mean if you look at the facts, what you have is a situation here where the Democratic Party, warts and all, and certainly me, warts and all, have consistently done our best to try to put country first."
He continued, "And to try to work with everybody involved to make sure that we've got an economy [that] grows. Make sure that it works for everybody. Make sure that we're keeping the country safe."
"But generally if you look at how I've tried to govern over the last four years and how I'll continue to try to govern, I'm not driven by some ideological agenda. I am a pretty practical guy. And I just want to make sure that things work. And one of the nice things about never having another election again, I will never campaign again, is I think you can rest assured that all I care about is making sure that I leave behind an America that is stronger, more prosperous, more stable, more secure than it was when I came into office," he said.
So by compromising even at $400,000, he will get to say that he was not ideological, he was willing to compromise, the Republicans were to blame for this.
The truth is that this was an overblown crisis from the start.  We hear a lot of talk from the right that the media is ideologically driven and they lean left.  But this is a perfect example of how that is not really accurate.
This is a dead time for the media normally.  People are not paying attention to the news.  They go on vacation, they spend time with their families, they stop following the news.  Now suddenly the media have a major story.
It is not that every single person is riveted to the television, but more people are paying attention than usual.  The White House staff cut short their vacations, Congressional people are in Washington, correspondents have something to cover.
There are real consequences from the failure of this deal.  There would be spending cuts to a variety of agencies – a self-imposed situation for failure to finding a spending alternative.  Tax credits for the working poor, families with children, and those paying college tuition would expire, as would emergency extra unemployment benefits.
And people would see their taxes go up.
The belief of many is that the policies as a whole would result in a reduction of the money that goes into the economy.  That would produce an economic slowdown and some believe it would cause it to fall back into recession.
However, and this is the point, none of this is likely to happen immediately.  Therefore January 1 is not a real cliff, so much as a slow descent into the seven circles of economic hell.
This is like the Y2K scare all over again.  Some have noted the IRS has not even issued instructions on changes to withholding calculations for personal income taxes.
Even when they do, it may take a few cycles for employers and payroll companies to adjust their systems.  Moreover, the Labor Department could pay those extended unemployment benefits retroactively, as it has done in the past.
The bottom line is that unpleasant things begin to occur tomorrow, but that does not mean the end of the world or immediate plunge of the economy.
The Democrats could gain an advantage by waiting past January 1.  At that point, the taxes will automatically revert back to the pre-Bush tax cut days.  That means that any changes that are agreed to afterwards become tax cuts rather than tax increases.  That means that the Republicans would only need to vote to lower taxes on those making less than $250,000 rather than voting actively to raise taxes on those making over $250,000.
Right now, it seems like we are not going there, but there have been enough bumps in the road not to count one's chickens before they hatch.
Regardless, the real showdown this year is going to be over filibuster reform and the debt ceiling.  Crisis may be averted for now, but it's only temporary.
—David M. Greenwald reporting