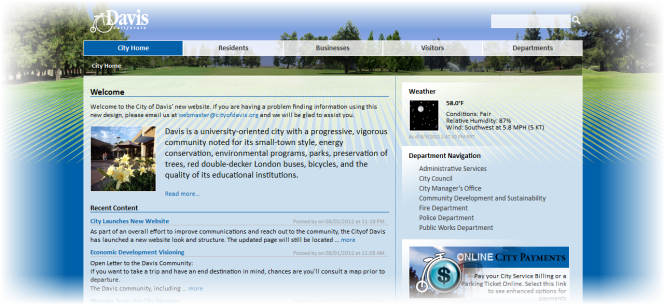 On August 2, 2012, the City proudly announced that they had launched a new website.  In a press release, the city manager's office wrote: "As part of an overall effort to improve communications and reach out to the community, the City of Davis has launched a new website look and structure."
Only one problem – the website was not ready for public viewing.  The links did not work.  The previously bookmarked pages were seemingly gone and inaccessible.  One could not locate basic information like meeting agendas.  The search engines were non-functional.  In short, it was a disaster.
How could this happen?  How could the city launch a new website seemingly without testing it at all?
We are approaching January 2, five months later, and I still don't think all of the problems are resolved.
The press release indicates: "The new site takes advantage of an open platform structure to provide the City a more powerful and flexible platform to integrate with social media and other applications. This, in turn, will make the site more functional to users, whether they are residents, business owners, visitors or others."
The website problem is just the tip of a very large iceberg.
So here we are, supposedly one of the most highly educated communities in the nation if not the world, and we still practice public outreach like it was 30 years ago.
When the public gets noticed, the city still has to mail out notices via the US Postal Service and send out press releases to the newspaper and hope that public access stations will get the message out.
The city has no true email blast lists – which is something that most entities had 15 years ago.  It does not take advantage of Facebook and Twitter to get the message out.
In 2012, we could be doing a lot to better connect to the people of this community.  But we aren't.
This is not a small issue.  Let us go back to September 6, 2011 and the water vote.  The newspaper reported that the rate hikes would be 14%.  But it became clear, looking at the city staff report, that the 14% included a 20% conservation component to it.  However, the city had little way by which to correct the record, and so a certain columnist and others accused the city of misleading the public.
The city operates without any kind of public relations department.  Most press releases come from the Deputy City Manager and, most of the time, the Vanguard gets its information by contacting City Manager Steve Pinkerton.
Mr. Pinkerton should get good marks for being accessible, but that is really not how you want your city to operate.  You need, really need, a professional communications person to be responsible for getting a clear and concise message to the public about public policy issues.
We are not talking about spin or playing games here, we are talking about basic accurate messaging.
But we see this time and time again.  A month or so ago, we ran an article that, here, the city is putting what is now a $114 million water project on the ballot.  It has done no polling.  It has no idea what issues are of concern to the public.
The city made a major error when it bowed to pressure from a certain newspaper columnist, going against its own professional policy makers on the water rate structure, only to retreat a week later and put forth a compromise measure.
One of the chief concerns was whether the public would be able to understand the complex rate structure.  Now, the actual rate consultant was able to boil it down to a few digestible sentences.  On the other hand, the city attorney, when explaining why the water rates were not on the ballot, took about five minutes to explain it.
These are all issues a professional communications department would be able to deal with and address.
The city is rightly reluctant to look toward adding staff right now.  After all, they have laid off some employees, kept other positions vacant, and asked city employees across the board to take concessions.
On the other hand, sometimes an ounce of prevention is worth a pound of cure.  In other words, sometimes spending more money on the front end actually saves money on the back end.  Could a professional have saved the city all sorts of heartache on issues like ZipCar, wood burning, the water process, and others?
One clear example: Prior to 2007, the city was taking on tens of thousands a year in claims against the city's police department.  The City hired a new police chief and a police ombudsman (now an auditor) and those claims shrank drastically.
Some complained about the city spending additional money in hiring a city manager, but the city manager is now putting forth policies to save the city millions of dollars.
The Vanguard applauded the city for going with the mandatory wood burning restrictions, but we can foresee a potential problem.  How does the city get the word out to all of the affected residents that they cannot use their fireplaces on a given night?  Well, there is a notice in the paper.  But that only reaches about 10,000 households.  There is a notice on the website, but how many people go there?
In short, what happens if there is a no-burn night, someone does not get the message, they get a warning in the mail, and claim that they had no way of knowing that it was a no-burn night?
The city needs to have a communications strategy, because right now they are following a rulebook that is probably 20 to 30 years old, with slight modifications.
Last August, the Vanguard drafted an open government ordinance that would have increased transparency and public access to their government.  Right now, that ordinance has gone nowhere, in part because of concerns by some on the council that they cannot even do the basics in terms of public outreach.
In other words, it is not they believe that the ordinance has no value, but they believe if they cannot get their website right, how are they going to provide real transparency and access?  And they have point.
Across the state, other cities are well ahead of Davis in terms of having open government ordinances and better communications systems.  And we're struggling to figure out 15-year-old technology and create email lists, without even attempting Facebook pages and twitter.
It would be one thing if these were just mere annoyances, but they have a huge potential impact on public policy itself.
—David M. Greenwald reporting