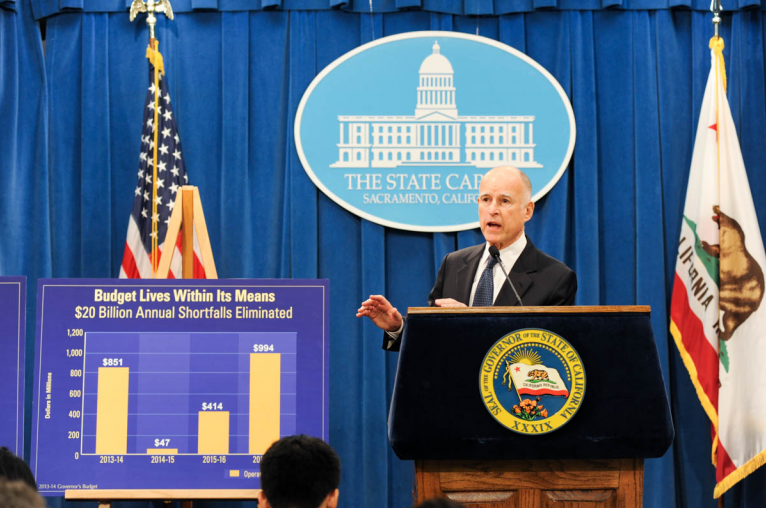 Governor Jerry Brown announced on Thursday that he is putting forth a balance budget "that boosts investment in education, implements health care reform and keeps California on a long-term path to fiscal stability. This budget builds on the work of the last two years to eliminate the ongoing deficit."
"The budget cuts made in the last two years and the passage of Proposition 30 make it possible to both live within our means and to increase funding for education," said Governor Brown.
When Governor Brown took office, the state faced a $26.6 billion budget deficit and estimated annual gaps of roughly $20 billion.
"The first two state budgets under Governor Brown's watch eliminated these deficits with billions of dollars in cuts as well as temporary revenues. The 2011-2012 and 2012-2013 budgets provided three dollars of spending cuts for every dollar in temporary tax revenues approved by the voters," the governor's office claimed in a release on Thursday.
"To maintain the fiscal stability that has been achieved, the budget reflects the continuation of spending cuts made in the last two years, continues to pay down the 'wall of debt' and recognizes risks that remain," they continued.
"Fiscal discipline is not the enemy of democratic governance, but rather its fundamental predicate. In fact, it is through fiscal discipline that this budget can invest in education, expand health care and provide a safety net for the most vulnerable," said Governor Brown.
According to the governor's office, the budget maintains long-term fiscal stability by aligning expenditures with revenue, paying down debt and creating a $1 billion reserve.
"This budget provides long-term fiscal stability on a level that California has not enjoyed in more than a decade," the governor claimed.
The governor's office argues that, after years of budget cuts, this budget will significantly increase state funding per student in K-12 schools.
Per pupil funding will increase by about $2,700 by 2016-2017.
Funding for K-12 and community colleges increases by $2.7 billion next year, and by $19 billion by 2016-2017.
"While K-12 school districts across the state will benefit from the increased funding – through a new school funding formula – school districts serving those students who have the greatest challenges will receive more generous increases – so that all students in California have the opportunity to succeed," the release said. "The budget increases flexibility at the local level so those closest to the students can make the decisions."
The budget also increases funding to strengthen higher education and increase affordability.
State funding increases for UC and CSU by about $250 million, or five percent.  The governor also proposes a multi-year stable funding plan to strengthen our higher education system, ensure affordability and reduce student indebtedness.
"Higher education costs have risen rapidly and middle class students have paid the price. By shortening the time it takes a student to successfully complete a degree and calling on UC and CSU to deploy their instructional resources more effectively, the system can be made more affordable – both for the students and the state," the governor said.
Finally, the budget will also expand access to health care for Californians by implementing federal health care reform.
"It expands coverage by simplifying Medi-Cal eligibility and extending coverage to childless adults and uninsured parents. Given promised federal funding, the budget outlines two alternative pathways. It also recognizes that implementation of health care reform will require changes in the respective responsibilities of the state and the counties," the governor's office announced.
Speaker John Perez responded to the governor's announcement with a statement, "This is a proposal that clearly shows California has turned the corner. The Governor's budget is sober, restrained and forward thinking, and I believe it's a solid foundation for the budget process. I am looking forward to thorough and insightful public hearings as we work with the Governor to adopt the final budget by our Constitutional deadline."
One of the critical questions was the impact of the budget on schools.  A local official is not sure of the impact on Davis' schools, but believes that more money is not likely to be pushed toward Davis schools in the near future.
State Superintendent of Public Instruction Tom Torlakson had a mainly positive assessment of the budget, but he did warn, "It will take years to bring our education system back to financial health, and I applaud the Governor for beginning that work in earnest."
"I do believe, however, that early education programs – cut deeply in recent years – deserve to share in this recovery as well. They are among our best investments in the future of California's children," he said.
He praised the governor overall, but remains leery about the state of school funding.
He said on Thursday, "I admire the Governor's determination to move forward with an overhaul of California's confusing system of school finance, and I share his desire to direct more help to students and schools with the greatest needs. At the same time, I remain concerned about the fragile fiscal state of so many school districts and preserving state priorities. I look forward to examining details of the Governor's proposal and working closely with the education community throughout this challenging process."
Senator Lois Wolk, who represents Davis and parts of Yolo County in the State Senate, said on Thursday, "I agree with the Governor's cautious approach with this year's budget. While the Governor was successful in persuading voters to pass Proposition 30, and has hopefully addressed the state's structural deficit, we must continue to work to increase efficiency, transparency, and accountability throughout state government."
She said, "That is the only way to restore the public's confidence in the state's ability to spend their tax dollars wisely, and I believe the Governor shares this view."
"I'm encouraged by the Administration's work to increase government efficiency and focus on accomplishing program goals, per the Governor's executive order," Senator Wolk continued. "While I was disappointed in the Governor's veto of my performance-based budget measure, his pledge has given me hope.  There is still much work to do, however, and I look forward to collaborating with the Governor to implement performance-based budgeting on a statewide level."
"I'm also encouraged by the direction the Governor is taking to strengthen the state's Enterprise Zone (EZ) program, and look forward to working with him to provide more effective economic development programs through both general reform as well as much-needed changes that address the very low return on the state's approximately $500 million dollar annual investment in some EZ programs.  The Governor also made some bold proposals for our state's schools, universities, health care, and prisons that will require an open and in-depth dialogue. I expect this will be a busy year," Senator Wolk concluded.
Assemblymember Mariko Yamada, in a statement, responded, "Governor Brown's common sense budget signals continued restraint and prioritizes repayment and reinvestment in education as the pathway to a brighter future.  At the same time, we must not forget those at the other end of the age spectrum – the elderly and those with disabilities – whose lifelong sacrifices and contributions have made the down payment on our Golden State."
She added, "We are in an aging society and the cumulative effects of program cuts to services serving impoverished seniors and disabled adults must be integral to the budget discussion."
The Sacramento Bee in their editorial this morning called it "a solid California budget," but they said that the state is still on "a shaky fiscal foundation."
The Bee did note, "Gov. Jerry Brown performed a near-miracle Thursday by proposing a budget that both Democrats and Republicans generally praised" noting "there's a fair amount of consensus that California must make education a priority while being prudent about most other spending. Brown's budget does that, even to the disappointment of members of his own party who want the state to invest more in social programs."
Still, "Even if Brown's spending plan is as prudent as it seems, no one at the Capitol should be doing fiscal high-fives. Yes, the state's financial situation is far healthier than when Brown took office, and he deserves credit for that."
The Bee points out that the state has a large amount of debt, most of which preceded Governor Brown and "which the governor and lawmakers haven't fully confronted."
The other looming storm is the US Congress: "California is highly dependent on federal funding, and continued impasses or sequestration-type spending cuts could affect everything from health care to transportation. Automatic tax increases could cut into take-home income, affecting consumer decisions and state tax revenue."
The San Francisco Chronicle argued, on the other hand, that the governor's plan "carries a risky message: It's time to push programs from prisons to classrooms in new directions."
They argue that, while things are better, "no one – especially lobbyists and fellow Democratic legislators – should think it's time to fill in tens of billions in cuts made over the past several years, he said repeatedly."
"Brown plans to play Scrooge on new spending as the Legislature reviews the budget between now and its June approval deadline," the Chronicle writes. "But he also wants to take the state in a direction that aims to chop expenses, refashion familiar programs, and mold government to suit his abiding suspicion of bureaucracy and established practices. It's an appealing idea, but Brown must better explain these goals than he has so far."
They note, "Brown plans an extra $2 billion for public schools, but with a significant condition. He intends to do away with a welter of special payments to school districts and send more Sacramento money to poor, low performing districts. It's a plan that will likely harm wealthier suburbia and help urban classrooms."
—David M. Greenwald reporting