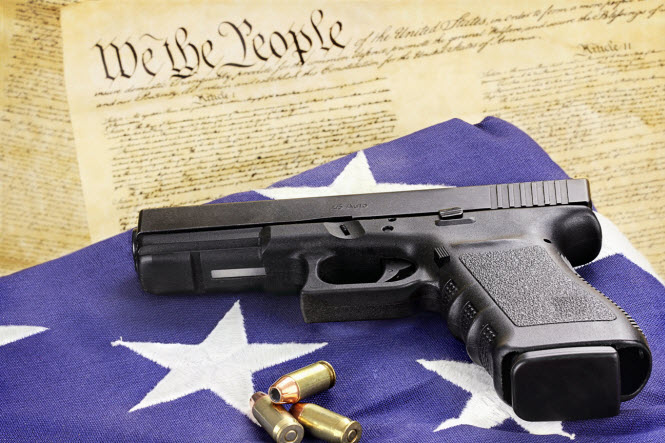 In the weeks since the Sandy Hook massacre, we have seen a re-engagement of the gun debate.  It is an issue area that had been largely ceded since 2000 when Al Gore, running for President, made mistaken inferences from public opinion data and failed to recognize that, while a majority of Americans may support tougher gun control, the group most likely to vote on that basis was heavily against any tougher regulations.
At the same time, I continue to be somewhat awestruck at the lack of basic statistical awareness on the part of opponents of tougher gun laws.  A good case in point is Greg Stovall in the local paper, who accuses many of "hypocrisy in the wake of shooting."
He writes: "Last year, the equivalent of the entire population of Menlo Park was obliterated on our national roadways. That's 32,367 people. The victims included more than 750 children under the age of 9, including unborn babies."
He adds, "Not so long ago – 1980, in fact – the equivalent of the entire 1993 population of Davis was similarly expunged – that would be 51,093 deaths and was the high watermark of such carnage."
"Why am I bringing this up? Perspective, in light of recent events. Yes, the tragedy in Newtown, Conn., was all that and more due to the method of the killings and the ages of the victims. Are the 27 victims of Adam Lanza's senseless rampage any more sacred than the millions killed on our roadways? The death of an innocent victim is still a death. And whether these deaths occur in large numbers or small should be irrelevant," Mr. Stovall writes, finally getting to his point.
He adds, "But I don't see presidents going on national television, in prime time, lecturing us that we need to make fundamental changes in our behavior. Or other politicians jumping on their soapbox making similar pronouncements. There is no national hue and cry for the complete elimination of motor vehicles, the implements of this bloodbath, nor for alcohol or impairing drugs."
"No, we just seem to accept it," he writes and speculates: "Perhaps it is because these deaths don't occur in large enough doses and for the most part happen 'somewhere else.' One or two killed here, a few there. Oh, maybe when a school bus or other such vehicle is involved and there are multiple child deaths do we take notice, shake our heads, exclaim 'Such a tragedy' and then move on."
"However, there seems to be no small measure of hypocrisy in the way in which our elected representatives have chosen to deal with Newtown's tragedy," Mr. Stovall argues. "Predictably, if a gun is involved, the meme is that we must have more gun control laws and eliminate so-called assault weapons. Sorry, but that genie left the bottle and is not going back in.
The problem is that Greg Stovall is completely wrong when he argues, "we just seem to accept it."  He misreads the data and our response to that data.
There is a good amount of question as to whether vehicular fatalities should be compared to gun deaths.  Part of the problem with the comparison is that gun deaths are intentional misuse of a weapon, whereas a car accident is by its nature an accident, an error, a mistake, even negligence.
The car accident data does not suggest that the solution to gun violence is to do nothing, for it is not accurate that we just seem to accept the dangers.
Indeed, we began tracking such data in 1921.  At that time there were 24.09 fatalities per 100 million vehicle motor traffic (vmt) and since then the number of fatalities has declined uniformly, until in 2011 it was 1.10 per 100 million vmt.
Fatalities per 100,000 people peaked in the 1930s and reached a secondary peak in the late 1960s and early 1970s.  It has been steadily declining since.
Mr. Stovall references the fact that in the late 1970s the number of vehicle deaths was about 50,000 or 22 per 100,000.  In 2011, the number dropped to 32,367 or 10.4 per 100,000.
What has changed?  In 1961, Wisconsin became the first state to require mandatory seatbelts.  By 1984, every state in the nation made such requirements.
But it's not just seatbelts.  Airbags have helped greatly to decrease injury and fatality, as well.  While airbags themselves caused a small number of deaths, by the latter part of the first decade in the 21st century, industry estimates 3.3 million air bag deployments have occurred with an estimation of about 6,377 with numerous other injuries prevented.
Finally, there have been great improvements in engineering vehicles to make the occupants more safe.  Researchers have learned how to create emerging absorbing features, crumple zones, and to move the shock away from the passenger compartment.
The result has been a remarkable success with decreases, not only in fatalities per vmt, but huge decreases in deaths per 100,000 people, even as the number of vehicles has increased.
Mr. Stovall points out, "Of last year's total fatalities, more than 10,000 people died as a result of drunken or impaired driving. Many of these drivers are still driving among us today, ready to kill again. More than 3,000 people were killed as a result of distracted drivers (e.g., texting). And from what I've seen on our roadways, this insane practice continues unabated."
But Mr. Stovall implies that we have not attempted to change these things.  In the last thirty years, we have seen the penalties grow for drunk driving to point where some drunk drivers have faced second degree murder charges for the accidents they cause.  We have lowered the drinking limit, we have increased the ability of the state to revoke licenses and technology has emerged that can prevent a drunk driver from being able to start the vehicle.
Likewise, with regard to distracted driving, we have implemented laws in this state to fine those who drive while talking on a cell phone by holding the phone in their hand, and texting while driving.
It is remarkable, perhaps, to note that fatalities have continued to decline, despite the rise of smartphones and other devices that lead to increases in distracted driving.
In short, Mr. Stovall's rant is misplaced.  We have not accepted vehicular fatalities.
And, of course, Mr. Stovall fails to note that to even legally operate a vehicle, one must obtain a license.  Repeated tickets or accidents can lead to the revocation of one's legal ability to drive.
If anything, I would argue that the model put forth by the automobile industry, in which literally billions have been pumped into regulation and safety, is the start of the solution for the gun industry.
I have no problem with the family who wants to arm themselves in their home.  I have no problem, though I would never do it myself, with those who use their weapons for hunting and marksmanship.
But there are common sense reforms – licensing, restriction on types of weapons, restrictions on ammunition, the ability to restrict who can own a gun – that would make us a lot safer in a society with guns.  And all of those things we have already in done in the automobile industry, despite the fact that Mr. Stovall seems to think we have just sort of accepted auto fatalities.
That is far from the case and we have greatly reduced fatalities through safety features, regulations and laws.  We can do the same for guns.
—David M. Greenwald reporting