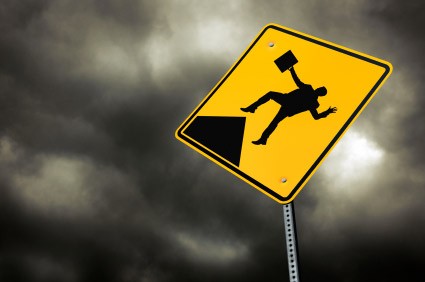 Much has been made of the split on the right, not only between the Senate which voted overwhelmingly for the compromise while the majority of House Republicans voted against it, but within the House, as there was the more pragmatic John Boehner opposed by the more ideological Eric Cantor.
However, less has been made of the split on the left.  On the one hand, you have independent Bernie Sanders supporting the compromise, while you have Senator Tom Harkin opposing it.
Truth is, I have always had a warm spot in my heart for Tom Harkin, as not only did he have the courage to call President Bush's policies "bs" in more explicit terms during a Democratic Primary Debate in the early 1990s, but he once had a report I drafted read into the Congressional Record.
Senator Harkin ended up as one of only three Senate Democrats voting against the compromise.
In a statement, he said, "Tonight, at the 11th hour, we find ourselves considering legislation to address a manufactured 'fiscal cliff.'  Much of this could have been avoided had the U.S. House taken up the Senate-passed legislation to avert tax hikes on 98 percent of Americans."
"Instead, we find ourselves voting on an agreement that fails to address our number one priority – creating good, middle class jobs in Iowa and throughout the country.  Further, it does not generate the revenue necessary for the country to meet its needs for everything from education for our children, to job training, to other critical supports for the middle class," Senator Harkin continued.
"The deal also makes tax benefits for high income earners permanent, while tax benefits designed to help those of modest means and the middle class are only extended for five years," the Senator argued.  "In essence, this agreement locks in a tax structure that is grossly unfair to middle class Americans, one which provides permanent tax assistance to wealthy Americans, and only temporary relief to everyone else."
"Every dollar that wealthy taxpayers do not pay under this deal, we will eventually ask Americans of modest means to forgo in Social Security, Medicare, or Medicaid benefits.  It is shortsighted to look at these issues in isolation from one another, especially when Congressional Republicans have been crystal clear that they intend to seek spending cuts to programs like Social Security just two months from now, using the debt limit as leverage," he said.
The Senator concluded: "I am all for compromise, but a compromise that sets a new tax threshold for the wealthiest Americans while neglecting the very backbone of our country – the middle class – is a compromise I simply cannot support. This is the wrong direction for Iowa and our country, and at a time when our fragile economy cannot sustain further damage."
On the other hand, Bernie Sanders, Ohio Senator Sherrod Brown, and Congressional Progressive Caucus co-chairs Keith Ellison, D-Minnesota, and Raul Grijalva, D-Arizona, in the House ultimately voiced their concerns.  In some cases, like Senator Jeff Merkley of Oregon, it was considerable concern, but they held their noses and voted for it.
"Although it does not do as much as I want, this bill does ensure that the wealthy will be contributing more as we work to bring our deficits under control.  I far prefer that choice to further cuts to education, law enforcement, and investments in the infrastructure our economy depends on," Senator Merkley said. "But let's be clear: this deal carries great risks as well.  This deal sets up more cliffs in the near future, including the expiring debt ceiling and the sequestration, pre-planned cuts to programs essential to working families. And as before, there will be some who use these cliffs to launch renewed attacks on Medicare and Social Security. We cannot let those attacks succeed."
"Yesterday was a small step forward," Senator Sanders said. "At a time when we have gross inequality, we can and should do a lot more in bringing more revenue into the government."
Just 19 Democrats ended up opposing the bill – 16 of those were in the House.  However, that number understates the concern among liberal activists, labor leaders and economists.  The liberal Huffington Post had in bold headline print: "Caved."
The New York Times this morning quoted former advisor Robert Gibbs, who embodied the White House's frustration with the left.  He said, "There's some frustration that over time you would think everybody would have a better understanding of the parameters of this…  But he understands now probably better than at any other point in his presidency what it means to be a leader, what it means to have to do things that are good not just for one party but good for the country."
The Times reports, "The criticism from the left mirrors past complaints when Mr. Obama included tax cuts in his stimulus package, gave up on a government-run option in health care negotiations and temporarily extended Bush-era tax cuts for the wealthy two years ago. Liberals said Mr. Obama should have capitalized on his re-election victory and the expiration on New Year's Day of all of the Bush tax cuts to force Republicans to accept his terms."
"The president remains clueless about how to use leverage in a negotiation," said Adam Green, a co-founder of the Progressive Change Campaign Committee, a liberal advocacy organization. "Republicans publicly admitted they lost the tax debate and would be forced to cave, yet the president just kept giving stuff away."
Robert Reich, the former labor secretary, was quite critical as well.  He said that while the President "has stiffened his tactical resolve… he's still the same President Obama who wants a deal above all else and seems willing to compromise on even the most basic principle."
The Times reported that in the end most Democrats accepted the compromise and noted that even many "liberals grew more comfortable once they learned more about the deal, and the revolt on Tuesday by House Republicans seemed to rally them behind the plan and against a common adversary."
In the end, as the Times notes, the President succeeded "in forcing Senate Republicans to raise the top income tax rate to 39.6 percent from 35 percent despite their adamant opposition, although he agreed to apply that to household income above $450,000, instead of $250,000. He also won an increase in taxes on wealthy estates to 40 percent from 35 percent, though it was not as high as liberals wanted."
Still, voices like that of Rosa DeLauro, a Connecticut Congressional Democrat, resonate.
"I was hopeful that we would be voting on legislation that prioritized working families and the middle class over the wealthiest Americans in taking a balanced approach to the challenges we face as a nation," she explained. "However, the bill before the House of Representatives tonight is not that."
As frustrating as this dissent might be, President Obama can use it both to articulate his message in the next fight and give himself cover as the more serious fight over the debt ceiling emerges.  The stakes there are much higher.
—David M. Greenwald reporting