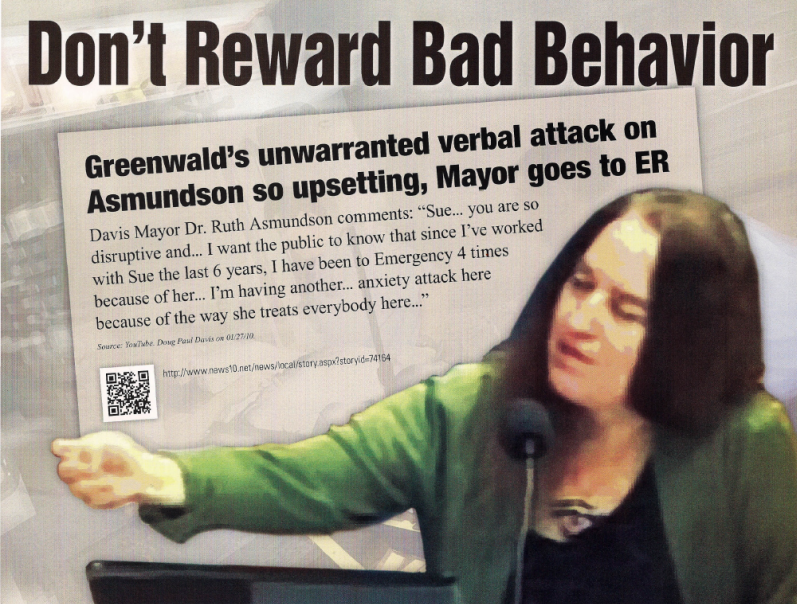 To err is inextricably part of the human experience.  And really the key measure of errors is how they are handled after they are made.
For whatever reason, 2012 brought us a number of errors, made either by public officials or by those operating in the public realm.  Some of these errors played a critical role in shaping public policy, while others are amusing, if not embarrassing, sidebars.
This list is perhaps not exhaustive, but it does encompass a variety of different errors – those that had more harmful consequences are ranked higher, those that are corrected are ranked lower.
10. Water Rate Structure – In mid-December the Davis City Council made a mistake – whether they feared the uncertainty of the untested rate structure or the public cries of a certain newspaper columnist – the council voted not only to move away from the WAC-recommended CBFR rate structure, but to preclude them from discussing it.  In so doing, they went against the advice by their Water Advisory Committee, city staff, rate consultants, and the two councilmembers who sit on the JPA.  However, because the WAC stuck to their guns, and the council ultimately compromised on the issue, they averted disaster which may have resulted in certain electoral defeated.  Thus, this comes in at only the tenth biggest mistake, primarily because they acknowledged it – if implicitly – and corrected it.
9. ChamberPAC – The Davis Chamber of Commerce formed a political action committee and became much more active in local politics.  In so doing, they became somewhat controversial in some circles and, at least in their initial foray, we can question how effective they were.  The ChamberPAC spent most of its money supporting a parks tax that had no real opposition.  They also supported the parcel tax, which likely would have passed otherwise.  Their boldest move was in endorsing three council candidates: Dan Wolk, Lucas Frerichs and Stephen Souza.  To call this disastrous would probably be too strong, but they ended up supporting two candidates that were going to win anyway and a third candidate who finished dead last and opened them to sustained criticism.  We will see what the future holds for the ChamberPAC, but at least in year one, the efforts were largely a bust.
8. City Fires Tree Trimmers Day After Election – It would be a public relations nightmare as the city, the day after the election that saw the public overwhelming support the parks tax, laid off nine positions within DCEA (Davis City Employees Association), the bargaining unit that the city originally declared impasse on in the winter of 2010 but had that impasse overturned by a state board (PERB) in November 2011.  The public backlash began when it learned that two of those positions belonged to tree trimmers.  The city has since moved to outsource their contract.  Some have suggested that this move worked, but the Vanguard has also received a number of complaints as well.  Whether the move was a good or bad one, it was a public relations nightmare.
7. City Website – As we covered yesterday, on August 2, 2012, the City proudly announced that it had launched a new website.  In a press release, the city manager's office wrote: "As part of an overall effort to improve communications and reach out to the community, the City of Davis has launched a new website look and structure."  Only one problem – the website was not ready for public viewing.  The links did not work.  The previously bookmarked pages were seemingly gone and inaccessible.  One could not locate basic information like meeting agendas.  The search engines were non-functional.  In short, it was a disaster.
6. Crown Castle – A few years ago, NewPath attempted to circumvent the city's telecommunications ordinance and, after some major public missteps, got slapped down.  But ultimately, the law was on their side, and when Crown Castle came forward this year, the council very reluctantly lay down.  Mayor Joe Krovoza, following the lead of City Manager Steve Pinkerton and City Attorney Harriet Steiner, believes the law is on the side of Crown Castle, and any decision that would lead to litigation would be, at best, a costly mistake.  The mayor said pointedly, "I don't believe this community can even begin to afford going into a lawsuit on this matter.  "It would be frivolous, unnecessary and I'm not going to put staff time into that or the citizens' money into that… Lots of things are going to fall off the budget in June and that's at the top of my mind."  Whether you believe Dan Wolk, who was the lone holdout, or the rest of the council, this was a colossal error by someone – you pick them, Congress or the council.
5. Davis Diamonds – No one can dispute that Davis Diamonds is a community treasure.  The question is whether the council should have granted a conditional use permit to allow it to move into the Davis Auto Center.  Last January, a 3-2 majority, led by the three councilmembers facing re-election in June, would vote to grant that permit.  However, during the course of the council meeting it became clear that the children and families that utilize the Davis Diamond Gymnastics facility were being used in order to line the pockets of several key monied interests, including a real estate broker playing both sides of the deal.  The irony is that, in the end, the deal fell apart and the city found in August another parcel of land much more suitable for Davis Diamonds.
4. Coyotes Shot – Back in July a controversy emerged in Davis over the decision by the United States Department of Agriculture's Wildlife Services to have the Yolo County Agriculture Department's trapper kill five coyotes in Davis. This was not just about coyotes, of course.  "I am deeply concerned about the taking of the coyotes, and the complete lack of public process and concern for community interests that proceeded the killings," Mayor Joe Krovoza told the Vanguard in a statement.  John McNerney, the City's Wildlife Resource Specialist, said that the county collectively contracts with the US Department of Agriculture's Wildlife Services to take care of wildlife trapping and removal service.  All municipalities contract collectively for these services.  Mr. McNerney expressed concern with the way this was handled.  "I think what is most frustrating and most concerning is the unilateral way this was handled," he said.  "The fact that I [as the City's Wildlife Manager] was not brought into any of the decision making leading up to the removal of these animals is very concerning for the city."  In a special meeting, the city discontinued the use of the USDA animal services in a very strongly-worded rebuke.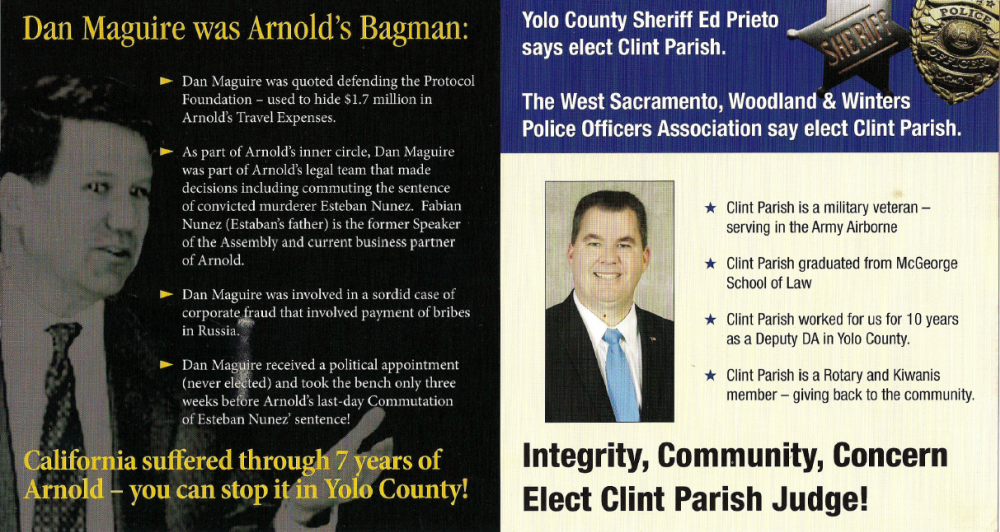 3. Clinton Parish Attack Mailer – Clinton Parish, a deputy public defender, never really had a chance to unseat Judge Dan Maguire.  But he ensured that fate when he made the ill-fated decision to attack the sitting judge in an attack mailer, without vetting the facts.  He would lose overwhelmingly with less than 25% of the vote.  One of the key charges dealt with the decision by Governor Schwarzenegger to commute the sentence of Esteban Nuñez, son of former Speaker Fabian Nuñez – a move that angered many and that the former governor acknowledged was a favor to a friend.  The flier attacks Dan Maguire, who was said to be "part of Arnold's inner circle, Dan Maguire was part of Arnold's legal team that made decisions including commuting the sentence of convicted murderer Esteban Nuñez…"   Later in the flier it said, "Dan Maguire received a political appointment (never elected) and took the bench only three weeks before Arnold's last-day Commutation of Esteban Nuñez' sentence."  The problem was that there was no evidence that Dan Maguire, by then a sitting judge, was involved in this or in any of the other frivolous charges.
The dominoes fell quickly as Sheriff Prieto, an early backer of Clinton Parish, pulled his endorsement.  "I don't support that kind of campaigning," Sheriff Prieto said. "You have to run a campaign on your merit and your skills, not by tearing down your opponent. I do not want to be a part of that."  At first, DA Jeff Reisig would stick with his support for his subordinate, despite his expressed disapproval for the tactics – tactics that he himself had used in his run for DA in 2006.  "I previously gave him my endorsement and I'm not going to change that," Mr. Reisig said. "But I don't agree with the negative mail piece and I told him that."  The Bee directly implicated Mr. Reisig, which seemed to be enough for the DA to pull his endorsement, as they wrote: "District Attorney Jeff Reisig criticized the mailer but unfortunately stuck by his endorsement of Parish.  By continuing to lend his support to Parish, Reisig displays a lack of insight into how such a mailer can politicize the judiciary. Yolo County voters should consider Reisig's embrace of Parish if Reisig appears on the ballot again."  He sent an email to the Davis Enterprise stating: "Having considered all the facts and circumstances surrounding judicial candidate Clint Parish's attack mail piece, including recent explanations from his campaign, I have decided to retract my endorsement of his candidacy."
In the end, Clinton Parish not only lost the election but, late this year, the Vanguard learned he took a Deputy DA position in Tuolumne county.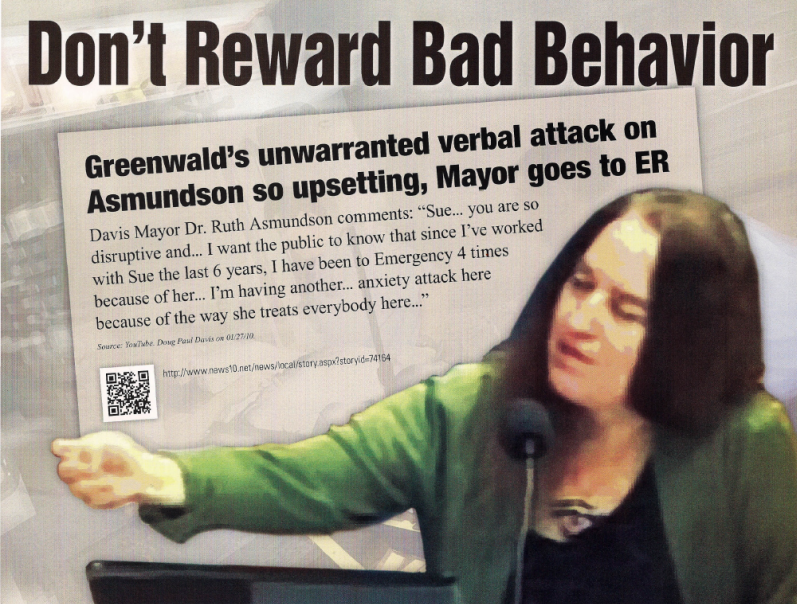 2. Union Mailer Attacks Sue Greenwald – An independent group backed by Sacramento-based unions – the Plumbers and Pipefitters Local 447, IBEW Local 340, Operating Engineers Local Union 3 in Support of Stephen Souza and in Opposition to Sue Greenwald – in May sent out an attack mailer to Davis residents, reminding them of Councilmember Sue Greenwald's publicized incident with former Mayor Ruth Asmundson.
Eventually it became clear that local political consultant Jim Burchill was the principal behind the attacks.  Initially it appeared that the mailer would backfire, helping Sue Greenwald and hurting Stephen Souza.  But in the end, it appears that it may have worked.  While it certainly created a good deal of outrage, the fact that Sue Greenwald ultimately lost puts the mailer at No.2 on our list.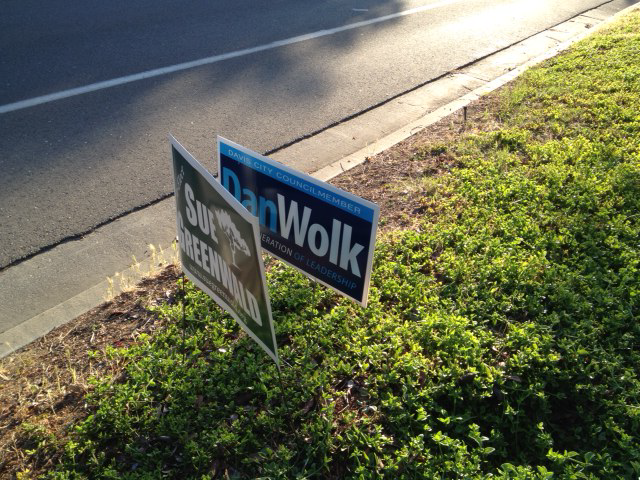 1. Sign Gate – That is because many believe that Sue Greenwald may have lost the election in the waning days of the campaign when her husband was found to have been stealing the signs of her opponents.
Campaign signs are the hallmark of election season, and they become the flashpoint for battles over the perception of turf and visibility.  The war heated up when a passerby saw what turned out to be Mike Syvanen, the husband of Sue Greenwald, pulling a Dan Wolk sign out and replacing it with a Sue Greenwald sign.
Dan Wolk's campaign claims that this sign was on the property of Jim Kidd, a local property owner, who supports Mr. Wolk but not Ms. Greenwald.  Sue Greenwald countered that "there has been an enormous amount of vandalism of our signs. Mike has had to replace massive numbers of them. He said there were a very few places where he noticed that a sign that he had put up for me had been thrown in the bushes or displaced, and he put my sign up where he had put it initially, and moved the other signs."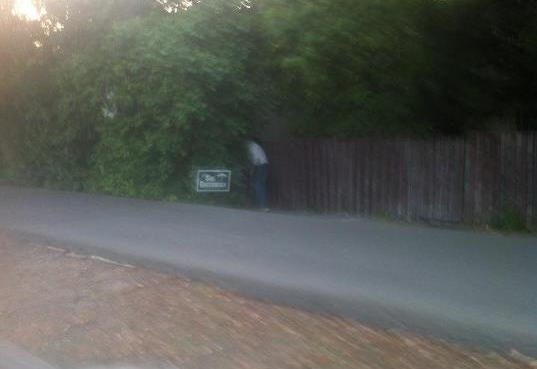 Melissa Martinez told the Vanguard that she took a series of photos showing the blockage and that she personally witnessed Mr. Syvanen blocking the signs.  "As I drove west bound on Covell Sunday afternoon I saw an individual place SG signs east bound right in front of all the other candidate signs," Ms. Martinez told the Vanguard. "I couldn't believe it but enjoyed a good laugh."
"When I returned after an hour or so on Covell, the individual was now headed west bound just before Oak Ave. We quickly flipped a U-turn and snapped a pic as he was ditching the Dan Wolk sign into the shrubs," she said.  At first she thought it may have been a homeless person.  She said, "He didn't seem at all concerned that his act was witnessed and photographed."
Later she "found out and confirmed that this 'volunteer' is Sue's husband Mike."
While this may not seem like a huge incident, many believe that it played a large role in defeating the three-term incumbent.  Some have told me that just a week prior, Ms. Greenwald was polling second and, after the sign incident, she dropped to fourth behind Lucas Frerichs and Brett Lee, who took the 2nd and 3rd seats.  For that reason, we rank this as the No.1 mistake in 2012.
—David M. Greenwald reporting