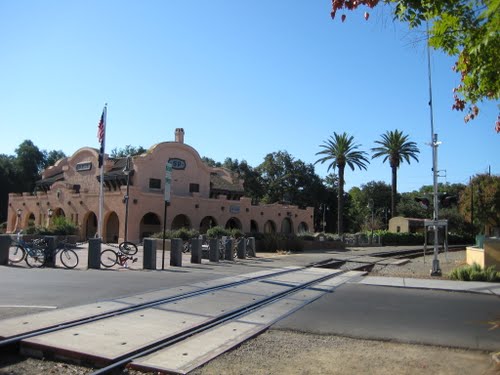 By Antoinnette Borbon
I would like to take the time today to write a response to Debra DeAngelo's column published in the Davis Enterprise, "If you're drunk, 'no' doesn't have to mean 'no.'
First, I would like to say that a case such as this was bound to bring forth controversy. However, controversy should not take away the weight of the facts in this case.
I remember the opening statements from both sides, and like Ms. DeAngelo, I was biased toward guilty as the prosecution painted a seemingly exact rendition of what happened on the night of August 16th. 2012.
However, unlike Ms. DeAngelo who never was in the courthouse, I was there almost every day, and on the few times that I could not personally make it, the Davis Vanguard was there, represented sometimes by the director of the Court Watch himself, David Greenwald.
Ms. DeAngelo was not only not there herself, but the account she relies on is from reporter Lauren Keene, who also was not there except for the last two days of the trial, and for part of the preliminary hearing last November.
But as the witnesses came one after another, day after day, it became clear we did not know who was telling the truth. There were more holes in this case than a piece of Swiss cheese. We heard testimony from eyewitnesses who changed their stories overnight, or differing accounts from one officer to the next.
We heard expert testimony which could not conclusively state the alleged victim even had injuries conducive to rape. We heard from Joseph Palacek, the prosecutions' own witness, about how the amounts of alcohol in the defendant's system were in question.
We even heard from the alleged victim herself. When asked that night, "did the defendant rape you?," her reply to the police was "no!" And yes, Ms. DeAngelo, we are aware of the fact victims who are raped are ashamed and feel guilt when they are raped, but the question remains as to whether this was a rape.
Along with testimony, we viewed photos taken but, coincidentally, none were taken of the defendant's fingers which could have proved he was telling he truth about holding the alleged victims hands intertwined in his. This would have raised questions about the testimony given by an officer on the scene about how she saw the alleged victim's arms pinned down.
Even Nurse Rickpatrick testified that there was physical evidence to substantiate defense claims and thus no findings proving her arms were held down. Not to mention the fact that one of the eyewitnesses stated she saw the girl's arms lying to her side, completely contradicting the statement given by Officer Bestpitch.
Ms. DeAngelo may not know this because, again, she was not in the courtroom.
So whom do we believe? The police or the eyewitnesses or neither?  Both, in fact, seemed to have changed their statements, from the night in question to as early as the next morning.
As to the alleged victim saying "no," did anyone ever think maybe the tampon left inside her made it somewhat painful to have intercourse? Just a thought, but it raises questions about what she meant. Or was she telling him to stop because, as Defense Attorney Dan Hutchinson pointed out to the jury, she saw the flashlights pointed toward them as the officers walked up?
I would also like to bring to the public's attention that the defendant is NOT some huge man like Ms. DeAngelo paints him out to be, but rather a small young man, with a weight not much greater than the alleged victim's.
In conclusion, yes, the jurors believed the evidence Mr. Hutchinson presented before them and rightly so.  After listening to and viewing all the evidence, we have no choice but to believe enough reasonable doubt was raised in this case, and this being said, a juror is obligated to render a "not guilty" verdict.
It is always easy to assume things and believe hearsay and lies, when in fact there was only one eyewitness who saw the whole thing that night. All we have is what and who from that testimony, which one attorney used to expose lies and fight for truth and justice – and his name was Dan Hutchinson.
Debra DeAngelo may well believe that, as a columnist, she is simply entitled to her opinion.  Under the law, Mr. Sonne is entitled to not only the presumption of innocence but the benefit of reasonable doubt.
Ms. DeAngelo may not be bound by those standards, but the jurors were.  She is certainly entitled to her opinion.  She may think she knows what happened, she may believe she knows what happened, but she doesn't know what happened beyond any reasonable doubt.
Ms. DeAngelo believes that having read an article from Lauren Keene and the Davis Enterprise that she apparently knows more than the jurors who acquitted Mr. Sonne.
What Ms. DeAngelo has attempted to do is try to convict Mr. Sonne in the press.
Mr. Sonne was acquitted in a court of law and should be entitled to get his good name back.  But Ms. DeAngelo knows better.  And since the jury did not make Mr. Sonne pay, she wants to do it for them.
After the trial, Deputy Public Defender Dan Hutchinson told Lauren Keene: "This case, in my opinion, should never have been charged, and the jury's quick verdict reflects this fact.  I was happy to see Mr. Sonne walk out of the courtroom a free man – vindicated by a jury from his community – and into the arms of those who care about him and always believed in his innocence."
I agree.  And nothing Ms. DeAngelo says will change that.