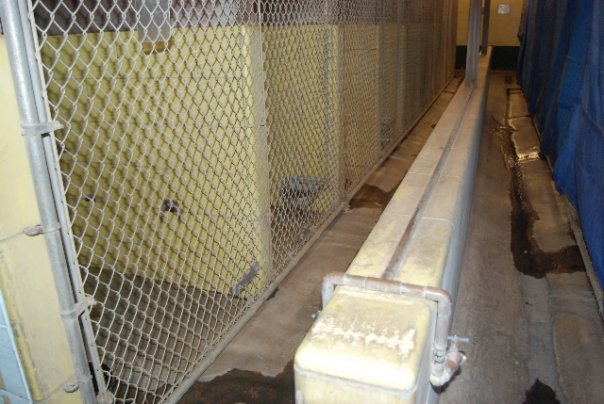 LAFCO (Local Agency Formation Commission) has an initiative to explore alternative models of animal sheltering for Yolo County, following reports and complaints about problems with the current state of the Yolo County Animal Shelter.
A letter from Diane Parro, Deputy to County Supervisor Don Saylor, dated February 15, 2013 indicates, "After the study prepared by Sue Marks Gibbs and Tammie Murrell was presented to all the contracting agencies which includes Yolo County, Davis, West Sacramento, Winters, Woodland and UC Davis, the Yolo Managers group agreed to explore the JPA model."
She writes, "They require a more thorough analysis which provides detailed and specific evaluation of the cost implications of a shift to a JPA model.  To that end, LAFCo is planning for an additional study."
On February 28, 2013, LAFCO will consider a proposal to hire "the UC Davis Koret School of Veterinary Medicine, on a consultation basis, to complete analysis and use their expertise in this field as well as knowledge of our operations in Yolo County to make a recommendation for the organization of our animal shelter services."
According to a memo from LAFCO Executive Officer Christine Crawford, "The previous August 2012 Yolo County Animal Services study indicated that staffing levels could increase from 18 FTE (full time equivalent) in the current Sheriff's budget to 31 FTE under a JPA scenario for similar cost."
She adds, "However, during the LAFCo presentations on this information several city councils were adamant that an alternate animal services/control model would need to save agencies money in order to be considered and that the recommended 31 FTE needed to be reviewed further to see what reductions could be made. This is a key factor in the need for additional study."
The county is hiring UC Davis, the Koret Shelter Medicine Program, for a $16,000 consulting job.
However, this move is concerning to some of the advocates who have pushed for reform in the system.  They see the Koret program and Dr. Kate Hurley, who already have a paid vet at the shelter, as having a financial and professional conflict of interest with the shelter.
According to a website, "Fix Yolo," there have been a number of independent and objective evaluations of Yolo County Animal Services Shelter since 2010.
They write, "These evidence-based assessments all show similar findings. Namely, that the Yolo County Sherriff's Department is not the best agency to house our animal shelter. Fiscal accountability to the taxpayers, optimal use of agency funds, responsive customer service, and improved outcomes for the animals are not likely to improve and have not significantly improved under the current model."
The UCD Koret Shelter Medicine Program on June 2, 2010, performed a one-day evaluation of YCAS, concentrating on medical care and disease control.
Their findings included "lack of protocols, haphazard or missed care, prolonged stays, frequent illness, unsanitary and dangerous conditions, needless expense for illness and recurring treatment, and increased euthanasia (especially for cats)."
While their report is highly critical, critics contend that, despite their findings, they did not push for real reforms because their vet is contracted at the shelter.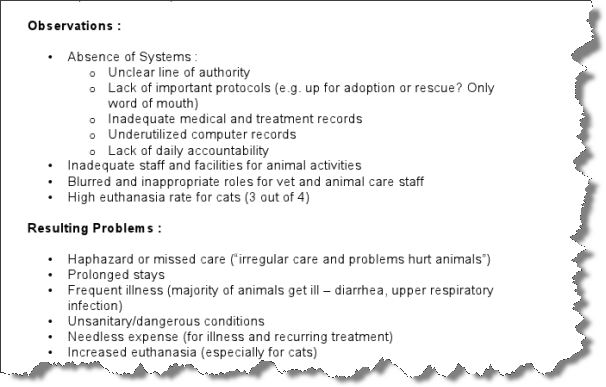 The bigger problem, according to some of the advocates, is that while Koret may be medical experts, they are not comprehensive animal sheltering experts.
They argue that to really reform the shelter requires an understanding that simply blaming the public is not the answer, because the public cannot simply be changed.
One advocate told the Vanguard that the Koret Shelter program is the last group that should come up with an unbiased evaluation of the process, as they have worked closely with the current shelter for a decade.
The general belief is that Koret has neither the knowledge of, nor is a leading expert on, progressive sheltering programs.
Rather than spending $16,000 on the consulting, these advocates believe that the county should invest their money on an evaluation that is both evidence-based and scientifically proven to increase live release rates of all animals who enter the shelter, as well as offer supportive programs directly to the community, such a spay/neuter, behavior support and direct adoptions.
There are questions, as well, about the expertise of the director Dr. Kate Hurley, as they do not believe she is qualified to be in an oversight position over the shelter.
—David M. Greenwald reporting