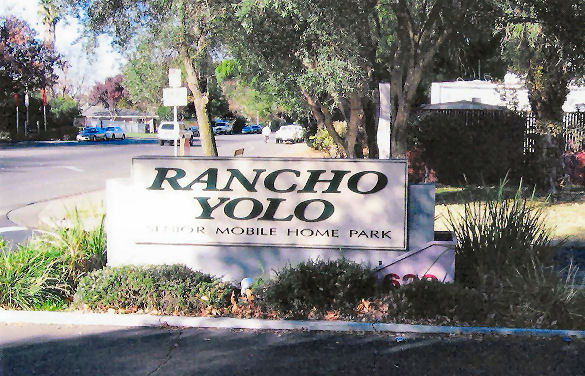 Last week, the Vanguard showed that criticism of the city on the water rates for Rancho Yolo was misplaced.  By having it set up as a multi-family unit and thus at the MFR rate, the residents have saved a lot of money over individually metering their units.
Nevertheless, and for reasons that are not clear, Bob Dunning, the Davis Enterprise columnist, continues to press the attack on this issue.  He used a portion of his Tuesday column to criticize the council, arguing that their "lack of answers" were "startling."
Writes Mr. Dunning, "The thing that struck me most about last week's troubling story concerning the water rates the good folks in the Rancho Yolo Senior Community will be paying compared to the rest of homeowners in town was how utterly incapable council members were of explaining the rates to those directly affected."
He added, "While council members were polite and generally responsive, the best any of them could offer to the Rancho Yolo Community was 'let me check with staff and get back to you.' "
The Vanguard has requested a copy of these communications through the California Public Records Act.  Without these documents, it is difficult to determine to what extent Mr. Dunning's attributions accurately reflect the exchange between members of the Davis City Council and Jerry Hallee and other resident of Rancho Yolo.
That being said, we are unsure why anyone expects a technical question like the rates at a specific property to be within the realm of information that is readily available to council members.
For example, the Vanguard learned that that system is not set up to be a single family unit.  It is plumbed much like an apartment, with connections to city water on East Eighth Street and Pole Line Road.
Once we understand the way the system is plumbed, everything else makes sense, but unless a councilmember had specific technical knowledge, not of CBFR but of Rancho Yolo, there is no way they would be able to address it.
So, if their response was that they need to check with staff – as Mr. Dunning seems to acknowledge – then that is probably the right response.
As we reported on Saturday, the folks at Rancho Yolo, while having to pay an increase in their water rates, are actually quite advantaged by being billed at the MFR rate.
Bob Dunning on Thursday picks up the story, writing, "Rancho Yolo households will see their rates jump from $1.42 per ccf to $1.81 per ccf and a year later to a whopping $2.24 per ccf … the rest of Davis' homeowners will see their ccf rate actually drop from $1.50 to $1.23 come May 1, then rise to $1.53 the next year."
But the first caveat is that in order to charge at SFR, they would have to individually meter their 262 homes.  The monthy fixed rate for that is about $4,540.46.
Right now, Rancho Yolo pays $236.26 per month for its master meter that serves all 262 homes.
The MFR rate, while higher than the SFR rate, still advantages of the MFR users.  For if they were to billed as an SFR, the first 18 ccf would be billed at $1.23, then the next 11 at $1.37 and all of the rest above 29 would be billed at $2.33, far higher than the $1.81.
These are, as they say, the facts.  But how Mr. Dunning would expect that the councilmembers would know these facts for this particular property without research is beyond me.
"One council member said flatly he 'didn't know' why the rates were so far off base and another said he was 'alarmed' by the rates."  Mr. Dunning continues, "This would be the same council member who just several weeks ago voted for the very rates that now alarm him."
But, of course, we do not know the context in which the comment "alarmed" came up.
What we do know is Mr. Dunning continues, "The council, in fact, voted unanimously for these rates, obviously without a clue about how they were derived."
The facts, to conclude, are not in evidence.  What we know is that the council did not know the particulars of how the rates are derived on this property.  The quote is not attributed to any particular councilmember, so we do not know who said it, whether it reflects all of council, or, of course, the context in which it was said.
So it would appear that one word was lifted from a communication from one councilmember and used to indict the entire council.
Mr. Dunning continues pressing his attack: "I don't know about you, but when I cast my vote for a city leader, I don't expect someone who will merely rubber-stamp whatever the experts or consultants or attorneys come up with."
He continues, "I want someone who is going to ask the hard questions of staff and consultants and attorneys, then be able to fully explain why they ultimately voted in a certain way … and never accept anything the experts come up with as 'gospel' …"
Mr. Dunning then continues: "Sure, if we're talking about the difference between a three-quarters-inch water pipe and a 3-inch water pipe, it's fine for the council to pass the question off to the city engineers … but we're talking about basic water rates the council proposes to impose on the entire town … if they don't understand the rates they're voting for, how do they expect any of the rest of us to understand them? …"
But actually, ironically enough, we are talking more about the difference between the meter size than the rates in the entire town, as the key to this question is the plumbing in Rancho Yolo and why SFR and MFR are billed at different rates – those are technical questions to a specific property.
Mr. Dunning concludes: "The vision of experts and consultants and attorneys is necessarily narrow and focused … but the vision of the council needs to be broad enough to assess the advice and do what's best for the city as a whole … the paid personnel are there to provide guidance, but it's the council that should be fully informed before imposing a rate or a program on the public …
"In this case, it's clear from their answers that council members didn't have a clue about the rationale for the rates they were imposing … again, they voted unanimously for rates none of them could explain … the long thread of emails between the president of the Rancho Yolo Community Association and our elected representatives reads like a 'Saturday Night Live' skit … funny stuff if it wasn't so serious for the residents of this cherished senior community …"
Perhaps Mr. Dunning would enlighten us by publishing the full exchanges.  As it stands now, we simply have to take his word with no evidence, except a few quoted passages.
In a few weeks, when we have full access to the documents, perhaps we will have a better sense for the accuracy of Mr. Dunning's attributions to council, but in the meantime the question is why Mr. Dunning is continuing to press this attack against Measure I and now the entire council.  Unfortunately, that is one question that we are unlikely to gain insight into through an acquisition of emails.
—David M. Greenwald reporting